When we look at the survey responses our clients get, one of the biggest complaints is a lack of communication. Even if the tech has bad news, better to call and give bad news than no call. If your tech is communicating effectively your customers will always be kept updated and not have to call in. The process is that when a call comes in requesting an update on ETA Dispatch will enter a note on the call. The alert emails the tech so they can call, it can copy the tech manager and it keeps a record in eAutomate (via the note entered) so you can see how often it happens. Note: the alert triggers only for calls in Dispatched, Pending or Hold Status. If the call is not in one of these three Statuses the tech is not in a position to answer questions about the call and the dispatcher should answer them rather than making an ETA Request Note. Also look at ID859 - Ensure the tech calls customer and ID843 - Recap Report of ETA Request from Customers
In order for this alert to work, your dispatch team will need to insert a note into the service call, using the note type defined in your subscription (default ETARequest), when someone requests an ETA (as seen below).  NOTE:  If you open the call and click the note button, it will not work, E-automate changes the "ETARequest" to "EVENT" when double clicking the call to add the note.  You must right click and select 'Call Notes'. (see below)
Go to the Dispatch console, highlight the call and right click, select 'Call Notes'
You must select the Note Type 'ETA Request' which is the default (or your chosen note type as defined in the subscription), otherwise this alert will not work.
Once you have saved the details of the note it will trigger the alert and send to the Technician and Technicians Manager.
Sample: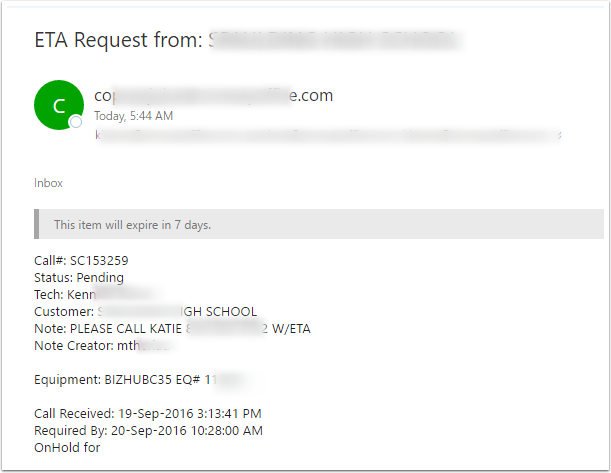 If you have any questions on this process, please let us know.