If your business practice requires the technician to call the customer immediately when they are assigned a new call, ID859 is way to know when the technician has not called and its been longer than an hour.
1. Initial set up:
In remote tech Admin, make sure "ShowCallNotes" is Enabled and that "Customer Called" is shown. If you are missing the Call Note, you just need to add under Lists & Codes / Note Types in eAuto.
**Note, Customer Called should show as above with "Hide" as this actually means it is showing. Clicking "Hide" will hide the note in RemoteTech**
2. Instructions to Technician:
Call: After receiving a call, technician needs to call the customer in one hour to let them know that the call has been assigned to them, providing an estimated ETA. If you get a voice mail leave this information on the voicemail.
Time frame: one hour from receipt of call
Note: After calling the customer, go into the call and add a call note. This note type is "Customer Called". You should add the note including the person you spoke with or voicemail, and the person's name on the voice mail. If it was a general mailbox, put general mailbox.
Note examples to use:
Note type: "Customer Called"
Note message examples: called Steve Smith OR left voicemail for Jill be there tomorrow 9am OR called no answer no option for voicemail
Variable Options:
Variable X is how long to wait until the reminder email is sent, if a technician must call within 2 hours, set to 120 minutes. Optional, a second escalated email to trigger a second reminder in Variable 1.
**Please note, if the call is considered a rescheduled call, as soon as the call is taken off hold the alert will fire. There is no wait time per your VariableX.
Variable Y to tweak to only trigger on certain call type categories
Variable Z to exclude certain customer numbers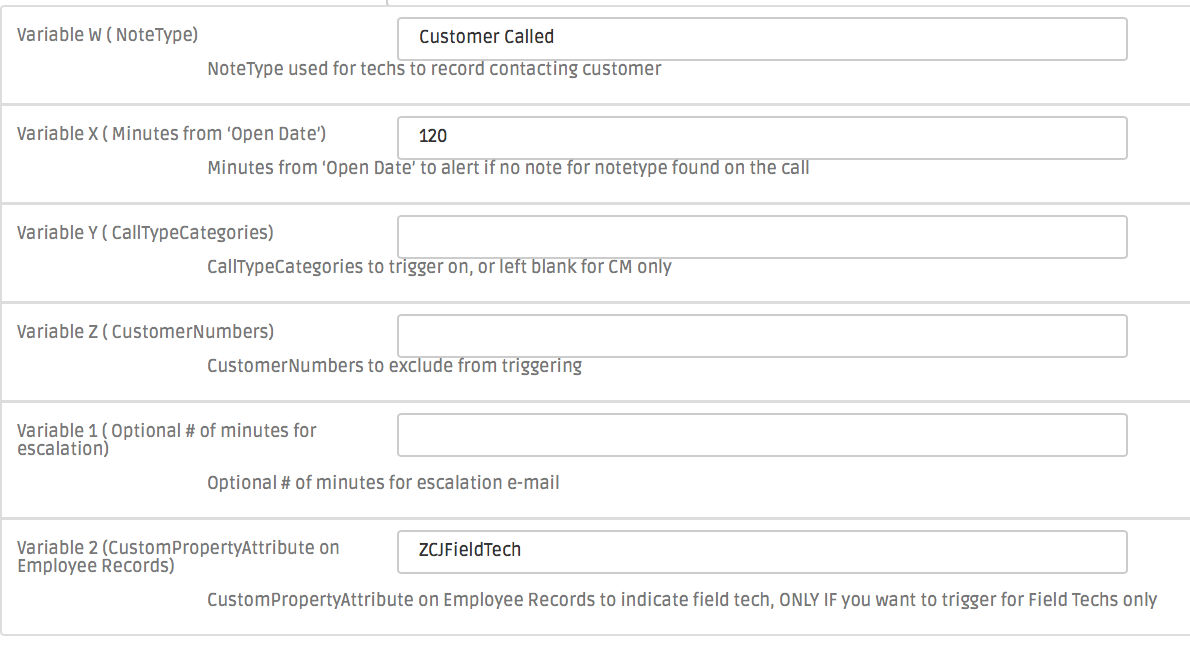 Example of alert email sent to technician:

See also ID183 notifies when customer calls in for an update on the call
See also ID843 custom report to show which techs keep getting reminded to call customer