This is an overview of our Survey Dashboard.
You login from our subscription site at www.ceojuice.com
Once logged in you will see a link to Survey Dashboard:

NOTES - This dashboard excludes test responses. All survey dates are based on the date the survey is created and not the date it is answered.
This is the 1st screen
1 Shows you what survey data we have in our system
2 Lets you choose the date range to look at
3 If you have multiple surveys going you can select all or just one here.
4 Hit Apply to see updated results

1 - Shows survey requests sent for the date range you picked
2 - Shows total responses, see this link for what % response to expect.
3 - # of unique emails, the number of different people who responded (1 count for a contact who has answered 5 surveys in the date range)
4 - People who clicked the survey link but never finished, maybe you have too many questions
5 - The people who have never responded to a survey request, click Details to see this list
6 - The number of contacts who chose to opt out in that period that were not already opted out
1 Click by the column header to sort
2 See multiple requests to the same contact by sorting by Email
Click View Details under the NPS section, click on magnifying glass to see a PDF of all responses for that contacts response
1 Click Details again to see the complete survey with all questions.
Additional options on Dashboard for NPS by Year and Survey Scores by Month:
Sample output of NPS by Year:
Sample output of Survey Results by Month:
Note the color key on bottom showing questions from survey.
Liking Comments: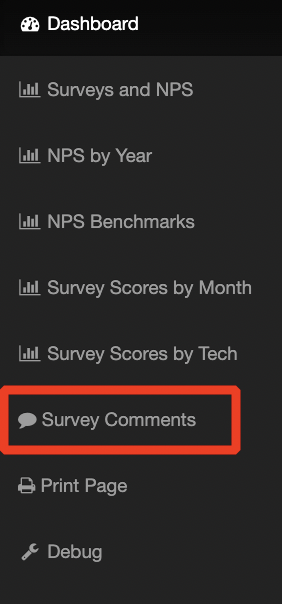 See how many have been 'liked'

option to include the question

NPS Benchmarks: