This alert notifies you if metered equipment in your system for a specific category does not have related supply items associated to it.
Jump to a specific section by clicking a link
Overview | Samples | Variables | Alert Functionality | Best Practices & Tips | Related Alerts
Overview
Overview
This alert notifies you when there are metered items/models in your system that do not have any related supply items attached to them. The alert looks at the related items tab on item records, and ensures that it has at least one related item that contains a service code of "supply".
This alert is helpful if you do not have related items linked in this way, your supply department will be guessing which supply items available in your database are options for the specific metered equipment when processing a supply order. Ensuring the related items are there take the guesswork out of it for your team and avoids errors in shipping incorrect items.
Run Schedule: Weekly on Tuesday Morning
Type of Output: Email
* * *
Sample
Sample

* * *
Variables
Variables

Variable W: Enter which categories you want this alert to review. The category comes from the model selected on the item record.
Variable X: Enter Yes to have this alert only review meters items. Enter No to have this alert review all.
* * *
Alert Functionality
Alert Functionality
1. Alert reviews items in your system that are metered. To determine if metered, the item record contains a selection for the model. Inside the model there is a checkbox for metered, if checked it means it is metered. Note that you do have the option in Variable X to review all items and not just those with their models listed as metered.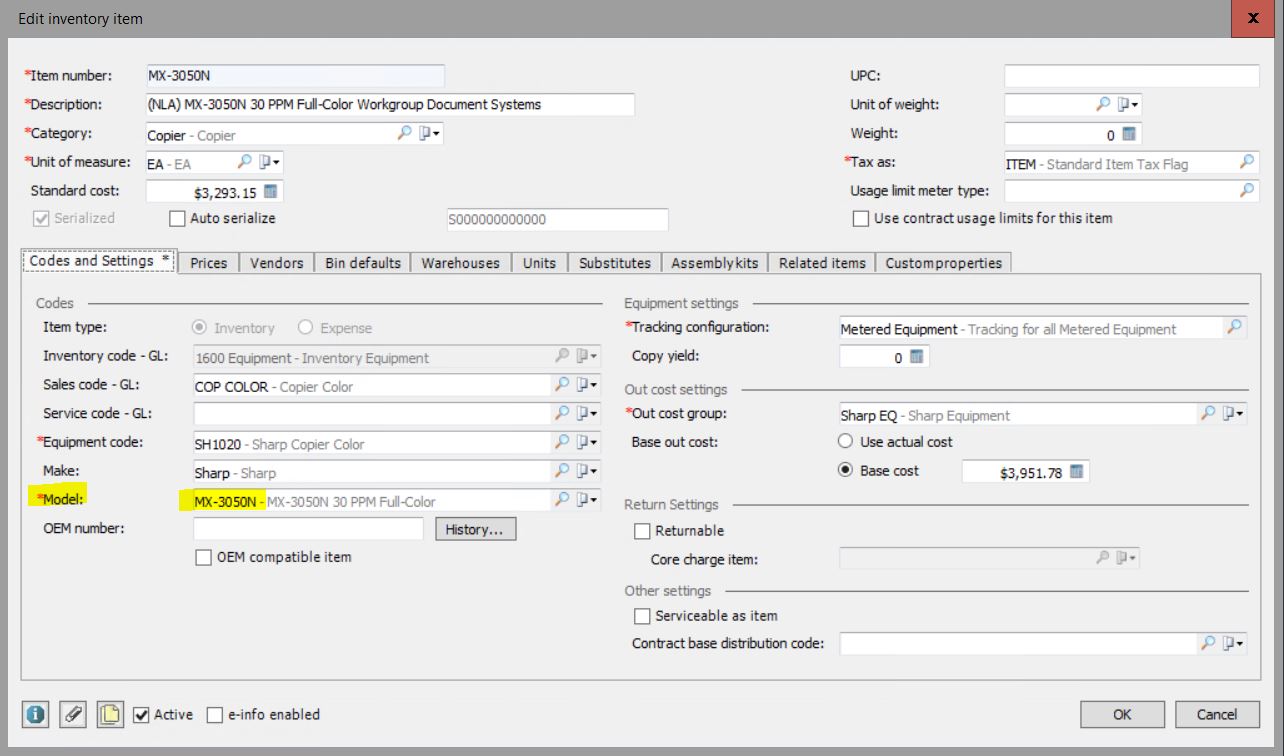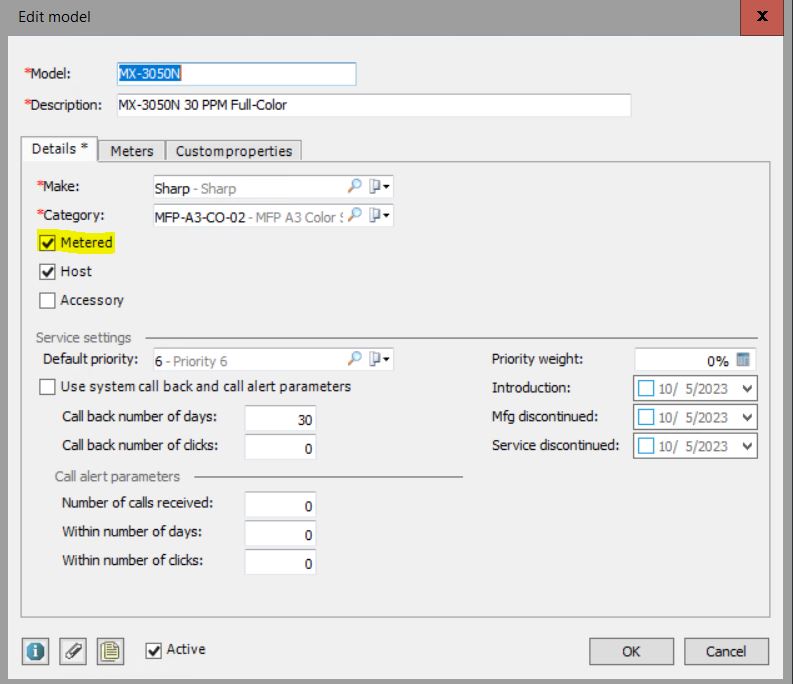 2. It then reviews the related items tab of active items in your system.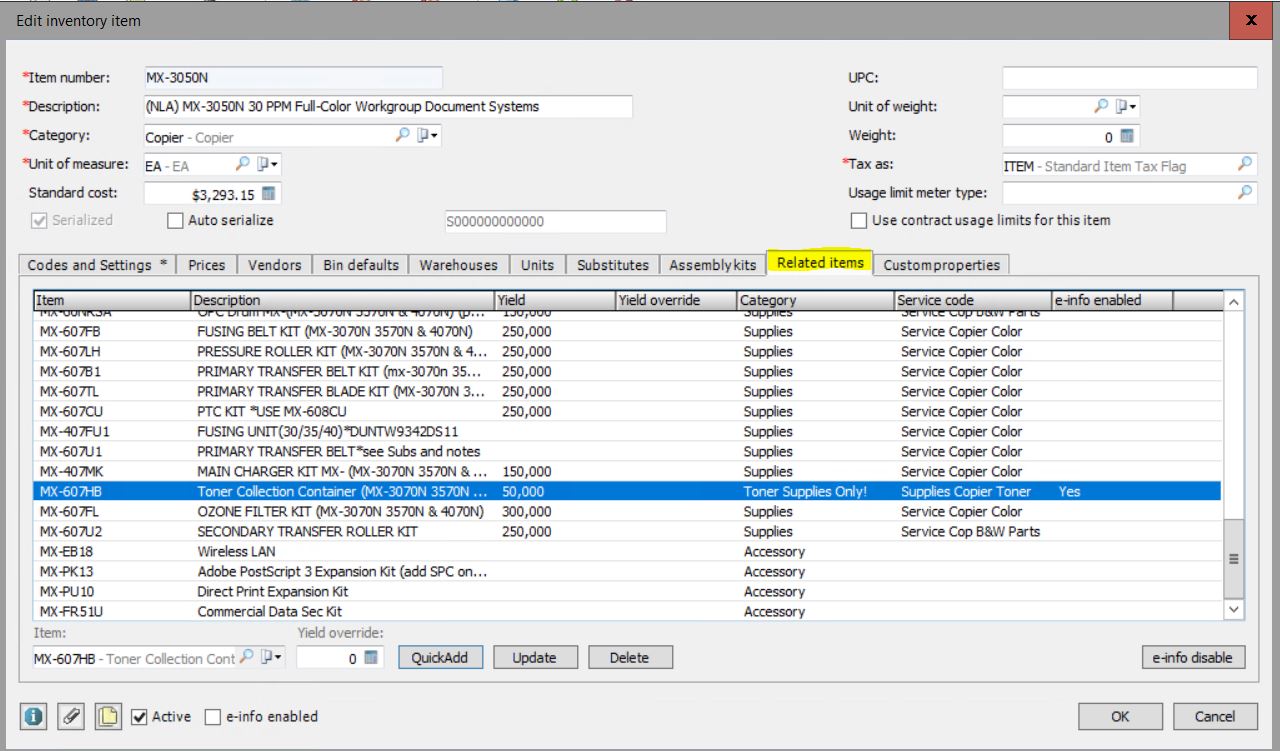 3. It reviews each related item to ensure there is at least one item that has a service code (GL) that has the category of Supplies selected. In the screenshot below, the item MC-3050N has related item of MX-607HB that contains a service code GL of SUPTNRCOP and that service code has a service category of Supply. This means that this item of MX-3050N would not appear on this alert because it has at least 1 related item with a service category of supply.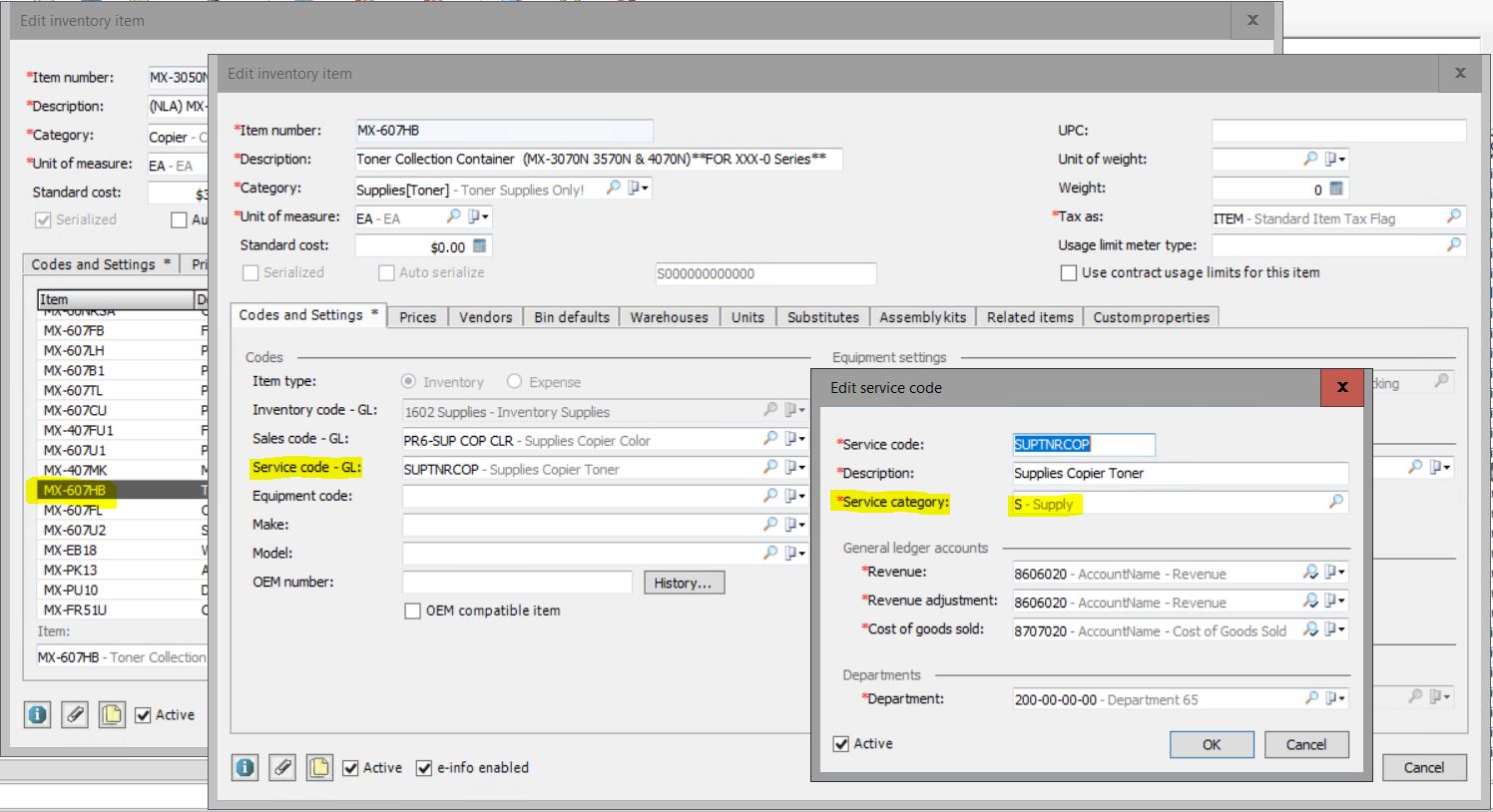 4. Should the alert come across any items that do not have a related item with a supply service category it will include it in this report.
* * *
Best Practices & Tips
Best Practices & Tips
It is recommended that you have related supply items linked to all items in your system that consume supplies. This reduces the shipment of incorrect items and increases efficiency for the order processor.
* * *
Related Alerts
Related Alerts
ID384 - Specific Supply Items (Category Below) Not Linked to Contract If Customer Has Specified Contract Type Overview & Sample
ID416 - Notify When Non-Supply Sales Order Is Created For Specified Item Categories, Overview & Sample
ID922 - Related Items Overview & Sample
ID189 - Item Records Missing Yield Overview & Sample
* * *