Identifies possible dead inventory.
Overview | Samples | Variables | Alert Functionality | OnDemand Report Filters | Best Practices & Tips | Related Alerts
Overview
Overview
This report is meant to identify inventory items that were not used on Service Calls, Sales Orders, Purchase Orders, etc. in the last Variable Y number of days specified and only show items with an average cost exceeding Variable X. The report sends automatically monthly and can also be run on-demand via the eAutomate report console.
This report should be run manually monthly for all items/warehouses so you can write-off (devalue) those dead items over your fiscal year instead of taking a big hit at the end of the year. This alert/Custom Report looks for usage from the specified warehouses selected only (the alert runs for all warehouses by default).
Usage is determined as any of the following transaction types: Sales Invoice, Sales Credit/Debit Memo, Service Invoice, Service Credit Memo, Purchase Order Receipt/Return, Sales Fulfillment, Inventory Assembly or Inventory Refurbishment.
Run Schedule: Monthly on 24th
Type of Output: Email and On-Demand Custom Report
* * *
Sample
Sample
Sample of the emailed report: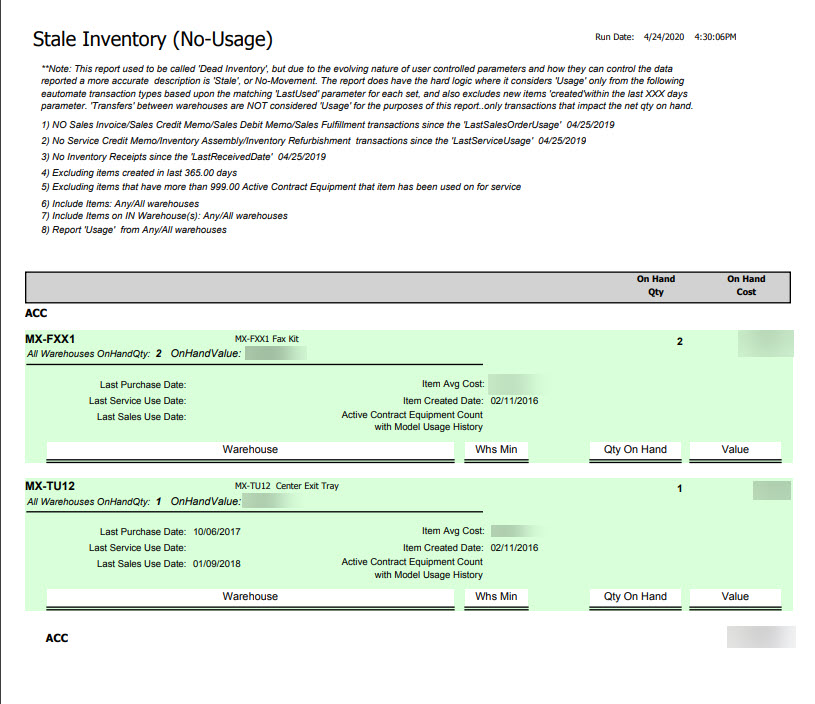 Each page of the report includes a total for the page (1) and a running total (2):

* * *
Variables
Variables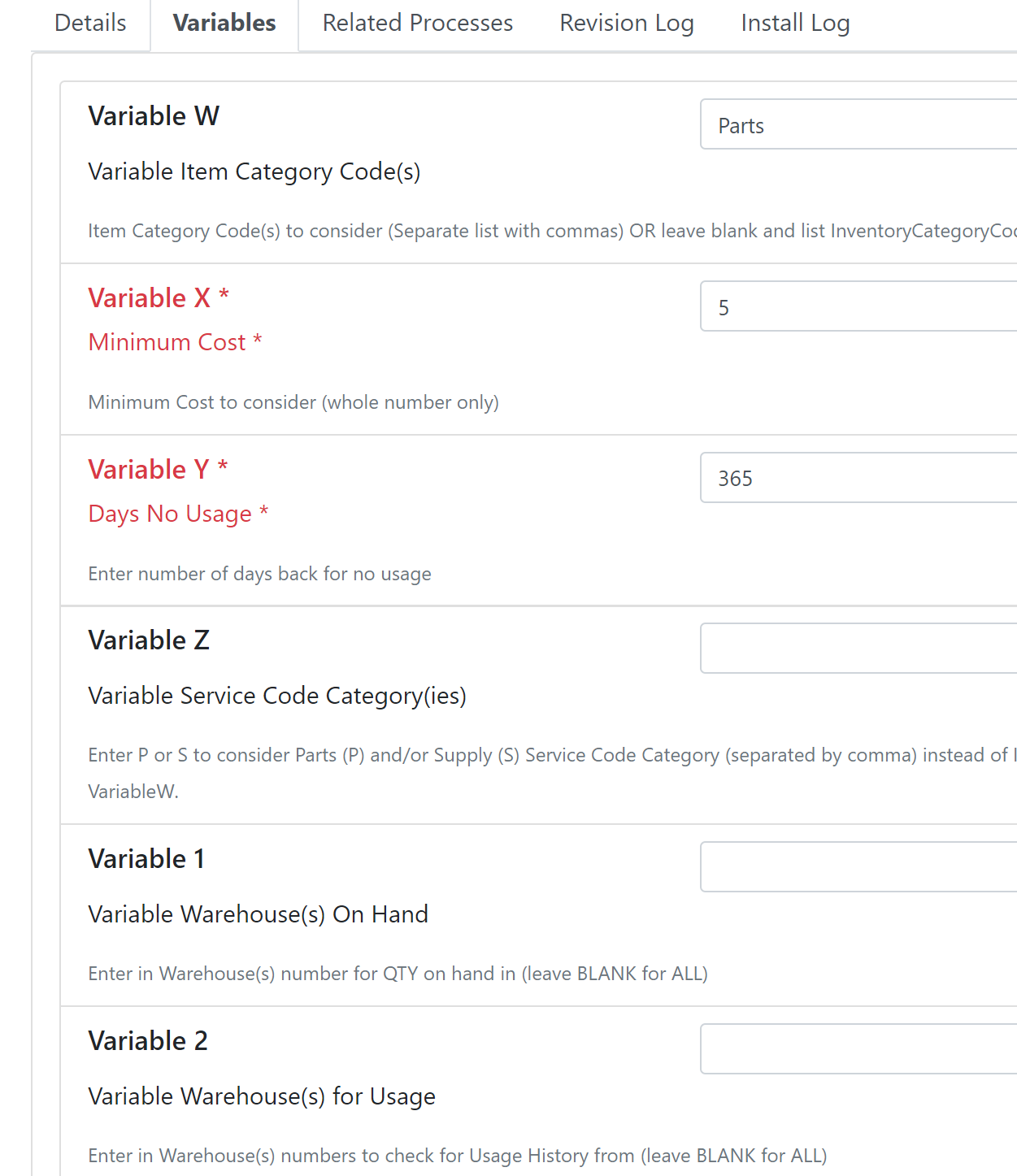 **You MUST have an entry in either Variable W or Variable Z; otherwise, you will not receive any results.**
Variable W: Enter the Item Category Code(s) to consider (Separate list with commas) OR leave blank and list Inventory Category Codes to consider in Variable Z.

Variable X: REQUIRED - Enter Minimum Cost of items to consider (whole number only - i.e. $5.00 = 5)
Variable Y: REQUIRED - Enter number of days back for no usage
Variable Z: Enter P or S to consider Parts (P) and/or Supply (S) Service Code Category (separated by comma) instead of Inventory Category Code(s) from Variable W. Leave blank if using Variable W.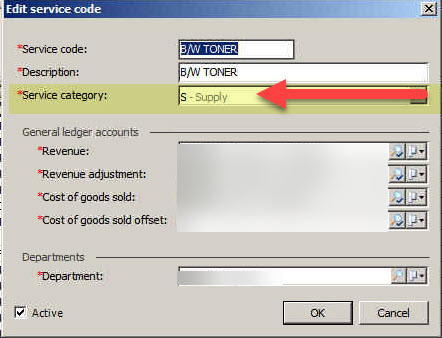 Variable 1: Enter in Warehouse Number(s) for quantity on hand in (leave BLANK for ALL)
Variable 2: Enter in Warehouse Number(s) to check for Usage History from (leave BLANK for ALL)
* * *
Alert Functionality
Alert Functionality
ID75 is hard coded to not consider any Item created in last 90 days.
Please note does NOT report on both ItemCategory (VariableW) and ServiceCodeCategory (VariableZ). Leave VariableW blank to report on ServiceCodeCategory listed in VariableZ OR leave VariableZ blank to report on ItemCategory listed in VariableW. You can also leave BOTH VariableW and VariableZ blank to have alert fire on ALL types of ItemCategory codes.**
* * *
OnDemand Report Filters
OnDemand Report Filters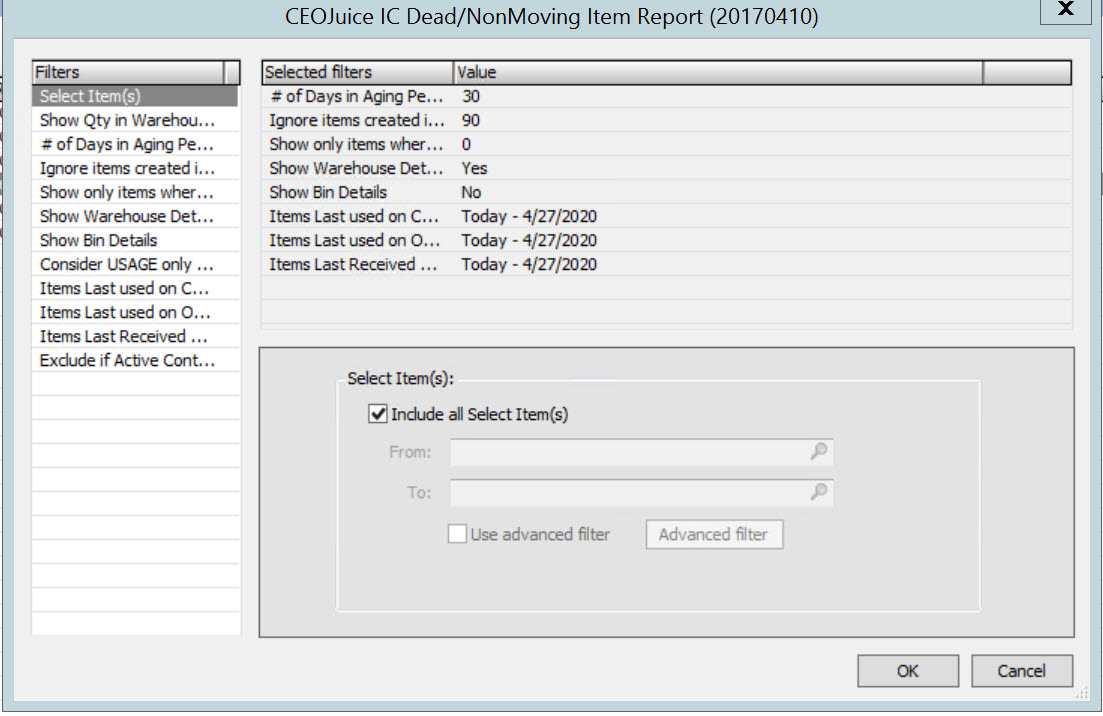 Select Item(s) - Select a specific item, range of items or use the advanced filter to filter to specific items.
Show Qty in Warehouse(s) - Select a specific warehouse, range or warehouses or use the advanced filter for warehouses.
# of Days in Aging Period - Default is 30. Please use the default of 30 days as this field works in conjunction with Inventory Aging Report and does not impact the results of this report.
Ignore items created in last XX day(s) - We don't want to consider items just transferred in but not used yet
Number of Days in Aging Period -
Ignore items created in last XX days (.)
Show only Items Where Average Cost is >X
Show Warehouse Details (yes/no)
Show Bin Details (yes/no)
Consider Usage Only From Warehouse(s) – you define which warehouse usage to be considered in this report. (Perhaps you only want to view usage for one branch. Or if you want to use report to determine if you should move inventory from one branch to another, then consider usage of all your warehouses.)
Items Last Used on Call Before
Items Last Used on Order Before
Items Last Receive on PO Before
Exclude if Active Contract Equip >X Machines – this report can look at how many active contract machines you have so as to consider your usage of parts for machines under contract. Designate a threshold for quantity of machines under contact via this filter. (use a high number, like 999,999 to consider everything)
Sample Here:
Sample shows quantity of 3 on hand for the warehouse this report was run for (filter 2 above - Show Quantity in Warehouse) and also shows AllWarehouses OnHandQty of 4 (filter 8 above - Consider Usage Only From Warehouse(s)). Additionally, there are five machines under contract with model usage history of this part.
Summary Page Sample Shows Two Totals:

Running Total is the total value of inventory up to that point on the report.
Total Value of Inventory with No Activity is the portion of the Running Total that has No Activity.
* * *
Best Practices & Tips
Best Practices & Tips
This alert is not intended to be an overstock report. It is best used to identify dead inventory and to manage end of life inventory.
Be careful to pay attention to your warehouse selection when running the report.
See this link for an overview of best practices on handling dead inventory.
* * *
Related Alerts
Related Alerts
ID335 - Stale Inventory for Overstock Parts Network
ID500 - Items at risk of becoming obsolete
* * *