eAuto uses your company hours to calculate response time on service calls (Corrective Maintenance Category Call Types Only). i.e. A call comes in at 3:00pm on Tuesday. The response time clock starts ticking immediately and then stops at 5:00pm (your closing time). The clock starts again at 8:00am (your opening time) on Wednesday. eAuto takes into account the hours you are closed and deducts them from the response time. Company hours are set under tools/options/company/edit main branch settings.
For eAuto 8.5 and below, under service hours is where you set up the days and times the company is open:
For eAuto 8.7 and above, under service hours is where you set up the days and times the company is open: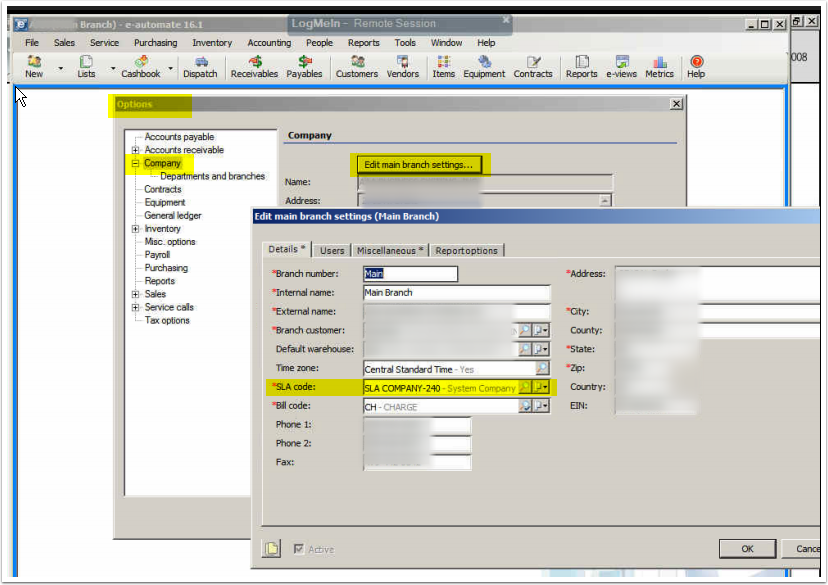 It is also very important to set the holidays that your company is closed each year. Since these are days that are within the normal work week, EA will take these days and hours that you are closed into account when calculating response time also.
**BE SURE YOU ONLY USE CHECKMARKS FOR DAYS YOU ARE PARTICALLY OPEN. DO NOT CHECK THE BOX NEXT TO DATE YOU ARE CLOSED THE ENTIRE DAY**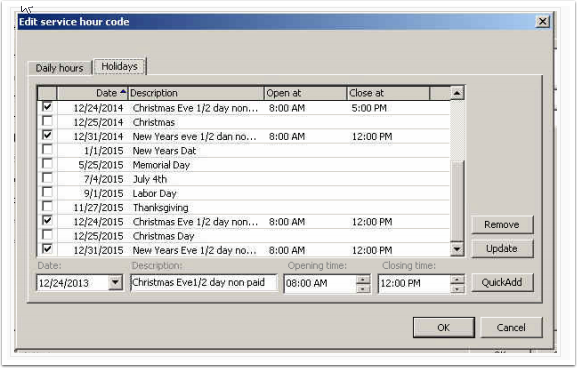 The holidays must be updated every year since dates may change from year to year for certain holidays. Please see THIS LINK (ID70) on further details and also consider subscribing to ID70 so we can remind you to update your holidays each year.
You can also use service hours at the contract level if certain customers are not open normal business hours. i.e. A customer is only open on Tuesday and Wednesday. A call comes in at 4:30pm Wednesday and you won't have time to respond that day. You don't want the response time clock to keep ticking through Thursday, Friday and Monday of the following week until they are open again on Tuesday when you are able to respond to the call. If there isn't service hours set on a contract then EA uses the company hours that are set in the system.
Furthermore, the response time clock can be stopped by putting a call on hold using a hold code that is set to calculate response hours from the time it is released from hold. More here.
**These settings are very important to get accurate data on reports and statistics.**