Provides letters to mail to your customers when meters have been estimated for billing contract invoices.
Jump to: Overview | Samples | Alert Functionality | Variables | Related Alerts
Overview:
Overview
Alert captures all contracts invoiced that day where the beginning meter and the ending meter on any of the equipment billed were both Estimated (using the Estimated flag) and generates an email containing PDF letters for your customer. We suggest these letters be reviewed by your billing dept and sent to the customer when appropriate.
Run Schedule: Daily
Type of Output: Email
* * *
Sample
Sample
The letter is customizable as needed, our default sample is below: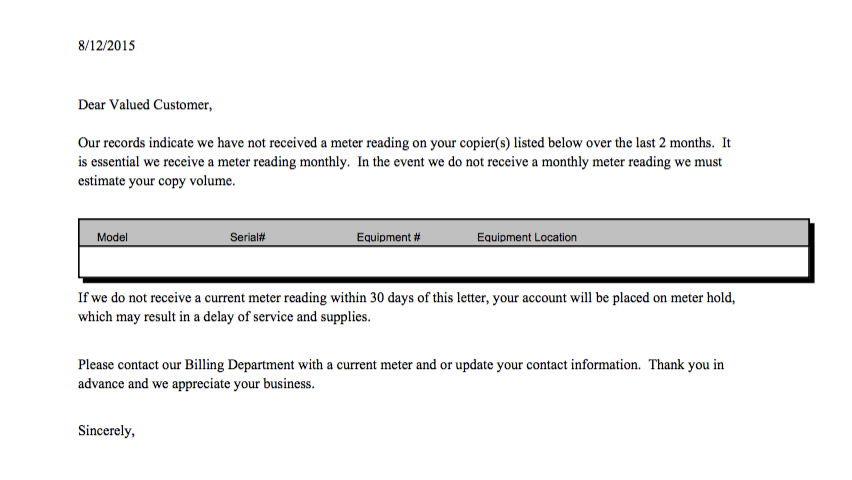 * * *
Alert Functionality
Alert Functionality
At the end of each day, this alert looks at all of you Contract Invoices for the day and creates PDF letter when both the Previous and Current Meter Readings are estimated.
If no qualifying records, you will still receive an email with one blank PDF letter attached (sorry it is a limitation in how Crystal Reports works with our alert logic).
The contact used for the letter is the Equipment Contact listed on the Equipment Record.
Meter Readings must be marked as ESTIMATE = YES as seen here via the Meter Reading Console:

* * *
Variables
Variables

VariableX: Branch numbers to trigger on, separated by comma (or leave blank for all)
* * *
Related Alerts
Related Alerts
ID409 - Identify contract invoices with multiple estimated meters. Report of contract invoice meter billings where there were multiple consecutive estimated meters used for billing. This alert is a 'poke' not a pester, meaning it will report the piece of equipment once and then will not report it again unless another meter read is entered. We can also install the Custom Report version.
* * *