Emails billed meter reads to your Third Party Servicing Dealer
Jump to Overview | Samples | Variables | Alert Functionality | Best Practices & Tips | Related Alerts
Overview
Overview
ID498 notifies your third party servicing dealer of the billed meters for equipment they service every time the equipment bills on a contract. The notification is sent to the third party servicing dealer meter contact as assigned via a custom property on the equipment record.
Run Schedule: Daily
Type of Output: Email
* * *
Sample
Sample

* * *
Variables
Variables

Variable W: Custom Property on equipment record for third party meter contact
* * *
Alert Functionality
Alert Functionality
1. Alert looks back 10 days for invoices generated for any qualifying records with a contact set in the Custom Property.
2. Custom Property is set on the Equipment Record Properties Tab. Use the drop down menu to set ZCJShipOutMeterContact to the meter contact at the third party servicing dealer who should receive the meter reading :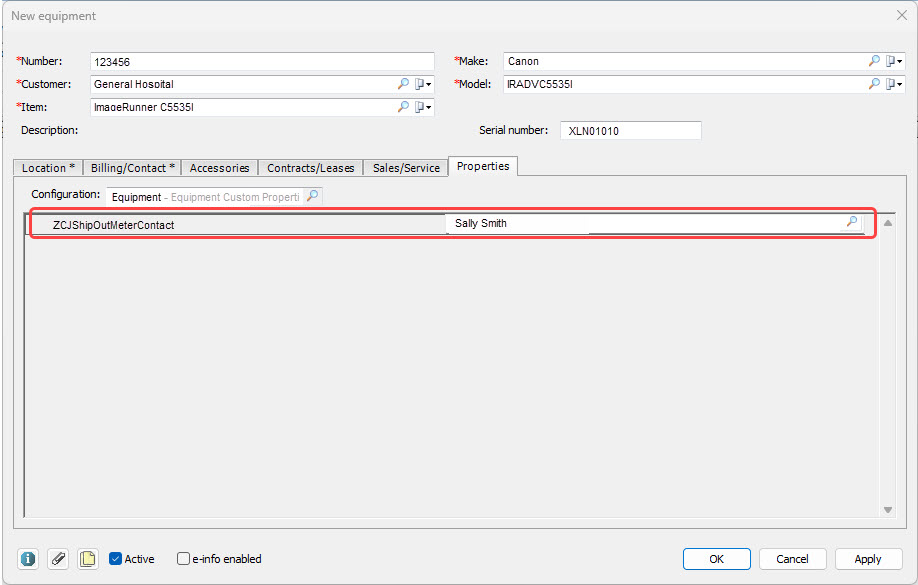 * * *
Best Practices & Tips
Best Practices & Tips
None at this time
* * *
Related Alerts
Related Alerts
ID890- Servicing Dealer Sync
* * *