Most dealers have their standard copier accounts, offer managed print, have a few document management accounts, and are starting to get managed IT going.  In this case you have four main services you offer - Copiers, Managed Print, Doc Management and Managed IT.  Understanding who is not using all of your services is key, especially if they are customers in an industry that typically uses that service.

Click here for how to set up your Key Services
Once you have your Key Services identified, use our HubSpot integration to email all your Promoters at companies not using your Managed IT or other Key Service.
There are three steps involved in determining who is or is not using your key services.
Ensure that everything you sell is categorized correctly.  We use the same model segments (ECi calls them model categories) that most dealers are familiar with.  However, while most understand that a desktop copier is probably a segment 1, also understand that computers, routers, scanning software and even furniture and water needs to have a model category. We suggest you start with our report to review your models in the field - ID923 - MIF Report.
We have a related process to determine if your sales territories are equally balanced.  We suggest you also subscribe to ID683 - Current MIF Sales Opportunity.
We built an app that allows you to a) list your Key Service and b) determine what mix of Model Category / Contract Type or GL Account constitutes a customer using a Key Service.  If, for example, a customer has a zero-cost single user license of eCopy Desktop that they have never registered, are they a Document Managment customer?  More on this process here.
Our processes runs each night and updates a single custom property (ZCJKeyServices) on the Customer Record in e-automate, plus sends an email notifying you of which Customer Records changed.
We are able to support Key Services at the Parent or Child Level. 
e-automate Customer Record with Custom Property: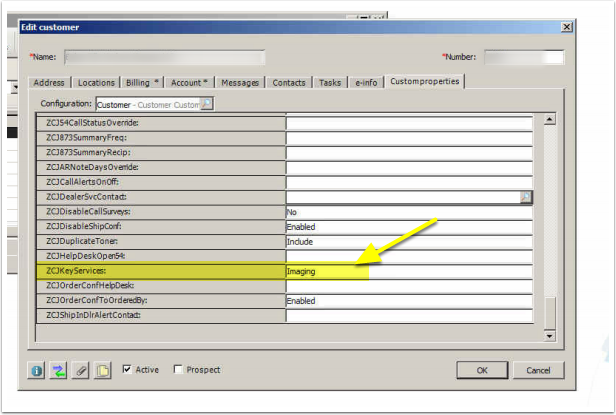 Daily email summarizing ZCJKey Services added/changed:

The alert will also provide you a list of Customer Records that either lack a configuration in the Custom Properties tab or have a Custom Property selected that doesn't include ZCJKeyServices:

If your Customer Records are lacking the configuration, you can complete this via the bulk update feature within Configurations (accessed via Tools/Lists & Codes/Configurations(Custom Properties). Select 'Customer' and then select the 'Assign' button: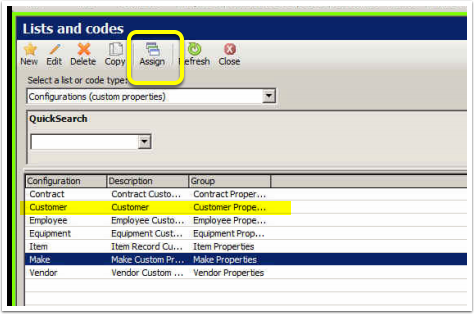 This will take you to tracking configuration assignment.  Filter by Configuration contains Customer, then hit OK after the filter populates: