Identifies your Key Services on Customer Records.
Jump to Overview | Samples | Alert Functionality | Variables  |  Missing Custom Properties  | Webinar
Overview
Overview
Ever had that awkward conversation when your customer says "actually YOU guys are our IT company". We can post to Service and Sales messages (use VariableY to start). For ConnectWise users we can also post to the message there, hit our feedback link if you want this. https://www.ceojuice.com/Feedback.
Most dealers have their standard copier accounts, offer managed print, have a few document management accounts, and are starting to get managed IT going.  In this case you have four main services you offer - Copiers, Managed Print, Doc Management and Managed IT.  Understanding who is not using all of your services is key, especially if they are customers in an industry that typically uses that service.
**Watch WEBINAR HERE on how to set up.**

Run Schedule: Daily
Type of Output: Email
*  *  *
Sample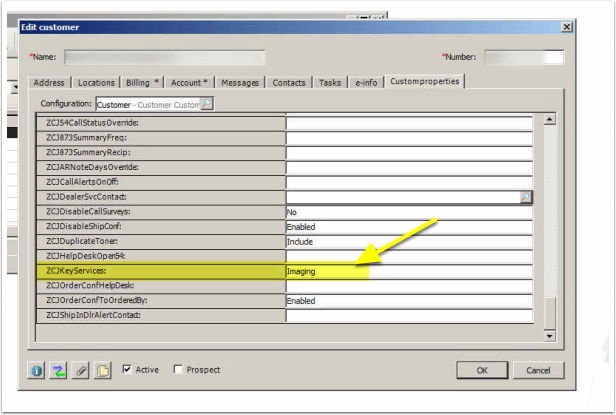 Update of Service/Sales Message in eAuto: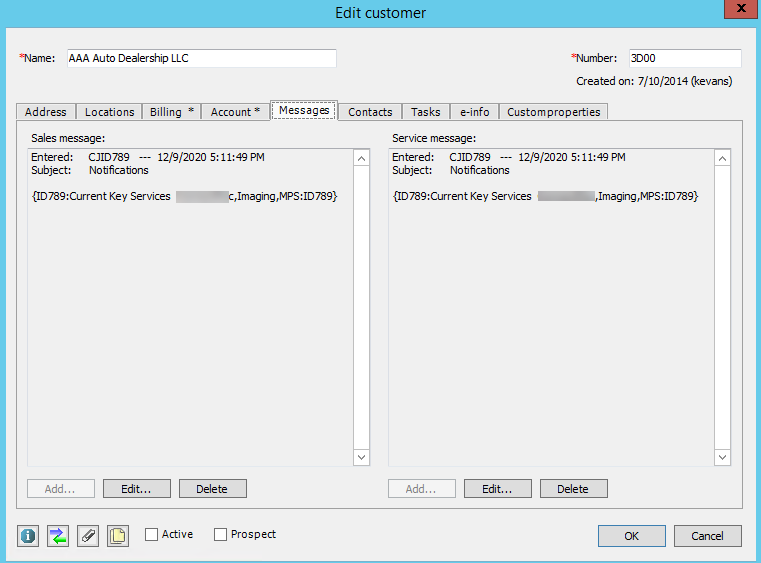 Daily email summarizing ZCJKey Services added/changed:

*  *  *
Variables

VariableW: ZCJKeyServices - Custom Property our alert will use to populate qualifying Customer Records with Key Service(s)
VariableY: If you'd like to add Sales and Service Message, then populate VariableY with the verbiage you'd like included. For example, "These are Key Services" populated in VariableY and added to Sales/Service Message:

We will NEVER overwrite what existing Sales & Service Messages you have already listed. We will write our Key Services messages below any existing:

VariableZ: Branch numbers to trigger on, separated by comma, blank for ALL
*  *  *
Alert Functionality
1. Click here for how to set up your Key Services
2. We will start by installing in Test Mode as you work on building your Key Services. While in Test Mode, you will receive emails showing what Key Service would be written to each Customer Record.
3. Once you have your Key Services identified, use our HubSpot integration (optional) to email all your Promoters at companies not using your Managed IT or other Key Service.
There are three steps involved in determining who is or is not using your key services.
Ensure that everything you sell is categorized correctly.  We use the same model segments (ECi calls them model categories) that most dealers are familiar with.  However, while most understand that a desktop copier is probably a segment 1, also understand that computers, routers, scanning software and even furniture and water needs to have a model category. We suggest you start with our report to review your models in the field - ID923 - MIF Report.
We have a related process to determine if your sales territories are equally balanced.  We suggest you also subscribe to ID683 - Current MIF Sales Opportunity.
We built an app that allows you to a) list your Key Service and b) determine what mix of Model Category / Contract Type or GL Account constitutes a customer using a Key Service.  If, for example, a customer has a zero-cost single user license of eCopy Desktop that they have never registered, are they a Document Management customer?  More on this process here.
4. Our processes runs each night and updates a single custom property (ZCJKeyServices) on the Customer Record in e-automate, plus sends an email notifying you of which Customer Records changed.
We are able to support Key Services at the Parent or Child Level. 
e-automate Customer Record with Custom Property: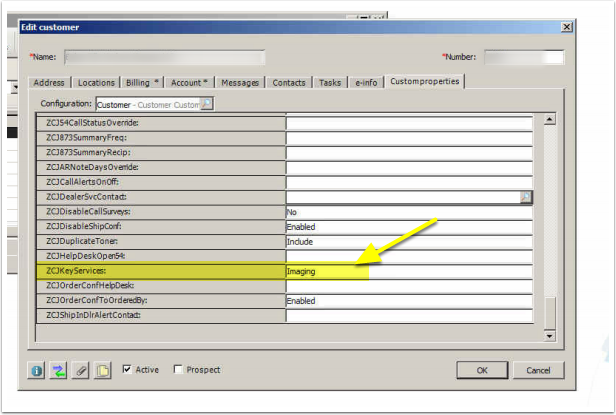 5. If subscription set to send to Sales, reps and their managers will only receive email containing changes made to Key Services (will not receive emails showing Sales/Service Messages updated nor Custom Properties missing from Customer Records):

Custom Properties Missing from Customer Records
In order for our alert to write Key Service to ZCJKeyServices Custom Property, your Customer Records must be configured for Custom Properties. 
The alert will provide list of Customer Records that either lack a configuration in the Custom Properties tab or have a Custom Property selected that doesn't include ZCJKeyServices:

If your Customer Records are lacking the configuration, you can complete this via the bulk update feature within Configurations (accessed via Tools/Lists & Codes/Configurations(Custom Properties). Select 'Customer' and then select the 'Assign' button: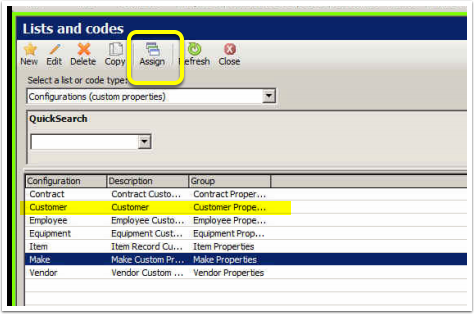 This will take you to tracking configuration assignment. 
1. Set your Tracking group as Customer Properties
2. Set Configuration as Customer Records Configuration (you will need to scroll to bottom of quick search fields available to find 'configuration')
3. Quick Search Filter by Configuration equals [BLANK]
This will show you all Customer Records lacking Configuration. Once you bulk update these, then these Customer Records will be set to allow for Custom Properties. In turn, next time your Key Services alert (ID789) runs, it will populate their qualifying Key Service on the Customer Record Custom Properties tab.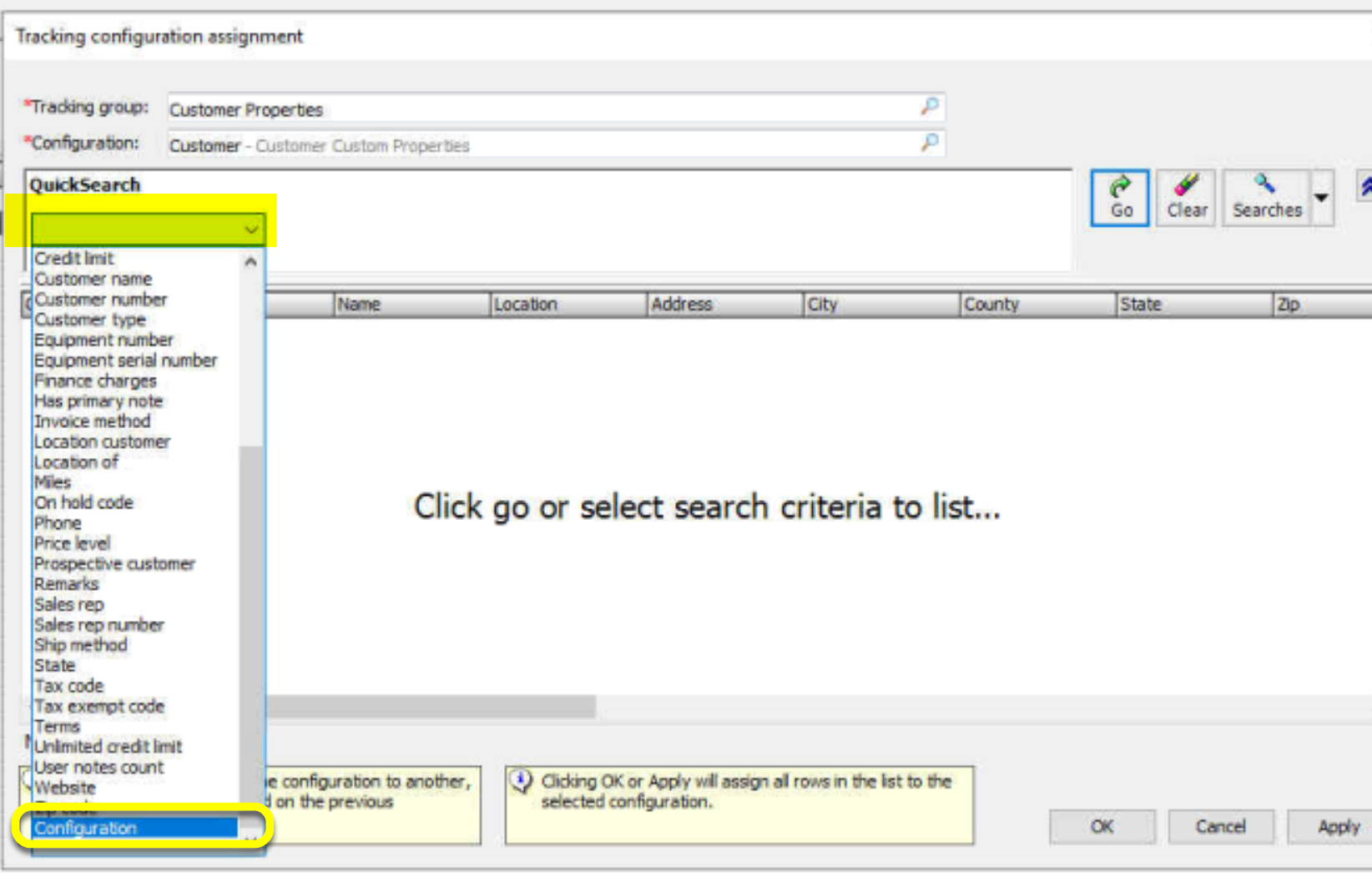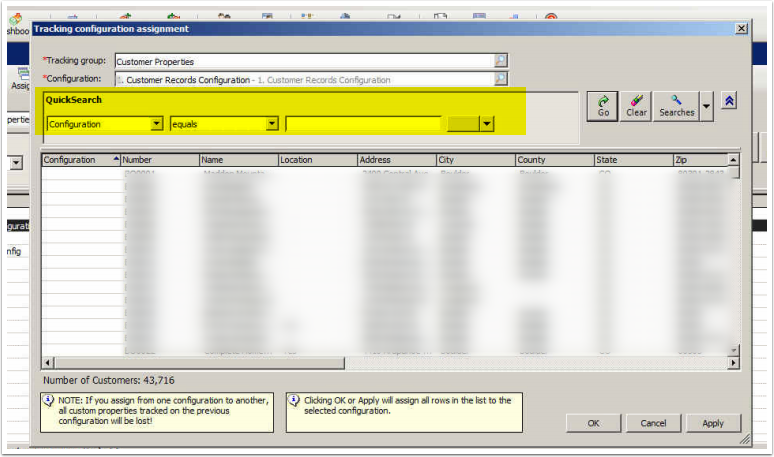 Select OK or Apply. You will see this warning come up, which is OK if you have no other Custom Properties used on Customer Records:

Webinar
Webinar