Weekly report by tech of time entries based on service calls, unavailable entries, time cards.
Jump to Overview | Samples | Variables | Alert Functionality | OnDemand Report Filters | Best Practices & Tips | Related Alerts |
Overview
Overview
Weekly report of detailed time entries by tech, by day. Report considers entries from service calls, unavailable time, and timecard entries. Shows average start and end time, unaccounted hours, training time, sick hours, etc. Requires this all be tracked in eAuto based on Best Practice used of Unavaialble Entries, Time Card Entries, and Holiday/Service Hours.
**Send to Tech function does NOT work for this report**
Run Schedule: Mondays
Type of Output: On Demand SSRS Report (optional weekly Email not required)
*Option, you can add an email to this subscription to receive the weekly report of tech time log activity. This is not required, as the data is automatically in ID204 weekly tech activity report, and emailed out from there.*
* * *
Sample
Sample
Note: Default Print Size is 11x17
Top Section: Summary of Time Log for Tech:
Unaccounted Hours - Total Time in Work Period - Work Hours + Unavailable Time
Total Call Activities - best use for Help Desk Techs as these techs measured by activity entries, not calls closed

Detail entries for each day:

Summary of all:
Great tool for Help Desk Techs to review activities. Sorted by Customer Number, then by Call Number.

* * *
Variables
Variables

Variable X: Custom Property on eAuto Employee Record indicating is Field Tech
Variable 1: Select 'Yes' to include Only Field Technicians as defined by Variable W. Select 'No' to include all Technicians.
Variable Z: Branch numbers alert fires on (list multiple branches separate by commas). Leave blank for ALL branches.
* * *
Alert Functionality
Alert Functionality
-The data is accurate thru the day before you run this report as the background tables populating the report run each night.
-The send To Tech function for this alert does not work, only To Tech Manager:

-Tech Missing from Report?
1. Requires Tech's eAuto Employee Record have (1) Technician checked off, (2) have a manager assigned, (3) Time card export box checked: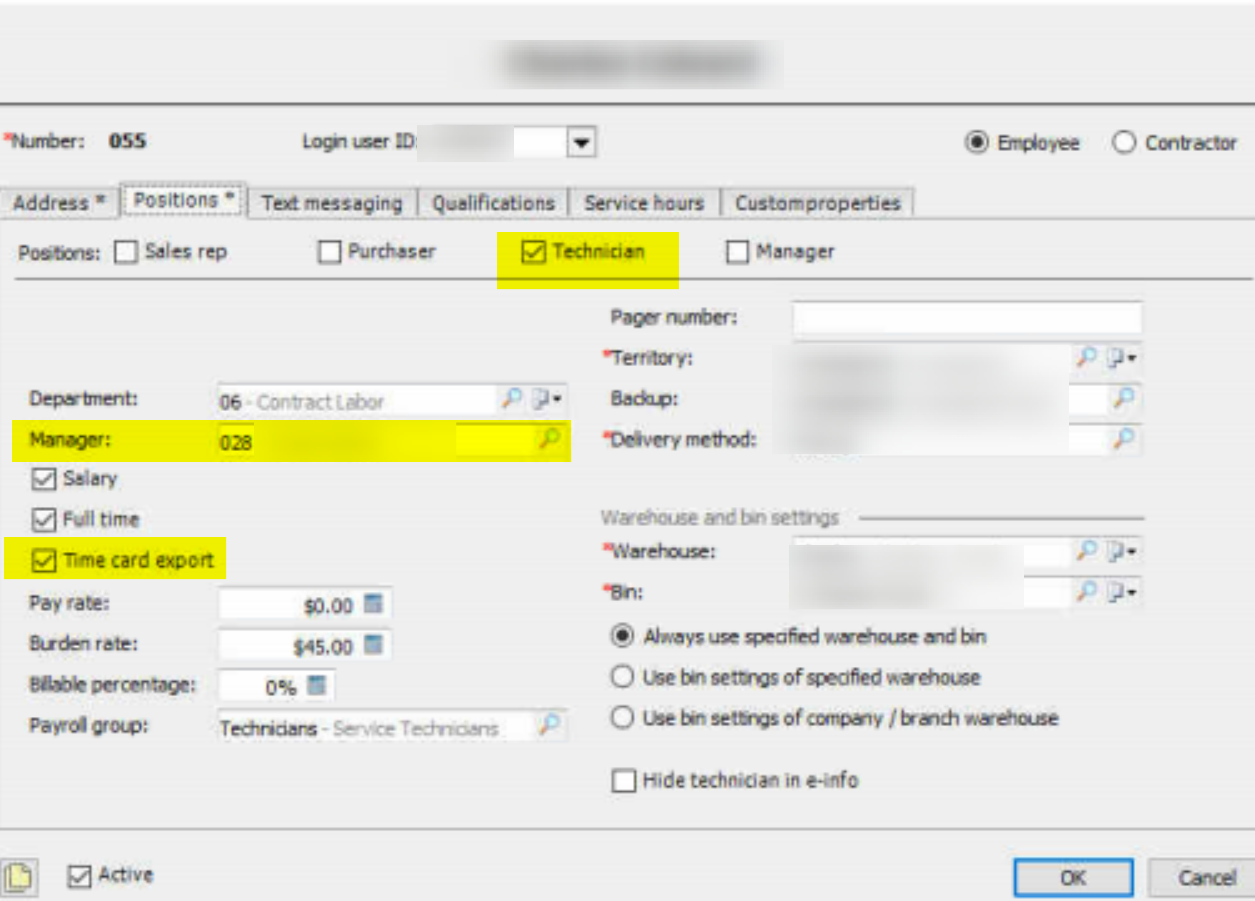 2. Does tech have needed Custom Property ZJCFieldTech set to YES?

Unavailable / Time Card Entries
The report takes into consideration all Time Card/Unavailable Entries.
See this link on how to enter these entries in eAutomate and Remote Tech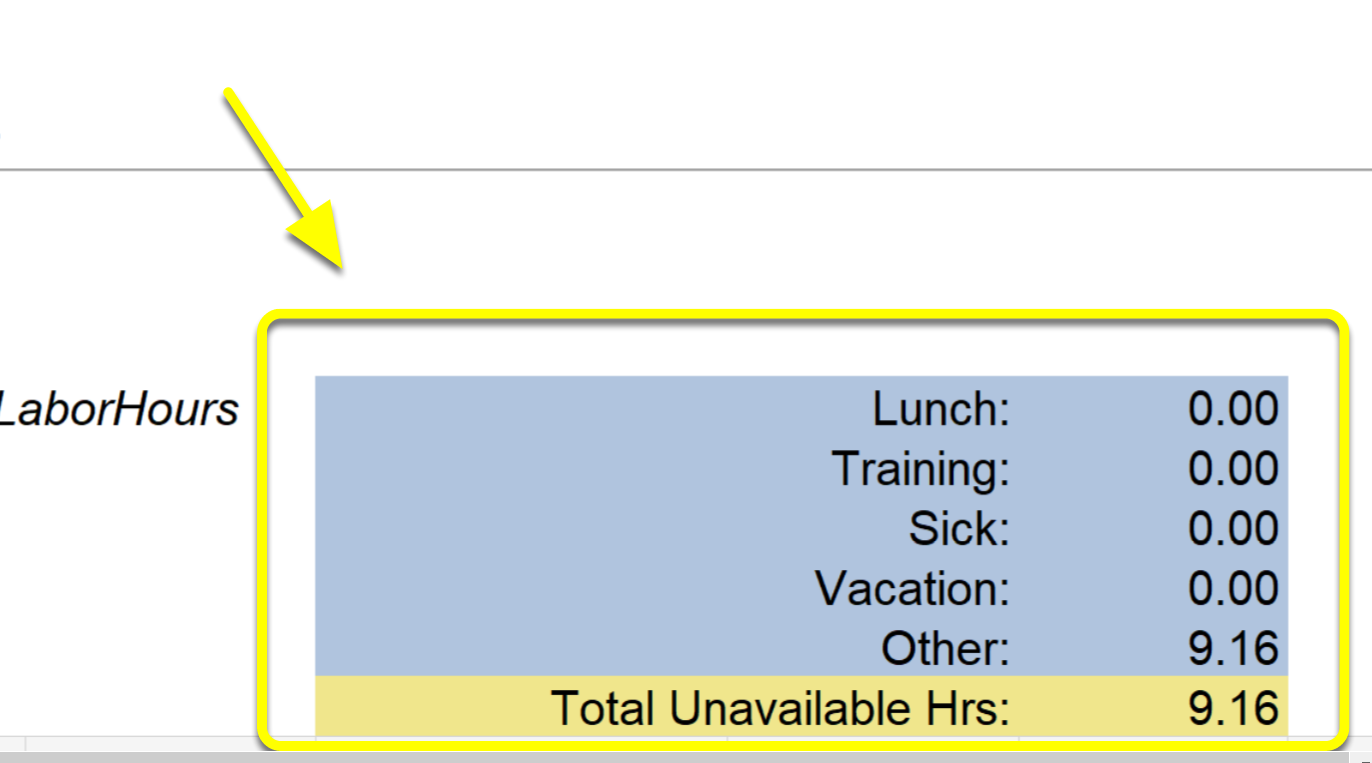 Report breaks activities down to Lunch, Training, Sick, Vacation, and Other based on Activity Category Code in eAuto:
Any activity code category NOT set as Lunch, Training, Sick, Vacation will appear as 'Other':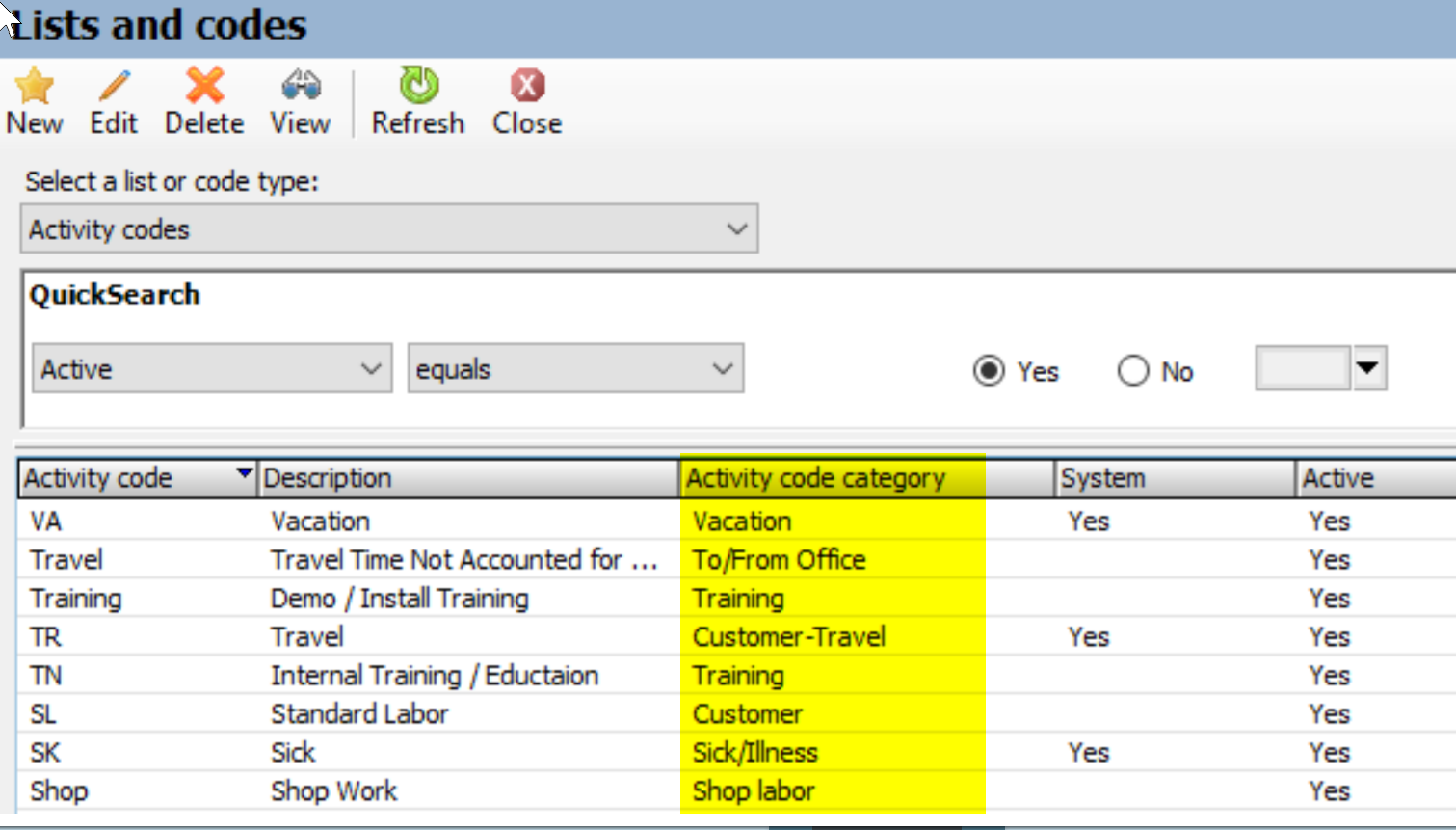 Best practice is to use Unavailable time entries (i.e. Training, Admin Time, Vacation, Sick) on techs eAuto Employee Record when NOT on service calls (paid or not paid). This helps ensure if a call comes in and the "due" time on the call falls inside the unavailable timecard entry (or service hours entry) for the technician assigned to the equipment, then eAuto will assign that tech's "Backup" technician to the call. Also, our Technician Productivity Reports will not count those hours against his/her "productive hours".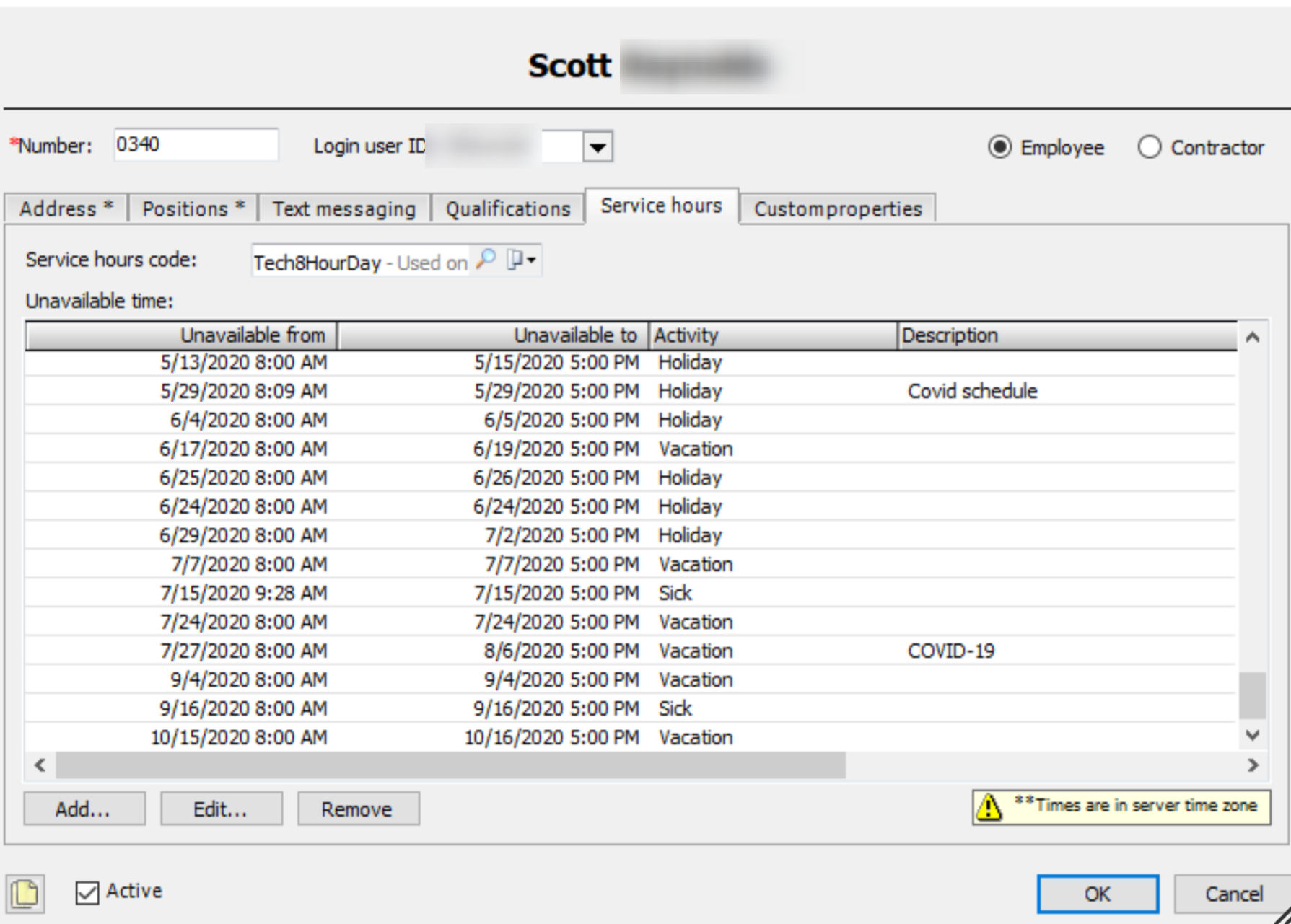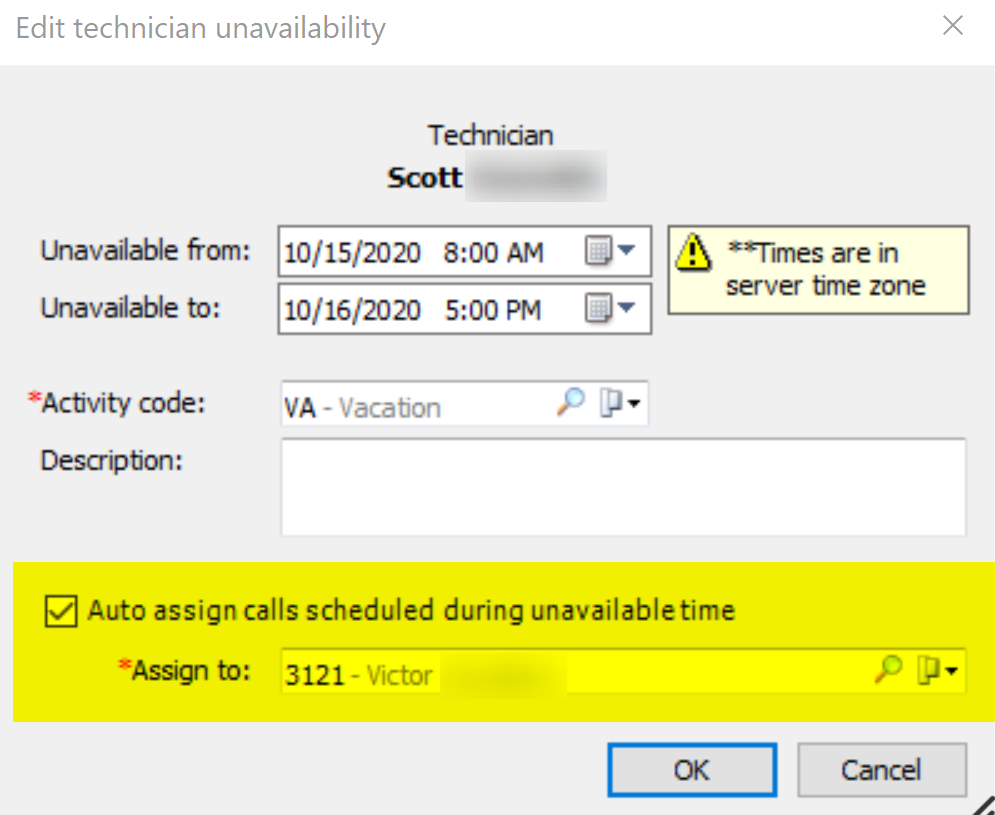 -Use Time Card Entries to account for time between actively working on service calls. Please see this link for more.
Is your tech's unavailable time off?
The screen shot below shows double entries for Personal Time Off. There is a Time Card Entry and an Unavailable Time Entry from 7AM - 5PM on 4/25/16 as well Activity for Off Duty. Be sure to only use Time Card or Unavailable Time Entry, NOT both. ***Please note, if you make any changes to unavailable or time card entries, report will not reflect those changes until the next day (nightly table updates required).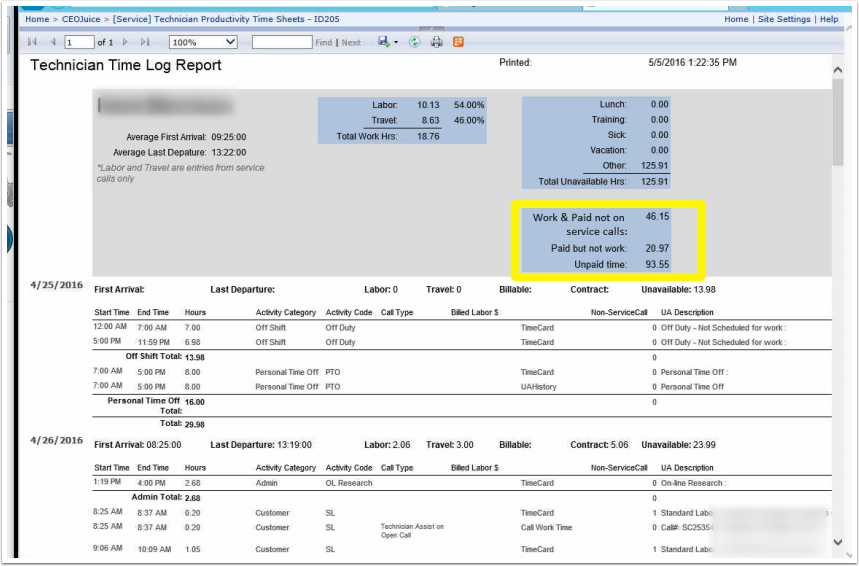 Quick access to see these duplicates via Employee Record, Right Click and select Reports/Time Card Entries: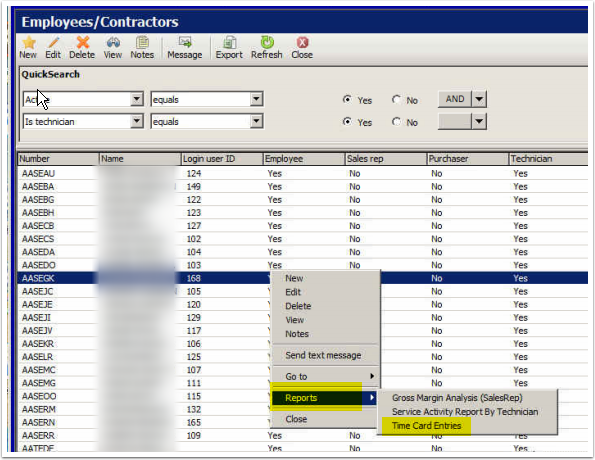 This example shows Labor Entries for First Arrival Time, but also shows Travel Time:

* * *
OnDemand Report Filters
OnDemand Report Filters

Field Techs filter:

1. All Tech will consider all eAuto Employee Records marked as tech:

2. Field Techs will consider only those eAuto Employee Records with ZCJFieldTech marked as Yes

3. Tech Missing from Report? See THIS LINK on how to fix.
* * *
Best Practices & Tips
Best Practices & Tips
-We also suggest using ID592 which will notify of duplicate labor entries and should help identify time log issues
-This report can also be accessed from your ID204 Tech Productivity Report by clicking on a cell entry hyperlink: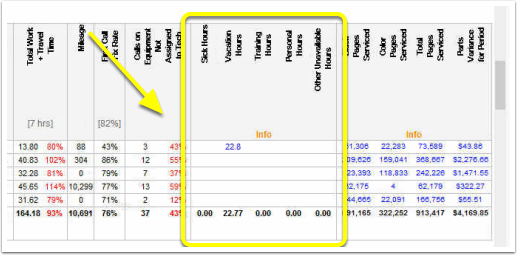 -See THIS LINK for using Remote Tech to force Techs to account for their time
-See THIS LINK for using Timecard Entries
-See THIS LINK for using Unavailable Entries
-Be sure you have your Service and Holiday Hours for each year. Find via Lists & Codes SLA codes:
Use ID70 Update Holidays in eAuto to be reminded each year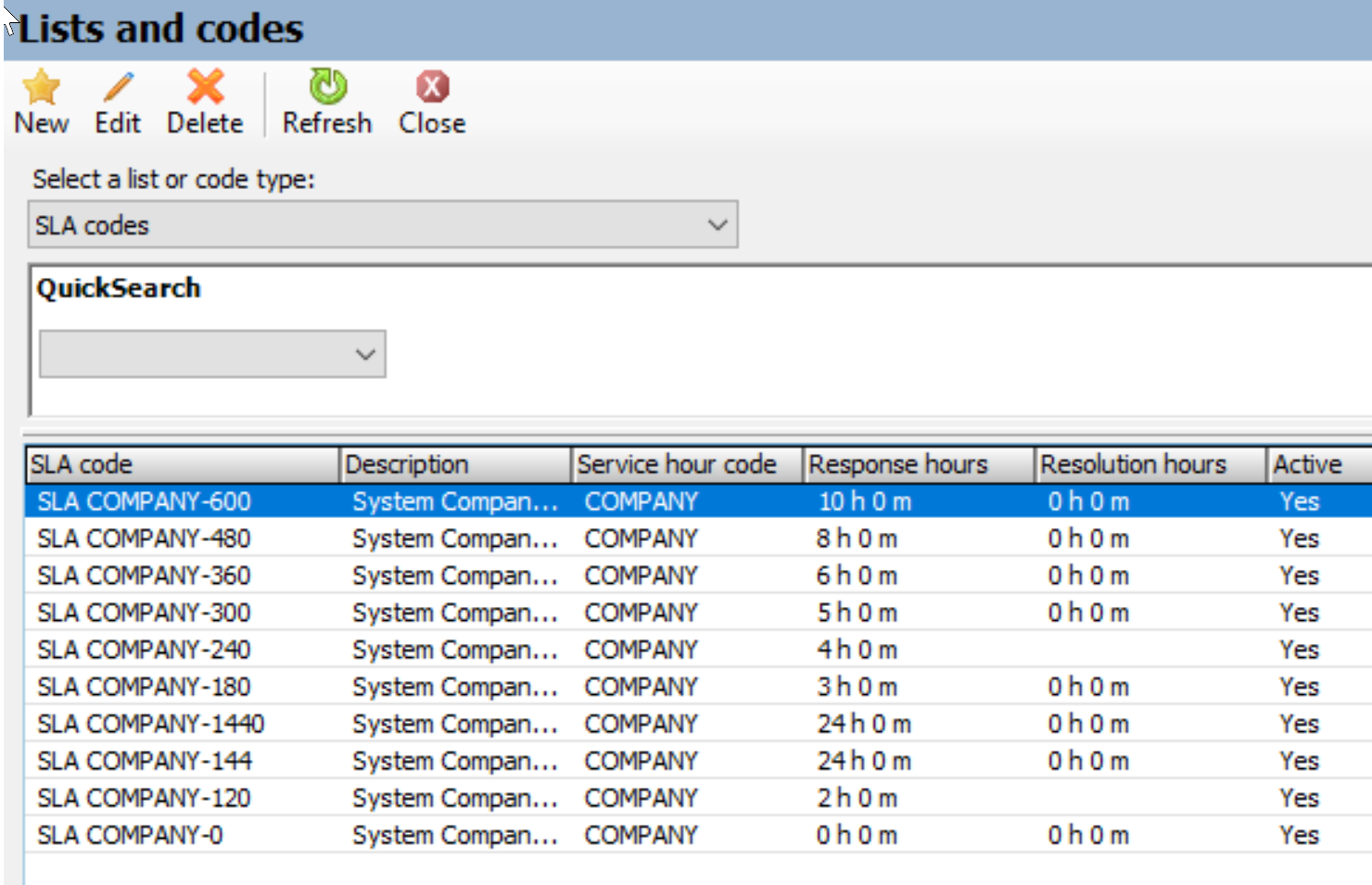 Do your service hours reflect the hours your company opens and closes?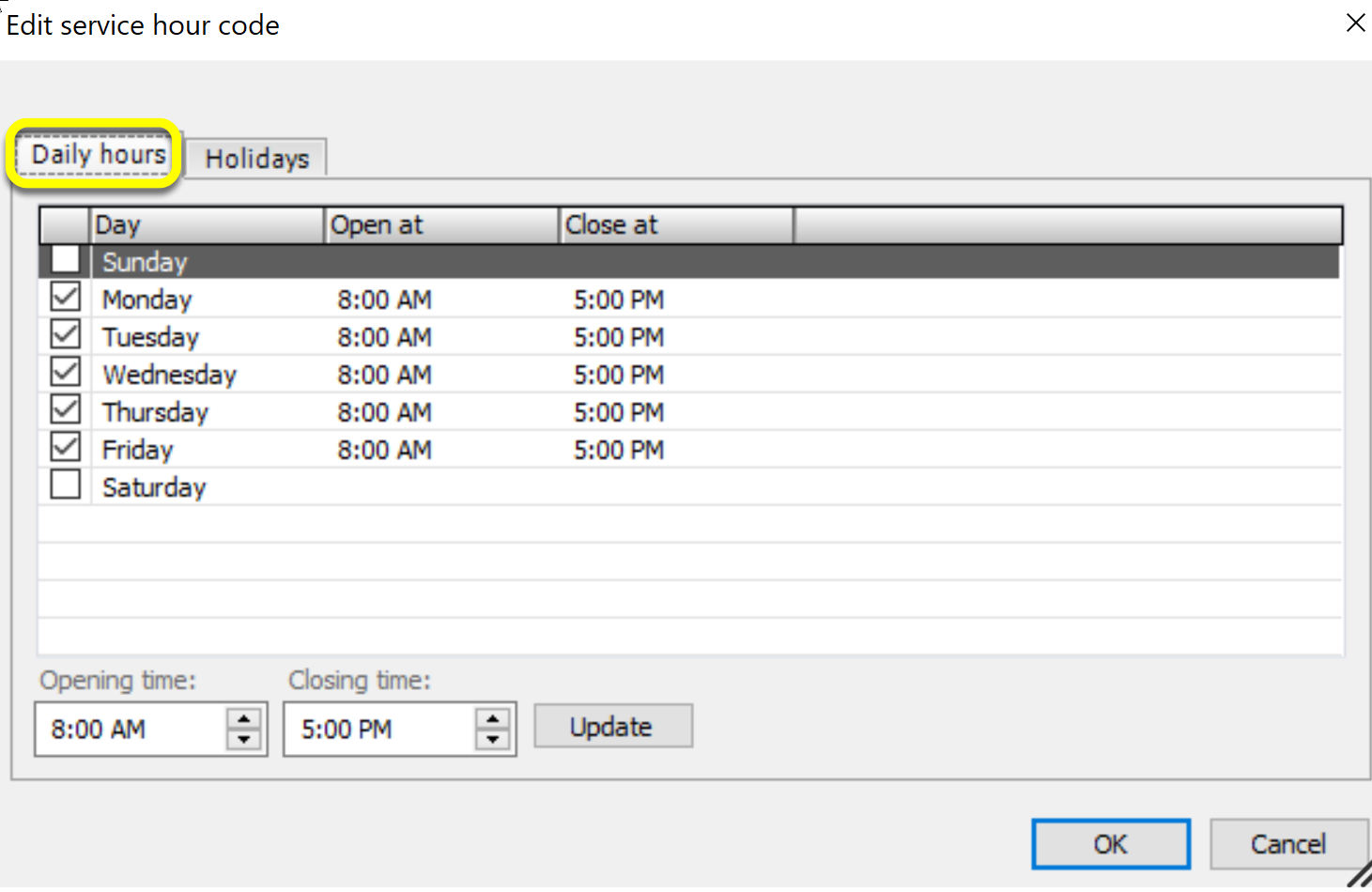 Do your Holiday Hours refelct both full and half days your office is closed?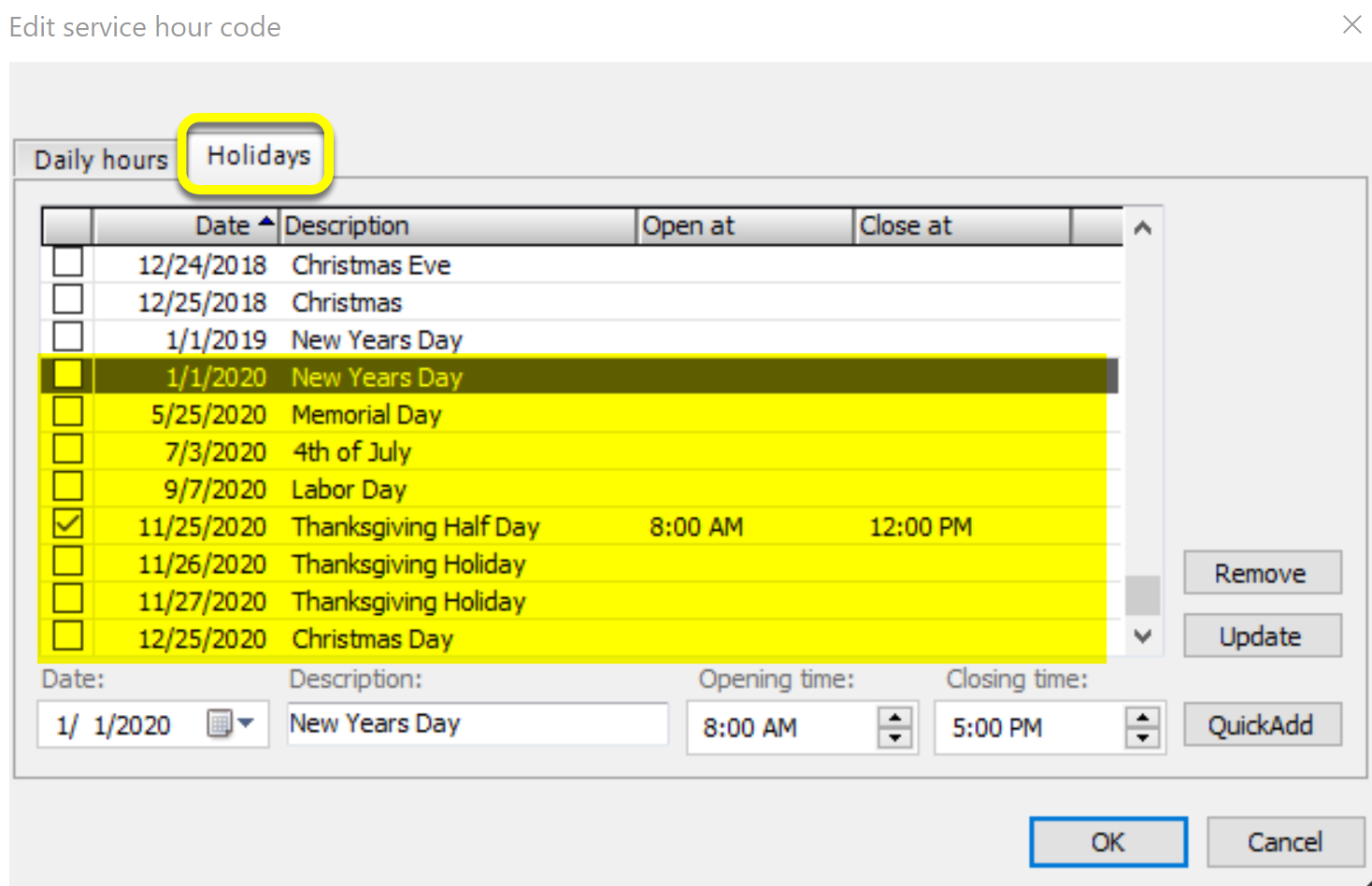 * * *
Related Alerts
Related Alerts
ID70 - Update Holidays in eAuto
ID204 -Tech Productivity Report
ID206 - Tech Productivity Callback Report
ID207 - Tech Productivity Copy Details Report
ID592 - Detail on service call closed with multiple labor entries
* * *