To change subscription settings like recipients and variable settings you will need to be logged on to the subscription site and then follow these steps:
1. Select 'Subscriptions' from Menu Bar on left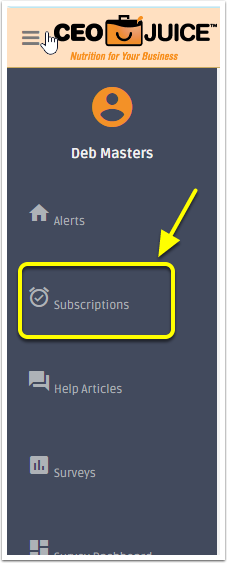 2. Enter alert ID# in ID Field and then click blue button to access alert subscription details and set up:

3. Within the alert subscription you can scroll down to change Variable settings:

OR Recipients:
You can even change the Subject Line for the email generated from the alert:

If you are interested in changing the from address, we do this for you and typically only for your Customer Facing alerts (i.e. ID181, ID109). Just email us at help@ceojuice.com.

**NEW FEATURE**
Within your alert subscription, you can view the revision log and subscription edits via this box on right hand side of your screen: