ID501 is an automated alert, and we also install a "Custom Report" to run on demand from eAutomate.
When this is run as an alert, it automatically filters out any models that are checked as "Accessory" as the automated report was meant to provide a list of MainFrame machines for reps/etc to see the machines instock to sell. Clients who want to send out a list of Used Equipment available in their warehouses to their sales reps. 
The process assumes you sell your used equipment "configured" as a set price for the equipment as it sits (all accessories attached are included in the price to the rep). Typically, these used machines will have all the accessories "attached" in eautomate, and this report will show all Attachments.
VariableW - List of Warehouses to scan (separate multiple warehouses by comma, use the actual warehousenumber, not the description) **REQUIRED**
VariableX - List of Status Codes of equipment to include (separate list with commas),
VariableY - Option to associate a custom property on each serial# to represent a cost of that machine (including all of it's attached accessories) for the reps commission purposes. Or you can use Costs.           The Custom Property in VariableY "ZCJRepCost501" would represent the salesreps "chargeout" for the host and all the attached accessories. This value is not derived from the system, if you want to use it you must manually enter it for each Eqp ('marking the price' of the Eqp as-is).
OR if you want to use the Default Price as the rep cost, put 'Default' in VariableY.
OR if you want to show the rep your Actual Cost put 'Cost' in VariableY.
OR if you want to show the BaseOutCost using the items default out cost group enter 'BaseOutCost' in VariableY.
VariableZ - List Condition code(s) assigned to instock equipment to include **REQUIRED** (separate list with commas).
Sample:

NOTE - If you select any BranchRoles to send to, and your warehouse(s) in variableW cross multiple branches then this alert will fire for each distinct branch for the selected warehouses and roles! So if your using branchRoles enabled on this alert then your warehouses selected should not cross branches as this alert is meant to be for specific warehouses/conditions and not meant to be a wide open report as an alert.
Custom Report Filters: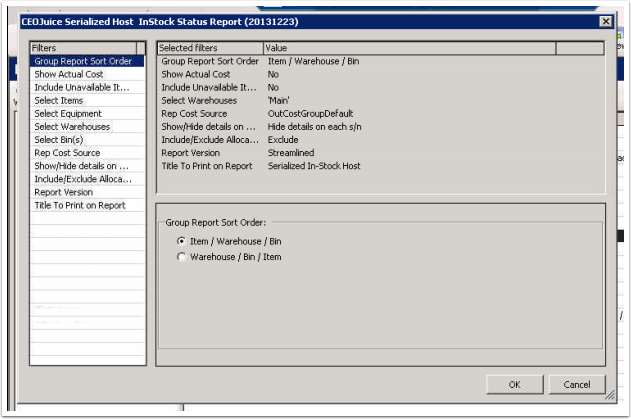 **Please also see alerts ID567, 568, 569 and 570 to build additional alerts to fire on different status, warehouse, bins, etc. **