This alert will notify you real-time (within fifteen minutes) of newly-created calls which are not linked to a contract. It is designed as a training-tool/safeguard for clients new to eAuto who may have holes either in their data or in their processes. The alert will advise you if the call in question is linked to either a piece of Equipment which is on contract or a customer who has contracts in place. It will also report calls which AREN'T SUPPOSED TO BE linked to contract, for instance chargeable calls or other exceptions. This alert is not meant to be a long-term solution to any problem as it will eventually not be telling you anything you need to know, once you get your data cleaned up and your business practices nailed down.
This alert has the following Variables:
See output sample below: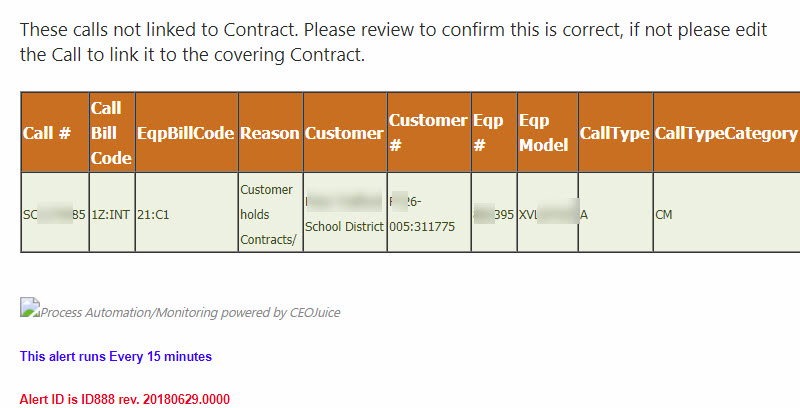 If the call is not linked to a contract, ID109 & ID181 will not function properly.
ID109 Service Call Survey follows up for feedback after a call is closed. ID181 updates customer on status of the call , when a call is entered, technician dispatched and completed. Both alerts look at the contact on the call to email.
Dispatch needs to select a caller name from the drop down list in the caller contact field and we suggest they verify their email on each call. ID187 will send a reminder to the person who placed the call. For more info on ID187 click here.