Is Sales giving away equipment and/or supplies?  Are you sales order personnel doing favors for friends?  Or is the pricing in the item file not set up properly?
ID424 will notify each time a sales order is created with an item price/avgcost margin below the specified target. This alert will report when a sales order line item OR sales order TOTAL margin is created/edited and is below the target margins. It does not consider at invoicing as the point is to catch the problem before it is invoiced. It will ignore sales orders ONHOLD until they are released. For Supply Orders it will ignore equipment under contract and billed at $0. *This alert pulls cost from the average cost of the item. If you click availability for that item in eAuto you will see the average cost in the top right of the window*
Sample output below shows Sales Order #, CreatorID#, CustomerName, Sales Rep, CreatorName, Amount, Cost, Margin, Margin % and Message.  The sample is set to run daily, can be run every 15 min if needed.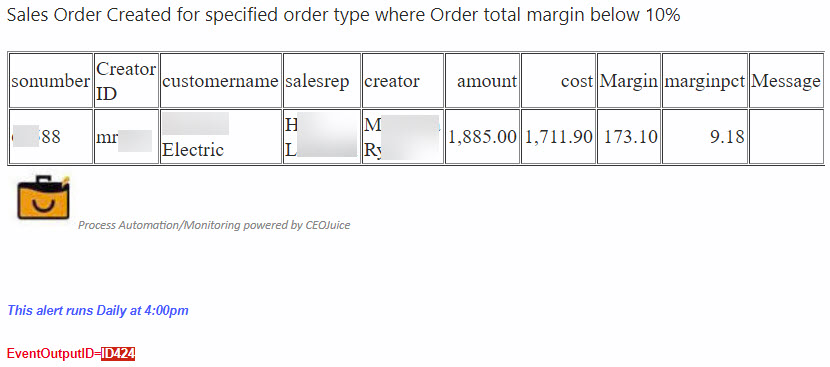 Variables include:
Order Type(s) to check (separated by comma)

Item Margin Target (enter as whole number...10 do not include % sign) Enter 0 to have this alert ignore line item margins.

Order Total Margin Target (enter as whole number...10 do not include % sign).