Provides review of what Contract Revenue you can expect to bill and compares to past for trending
Jump to Overview | Samples | Variables | Alert Functionality | OnDemand Report Filters | Best Practices & Tips | Related Alerts | Webinar
Overview
Overview
The eAuto Billing Console is a wonderful tool to aid your Contract Department in managing ongoing tasks in billing of contracts. It was designed to assist your Billing Team but doesn't provide good visibility into what you can expect to bill for the month. We've created this report to enhance the billing console by forecasting what you can expect for the current month (based upon actual base amounts and last 6-months average overage charges). This report may even be more helpful to your Admin Team working remotely, to assist top management by bringing more visibility into where your contracts due to bill this month are at in the process.
Type of Output: On Demand SSRS Report
* * *
Sample
Sample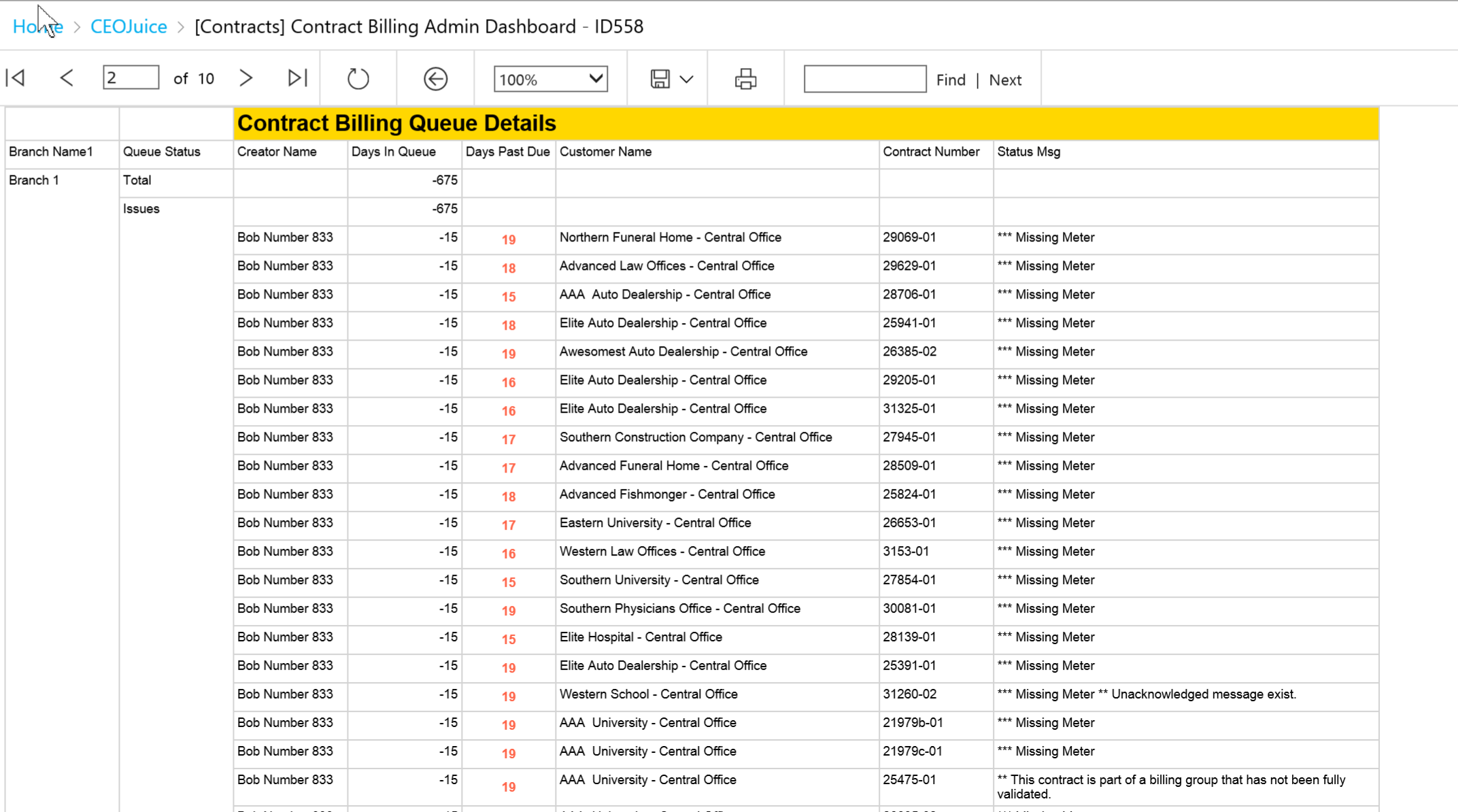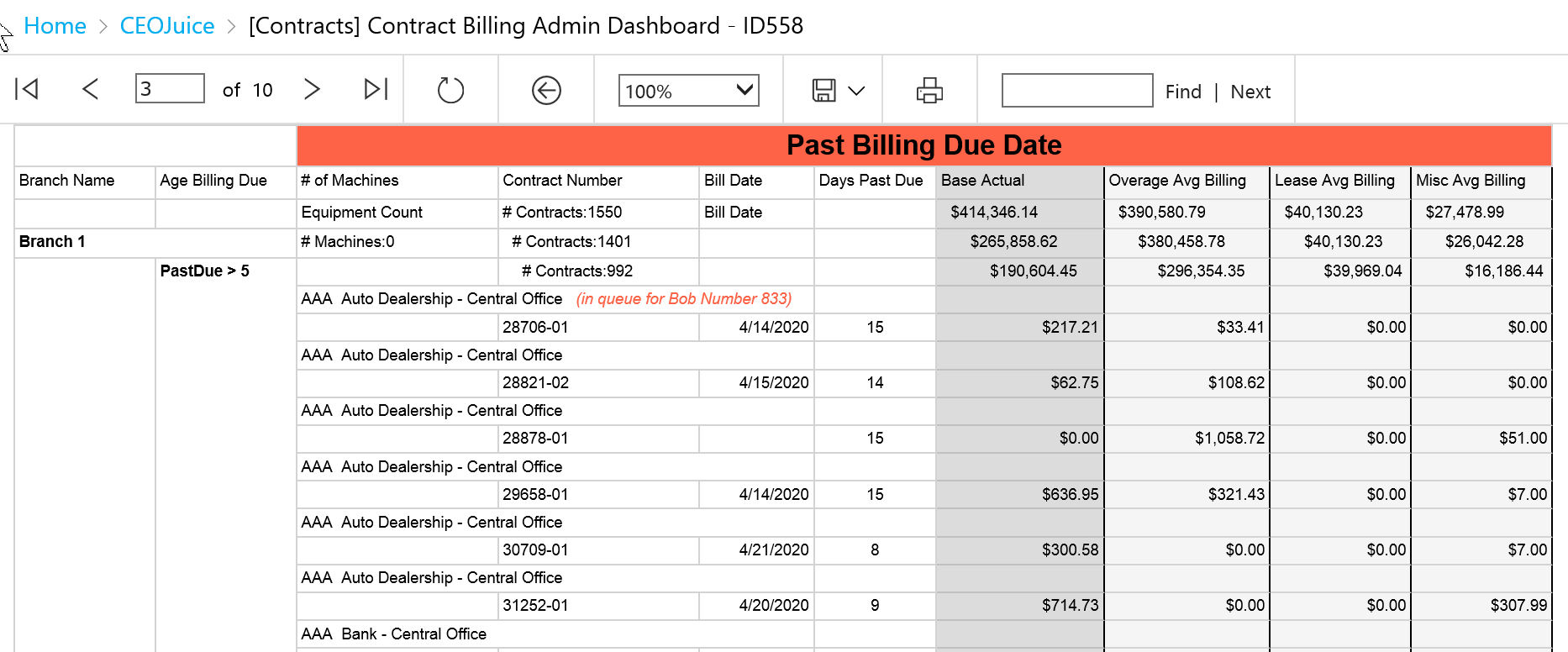 * * *
Variables
Variables
This alert has no variables
* * *
Alert Functionality
Alert Functionality
Forecasted Section
Due now and Past Due are subsets of Due thru. So those numbers are a part of the entire Due Thru column, not in addition to (just more details within that larger number)
Forecaste due thru = everything in your Contract Billing Queue if you were to run through end of this month
Base - the base amount listed on Contract Records (at Contract, Equipment or Meter Group Level)
Overage/Misc - average from last 6-months invoices for contracts in your Billing Queu (thru end of this month)
Due Now
= everything due to bill today
Past Due
= everything past its billing due date (use *
*Click Here for past due details
to see Equipment and Contract details). This amount not does NOT include contracts in Billing Queue.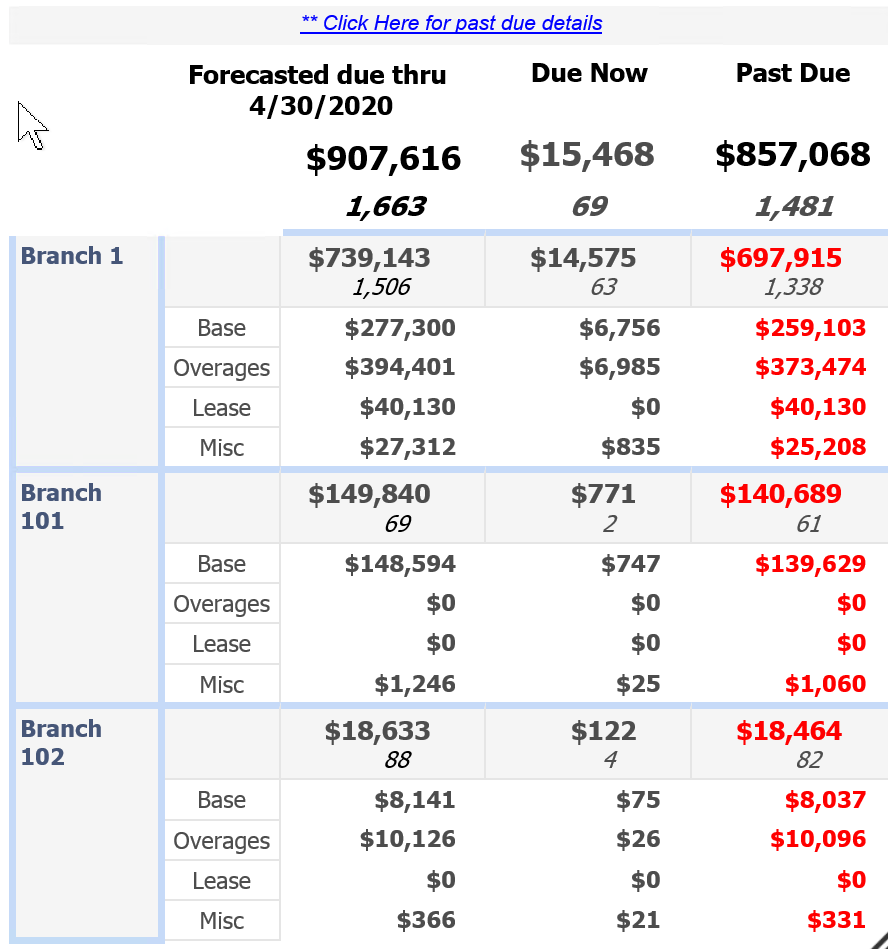 Current Billing Section
This section matches exactly what is in your eAuto Billing Queue The yellow column (Validated) is showing anything that's been left there overnight, but hasnt billed yet.
(use Currently in Billing <click here for details> to see User and Contract Level details)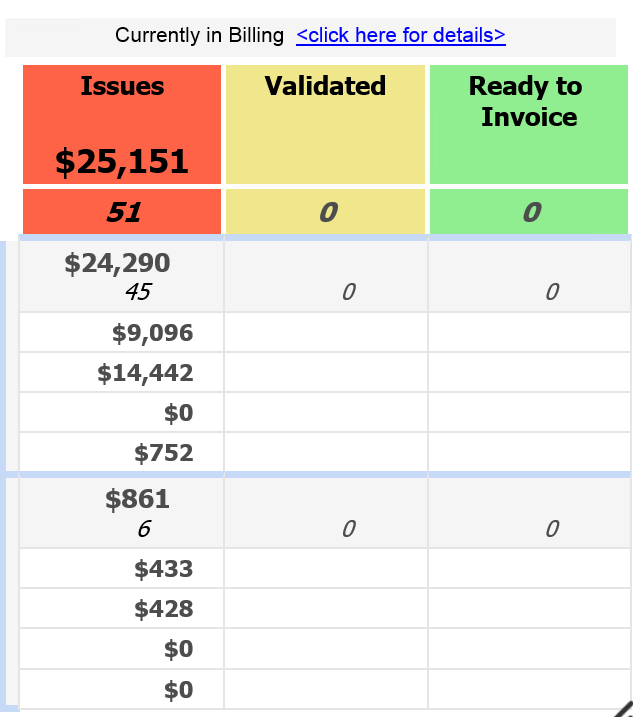 Billed Section
This section provided to bring a relevance to where you are YTD over LYTD
Billed This MTD = every Contract Invoice Amount with date of current month (based on Invoice Date). Please note, this will NOT match your financials as it is based on Invoice Date, whereas, your financials are based on Contract Coverage Period.
Billed Last YMTD = total amount billed last year (based on Invoice Date) for this same month at MTD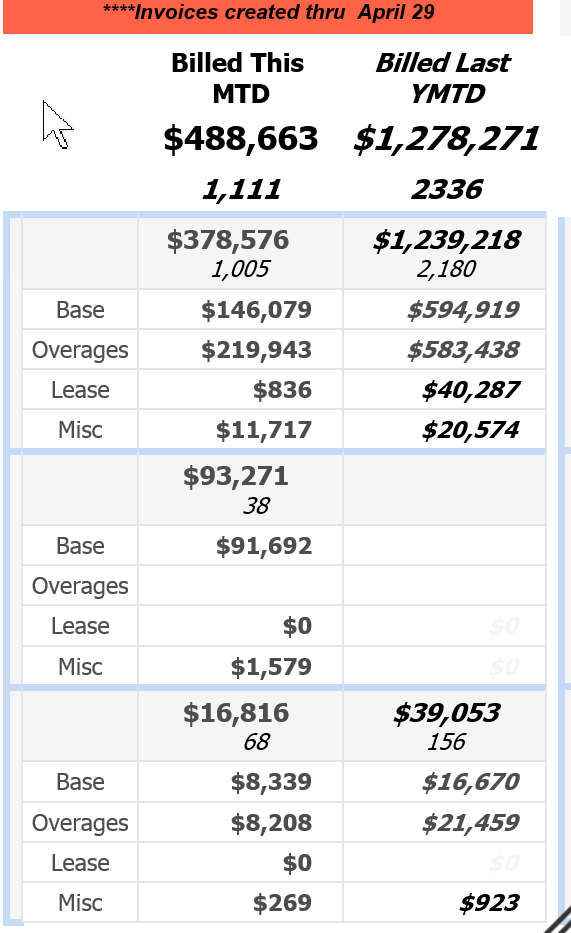 Billed This YTD
- date is based on GL Period, not Invoice Date
Billed Last YTD
- date is based on GL Period, not Invoice Date
PCT Year over Year
- ((CurrYTDBranch.Value- LastYTDBranch.Value ), CurrYTDBranch.Value) * 1, this percentage changes based on total year to date vs last year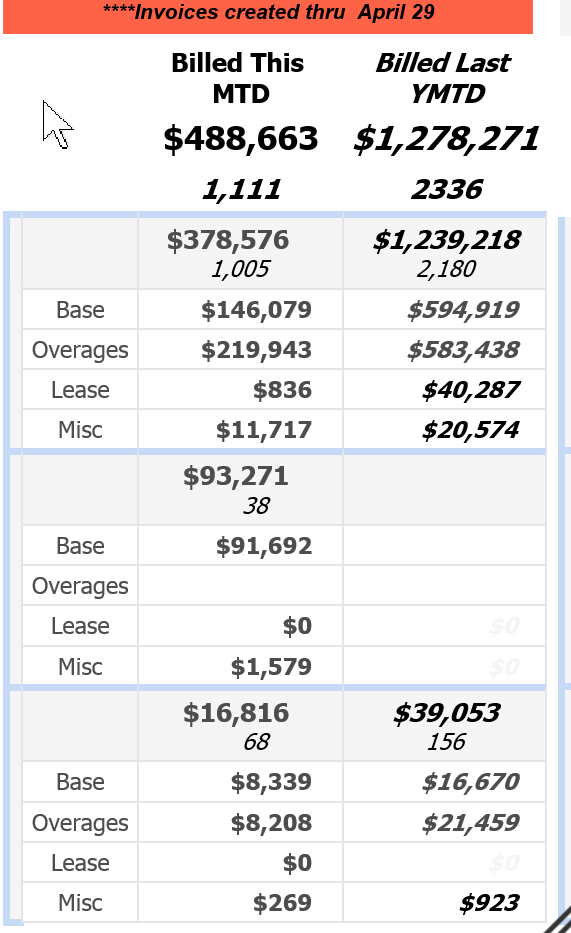 Contract Billing Details (Page 2)
Creator Name = which user's queue
Days in Queue = total number of days contract has been sitting in Billing Queue waiting to be billed
Days Past Due = total number of days PAST contract billing date, contract has been sitting in Billing Queue
Status Message = exact error message from queue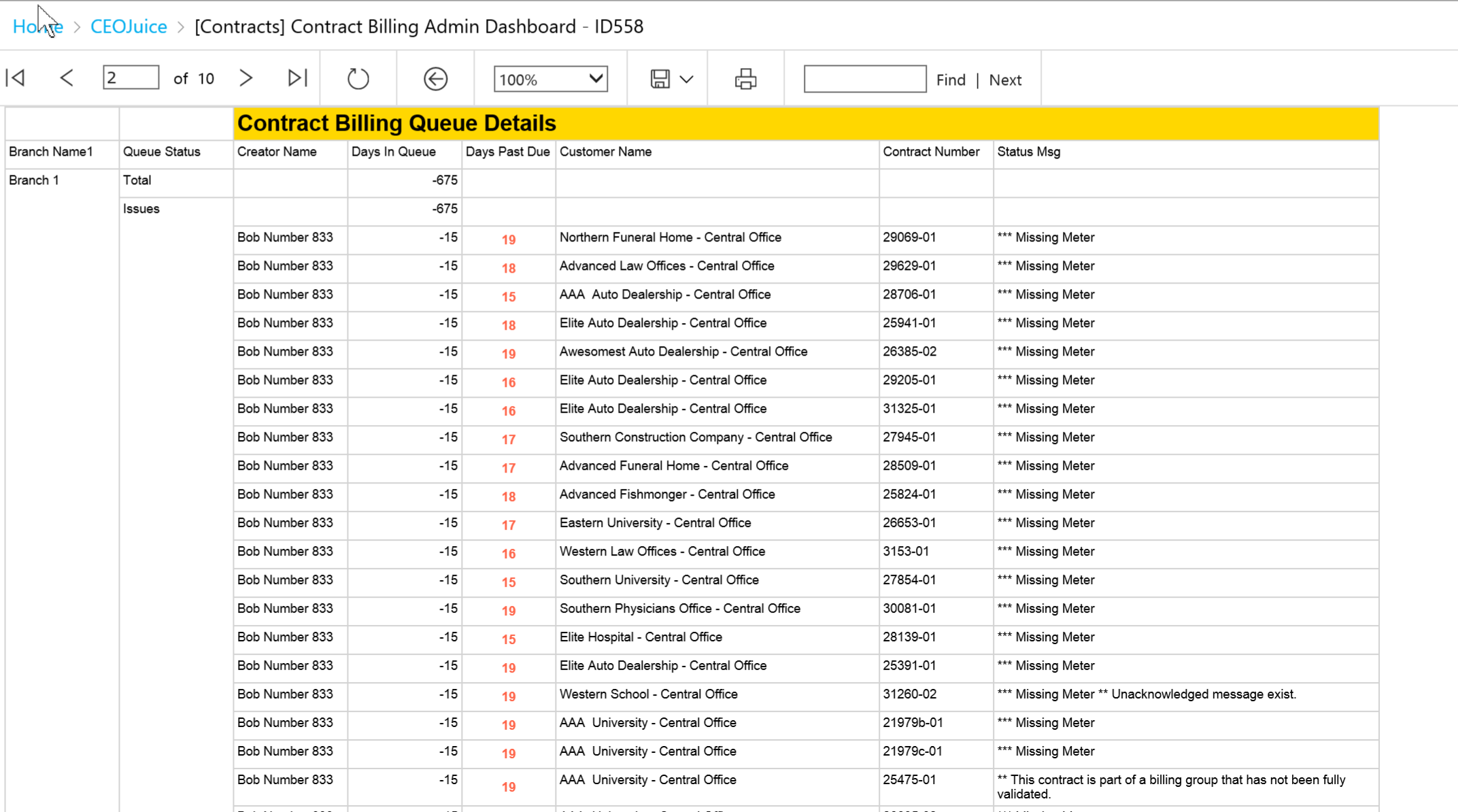 Past Billing Due Date:
Avg Billing (Overage/Lease/Misc) is calculated from last 6-months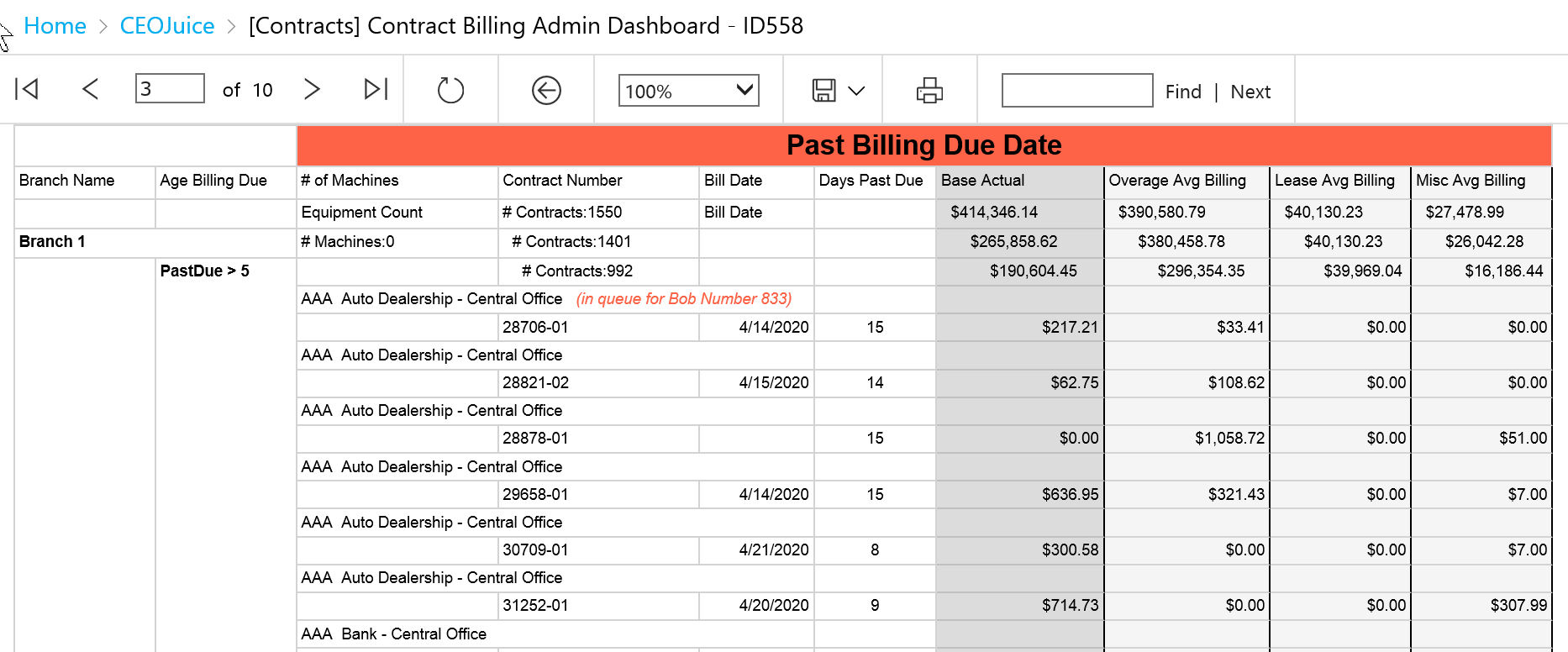 * * *
OnDemand Report Filters
OnDemand Report Filters
No filters needed for this SSRS Report

* * *
Best Practices & Tips
Best Practices & Tips
-Please see THIS LINK on suggested Best Practices for handling customer requests for deferred billing / contract base and/or usage reductions / credits during the Covid-19 crisis
* * *
Related Alerts
Related Alerts
ID568 - eAuto Activity Trends
ID569 - Meter Trends over Last Rolling Eight Weeks
ID570 - Note History Reporting
* * *
Webinar
Webinar