For our closed call survey we have determined that best practice is to "survey" the person who placed the service call and not some "static" Key Operator contact that is probably out of date. We also believe it is good business practice to keep your contacts updated as they may be useful in other areas such as meter collection etc.
As such we want dispatch to pick the caller name from a drop down list and suggest you verify their email address each call.
For customers who are reluctant to give an email we suggest you let them know that it is for keeping them updated on the service call and that we will email to confirm that everything was fixed to their satisfaction, perhaps also mention they have the option to get an email when the technician is on the way to their office.
We suggest that you do not refer to our survey request email as a "Survey" but as a "follow up to ensure everything is working right".
When you create a service call instead of just typing in the contact's details you need to associate a contact and ensure that contact has an email address. So you click the lookup and either pick an existing contact or create a new one. See screen shots below.
It is NOT a requirement to select email as the preferred method of contact.
When a call (of Category Type = Corrective Maintenance) is created without an associated contact, our system will send the following email with a "No Contact Associated" error. 
Prior to version 8 eAutomate will require that your contact have a title. We suggest a title of Unknown which will populate easily with just a down arrow.
Please note eAuto (8.1 +) has setting available to automatically link the EquipmentContact on the EquipmentRecord to the service call. We highly recommend not using this function as contacts so often change and it is best to ensure your dispatchers are asking for contact info and verifying it is properly set up as linked contact. This setting is located in Tools/Options/Service Calls as shown here: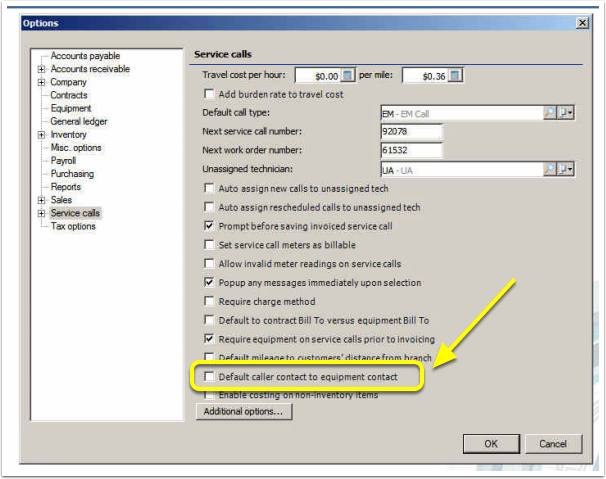 In addition for clients who want to survey as many customers as possible we have an additional process to see how many emails are being missed.
Alert ID188 is a daily summary showing the calls that did send a survey request and the calls that could have but were missing emails.
In addition this report can track the customers who did not want to give an email. Dispatch will still have to create the contact (if it doesn't already exist), but dispatch will not get prompted to create a contact (alert ID87) more here.