Reminder to send ID312 Equipment Install Survey to your customer
Jump to Overview | Samples | Variables | Alert Functionality | Best Practices & Tips | Related Alerts
Overview
Overview
The equipment install survey ID312 is designed to be manually triggered by you, once you are ready for a customer to receive the email/survey. This may be when the equipment has been delivered and invoiced, or once the equipment was delivered and users were trained. You decide when to send the survey.
ID630 is an alert that runs once a day looking to see if a customer is ready to receive a survey, based on what you tell us. Your team then needs to assign the Category to the Contact Record in e-automate (instructions here) in order to trigger the survey.
You tell us when you want to be reminded, based on transactions in e-automate occurring. For example 5 days after a service call with a call type of IN-Install is invoiced, OR 10 days after an equipment order type is invoiced. Once you tell us how the ID630 reminder email should work, we will build the report and the output will provide the necessary information for your user to them trigger the survey for that contact.
Run Schedule: Weekdays AM
Type of Output: Email
* * *
Sample
Sample

* * *
Variables
Variables

Variable W: Number of days you want to wait before you are alerted to set Contact Category to trigger survey (DO NOT set with 0, lowest can be 1 to send those that qualify from previous day)
Variable X: Trigger on service call (SC) or sales order (SO)? No multiple entries allowed.
Variable Y: Call Type (when triggering on a service call) or Order Type (when triggering on a Sales Order)? No multiple entries allowed.
* * *
Alert Functionality
Alert Functionality
-This alert sends notice when a customer is ready to receive your ID312 Install Survey when either Service Call or Sales Order is completed per your VariableX and VariableY settings.
-You will then need to add the Contact Category ZInstallSurvey on Contact Record who should receive survey.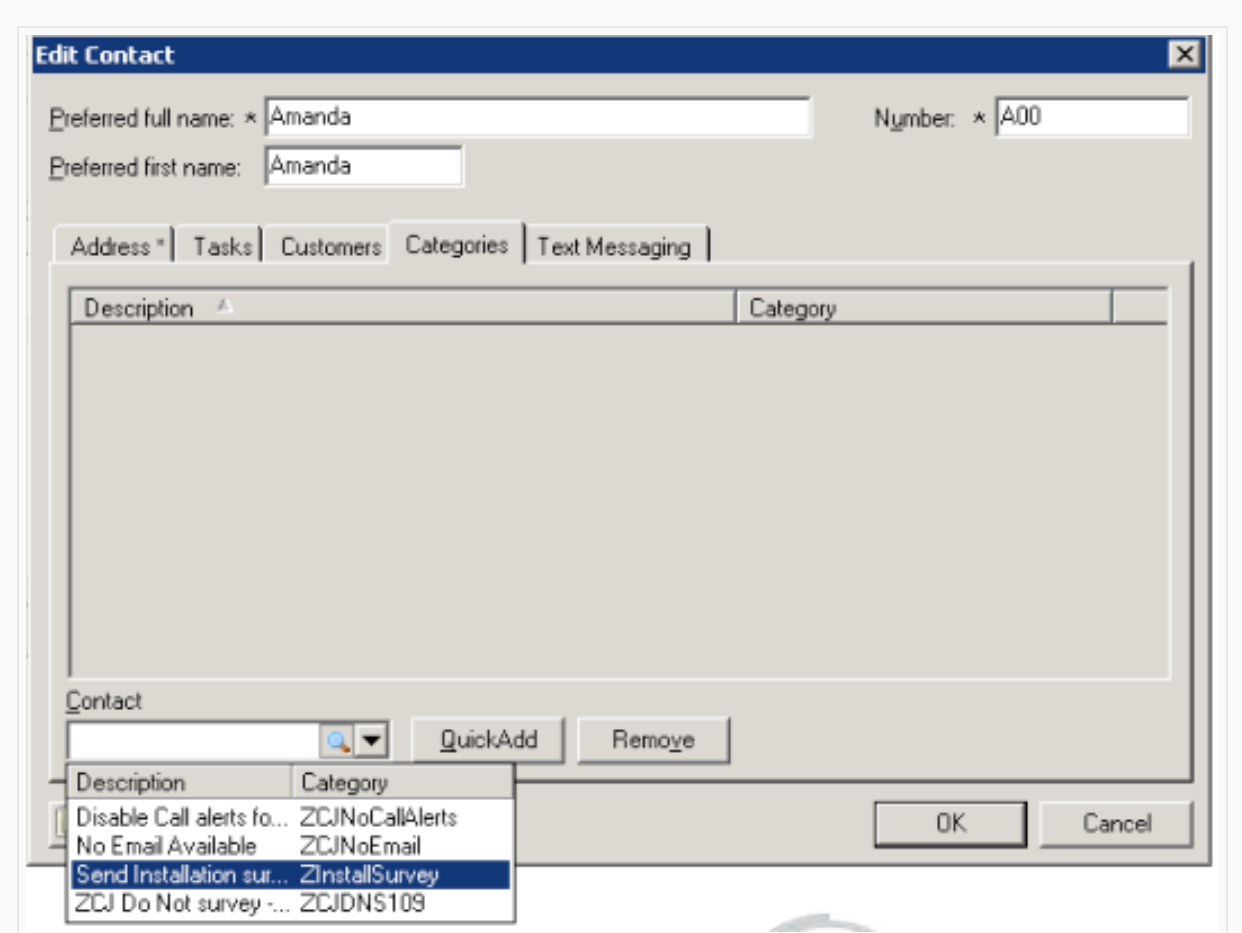 * * *
Best Practices & Tips
Best Practices & Tips
This link provides an overview of ID312, as well as setting and re-setting of Contact Category.
* * *
Related Alerts
Related Alerts
ID312 - Equipment Install Survey