Our Equipment Install Survey ID312 is designed to be sent a few days after training is completed.
We allow you to have different versions of the survey, so one survey for a new customer, perhaps a different one for an existing customer.
Surveys are sent by attaching a category to a contact, we create categories to match however many surveys you want to use. Add as many contacts as you like, we will show the results by contact.
In order to send a test, you will need to create a contact for yourself (if you don't have one already) and make sure it's attached to your customer record.  Once the contact is there, then you will need to open it up and add the ZInstallSurvey Contact Category.  Once that is set up, let us know and we will run the task to get you a test of the survey request email.
Just about everything for ID312 can be customized, but below is kind of a starting point.
Here is our template for the survey request email:

The template questions we start with are below: Click here to understand the importance of the 1st question.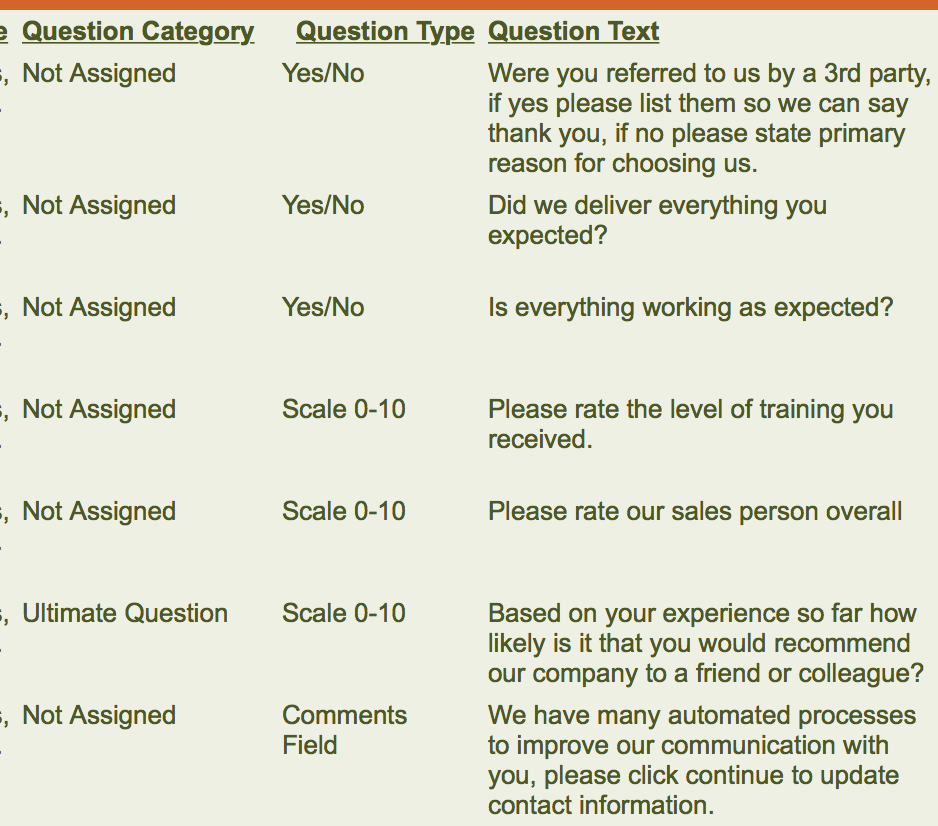 On our subscription page for Variable X, use ZInstallSurvey,  it will be the contact category that you will have to set each time you want to send the survey
For Variable Y, use ZCJSurveySent.  This is a note that gets added to the contact after the survey is sent to prevent the survey from being sent again and to give you the ability to see when exactly it was sent. If you want to survey the contact again you will need to 'delete' the note (below), but make sure the category is set as 'ZInstallSurvey' SendInstallationSurvey.
We do have the option to capture contact and some additional information, currently you need to contact us to turn this feature on. When activated your customer will be presented with a continue button after they complete the survey where we can ask them to update contact information and agree to accept marketing from you. You can choose one or all of these, for example you may decide that you just want to get contact information for Equipment and Accounts Receivable.
We are working on a process where we can check if these contacts exist in e-Automate and if not, push them in.
See here for instructions on changing questions.
We are also working on a process to prompt you to add the survey to a contact, more here.
More here on understanding survey responses, more here on viewing results in the dashboard.
Email help@ceojuice.com with questions.