The Equipment Install Survey ID312 is designed to be sent after equipment is installed and training is completed. You can have multiple versions of the survey, one survey for a new customer and an alternate survey for an existing customer.
Surveys are sent when a Category is assigned to a Contact Record (note the Contact Record must be linked to a Customer Record). The default category we use is ZInstallSurvey. If you want to use a different name to send a survey then you will also need to update it in Variable X of the subscription.
The cover email and questions can be customized as needed, below is a default version.
Cover Email Sample:

We can create an alternate version that includes "how to do business with us" information.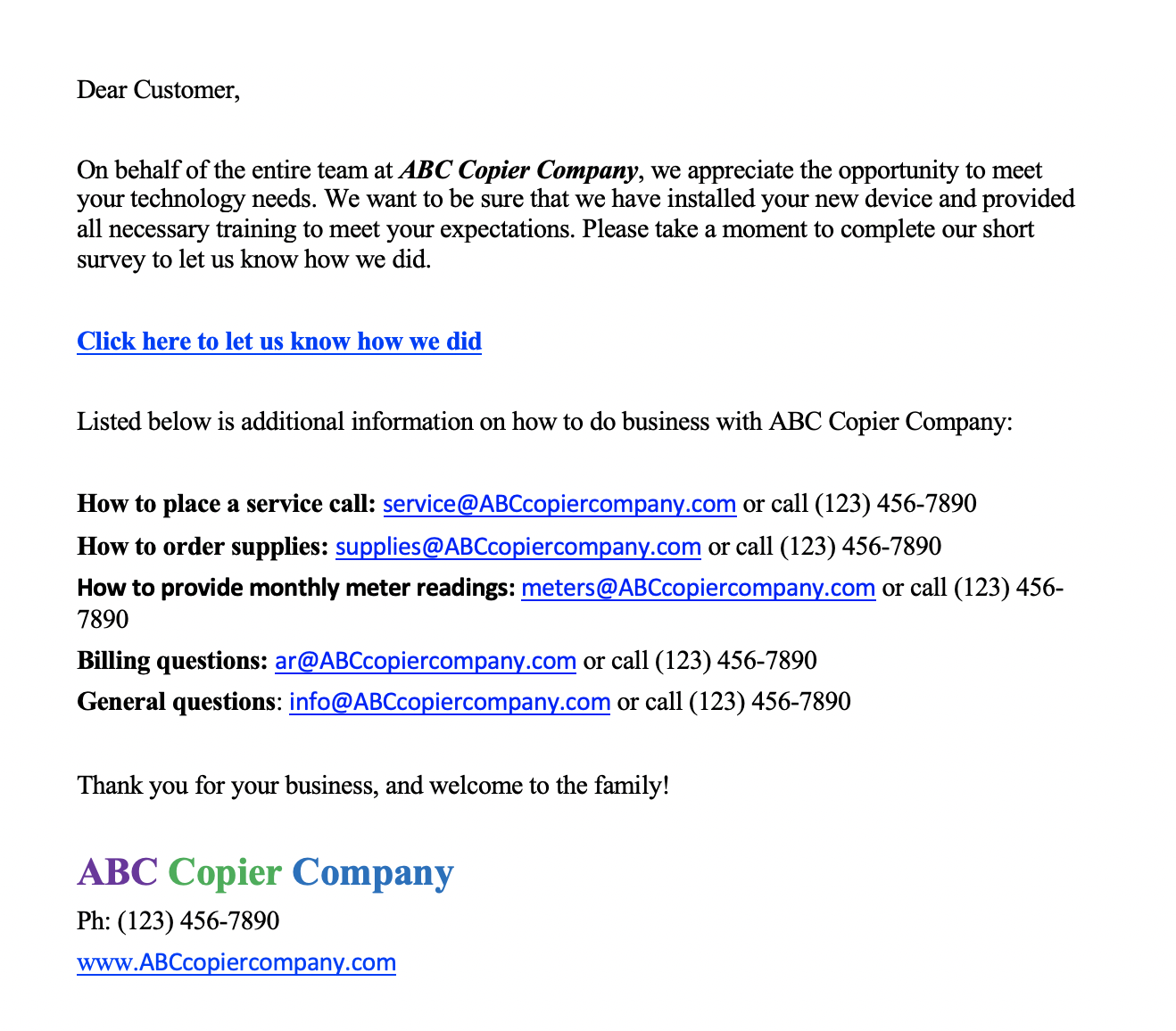 Template questions we start with are below. Click here to understand the importance of the first question.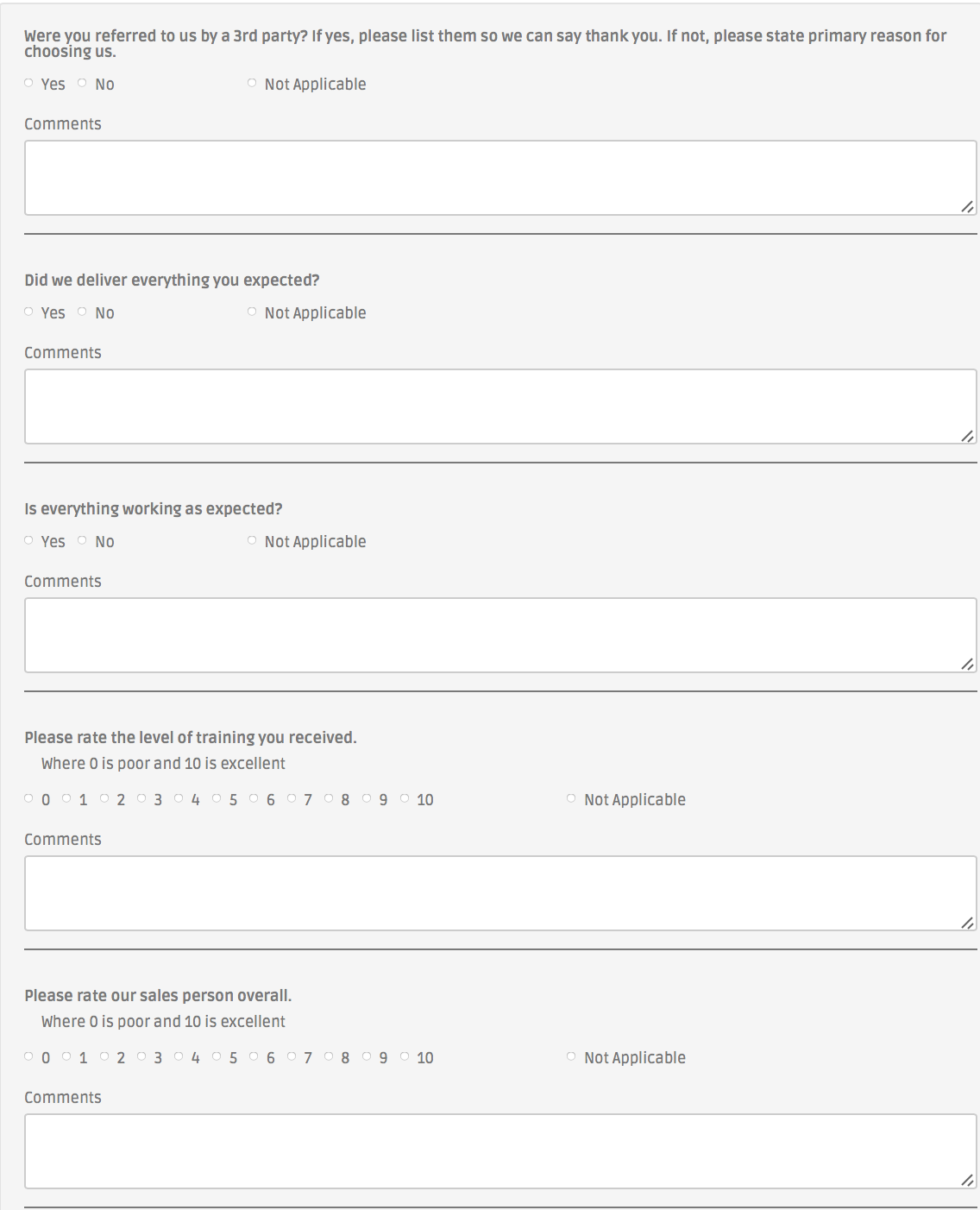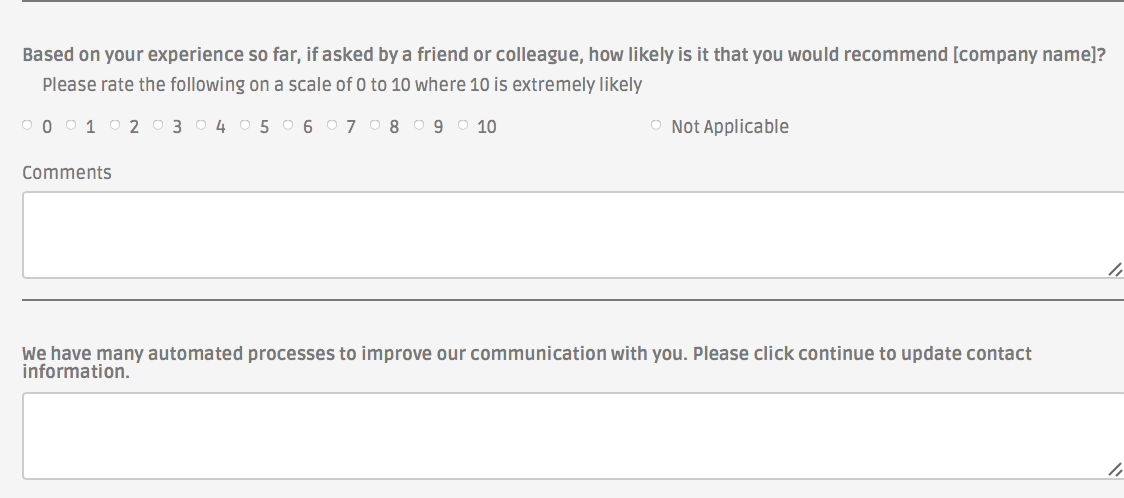 The survey is sent out within two hours of assigning the category to the contact. Once it is sent, a note is added in the contact record indicating a survey was sent. The default Note Type is ZCJSurveySent. If you create another note type name in e-automate for the survey sent, you will also need to set it in Variable Y of the subscription.
This survey sent note not only gives you the ability to see when exactly it was sent, but it is what the alert uses to keep from repeating the survey. If you want to re-survey the contact in a year, you will need to 'delete' the note, but make sure the category is still set as 'ZInstallSurvey'.
We have the option to obtain contact information. When activated, your customer will be asked at the end of the survey to provide contact information for meter contact, accounts receivable contact, equipment contact, decision maker and agree to accept marketing from you. You can choose any or all of these. For example, you may decide that you just want to get contact information for Equipment and Accounts Receivable.

We have a process to prompt you to add the survey to a contact. You can read more here.
There is more here on understanding survey responses and more here on viewing results in the dashboard.