Time card entries are designed to track times when technicians are not at calls. If you want to be able to tell if a tech is working a full day then we need to account for all time other than time en route to a customer or at a customer (screwdriver time).
See here for how to use Unavailable Entries
See here for TimeCard Entries versus Dummy Calls.
Each timecard entry or Activity is tied to an Activity Code and an Activity Code Category. These activities will show on our tech activity reports (sample in yellow bellow).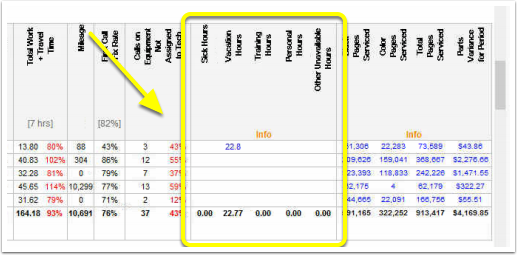 Our suggested list of Activity Codes are:
Administrative Time - Holiday - Lunch - Sick - Training - Vacation - Courtesy Call - Parts Pickup
More and settings here.
Our suggested list of Activity Code Categories are
Admin - Holiday - Other - Sick - Training - Vacation - Office
More and settings here.
If for example you wanted to track Technicians who were a "No Show" didn't plan a day off or call in sick, then you might have an activity code Category of Sick and one activity code of Sick and another of No Show.
The Code Category determines key areas on how the call is tracked
A critical thing about these Categories is they have an impact on eautomates dispatch AND on our technician productivity reports based on if you have the "UnAvailable" box checked.
More important information on UnAvailable here.