This alert is only for people using the Net Promoter Score. If someone responds to the NPS question... "How likely is it that you would recommend our company to a friend or Colleague" and scores you 10 out of 10 plus they take the time to post a comment then then are very likely big fans. This alert would send them an automated email, saying glad you like our service, we would love if you would click this link to recommend us on our LinkedIn company page, Yelp page etc...
Suggest the From address be your CEO/President. We can provide a list of names and emails that would have got this email or you can run in test mode for a few days. 
We would make the email look exactly like the one that you would send to your clients. Also let us know if the email should go out every time a person gives a 10 plus comment, or just a 10 or if they should only ever get one email ever. We would run it in test mode 1st just sending a sample of what would go out to the person listed in the To.
Below is an example: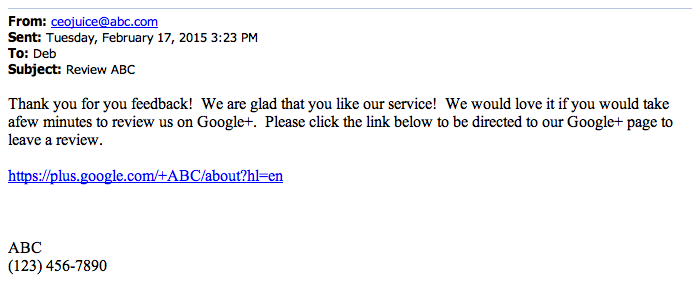 There is an end of day summary showing which clients were sent an email from you asking to post feedback on your selected social media site. The summary goes to people listed in the To/Cc/Bcc. When live the output goes to your customers and anyone listed in bcc. 
We are still tweaking this process but a recent comment was that we should add multiple links so that if a person is not on Yelp they can choose Facebook etc. The downside to that is that your positive feedback is spread all over the place versus all in one area, the upside is that if a person does not have a Yelp account they might not bother to leave feedback. Thoughts?