It is important to set up Service Codes on your inventory items correctly. Setting the service code incorrectly can affect numerous reports, alerts and overall accuracy. The service code is designed to identify what type of inventory item you are creating. Toners should have a service code of toner, waste containers should be set to waste containers, Fusers/fixing assembly's should be set to fuser/fixing assembly, Imaging Units with a service code of Imaging Units, etc. Items that you plan to use on Service calls must have Service Codes set.  
Service Codes are assigned within the contract bill codes to tell eAutomate what is/is not covered It's common for some of our clients to have to reassign Service Codes on some of their toner items in order for ID315 (among others) to function properly.  If that is the case then just make sure the proper service codes are setup in your bill codes so nothing else (contracts, billing, etc.) gets changed when you reassign those items to the correct service codes.
Service codes also direct what GL account your revenue, costs, adjustments and department go to.
Example of Standard Service Codes: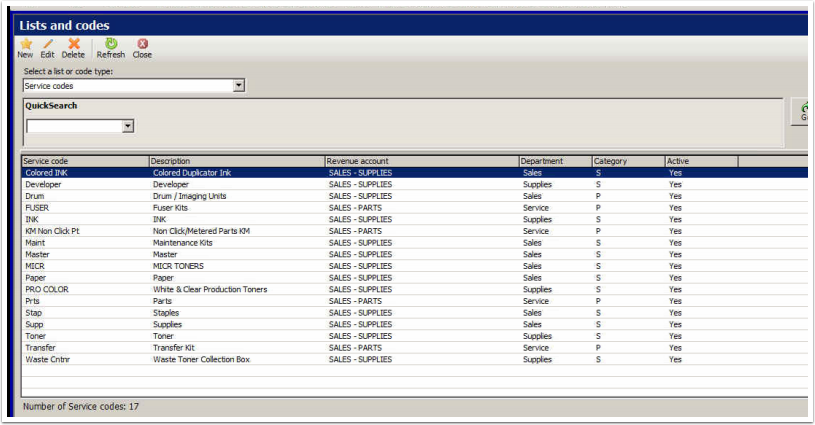 An item must have a service code assigned to it in order for it to be used on a service call. If there isn't a service code setting then the item will not show up in the inventory items list on service calls.
The service code directs what GL account your revenue, costs, adjustments and department go to when that item is used on a service call. Your financial and profitability reports will not be accurate if you don't have this set correctly.
Service Codes tells eAutomate what type of items are to be included and excluded on a contract. If the service code is set incorrectly on an item you could end up inadvertently charging or not charging a customer for something that should have or should not have been included on a contract. This is set within a contracts bill code.
See these links regarding excessive toner usage and usage limit meter type.
https://ceojuice.zendesk.com/entries/20405101-ID315-Explanation
https://ceojuice.zendesk.com/entries/20592638-ID315-Excessive-Toner-Alert-Set-up-Bulk-Update-to-set-Usage-Limit-Meter-Type-tips-and-tricks