Some of our alerts either trigger off of or report the due time and/or est start time of a service call. (ID56, ID93, ID8, ID1, ID266, ID54, ID181 to name a few). Our alerts are simply pulling this data from the service call in EA.
For eAuto 8.5 or less: This setting is controlled by the response time setting on the sales/service tab of the Equipment Record.
For eAuto 8.7+: The SLA Code contains the response time. This is visible on the Equipment Record: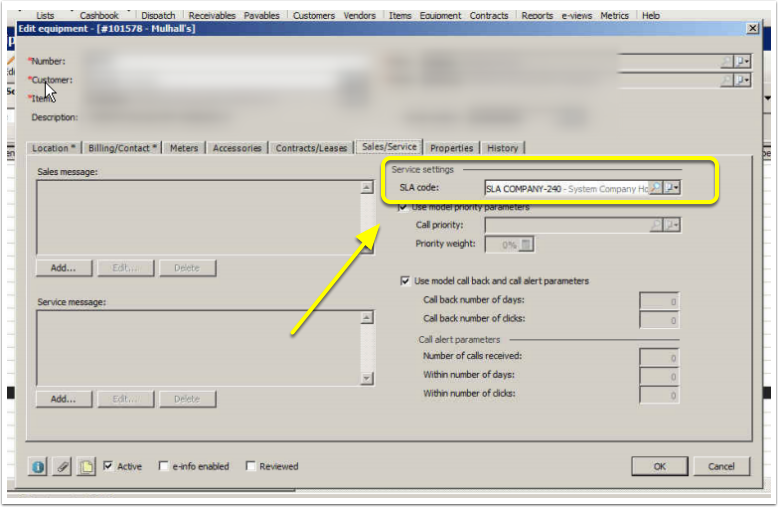 (If you need different response hours for specific equipment, then a new SLA Code will need to be created in eAuto.)
This setting usually defaults to 4 hours but this should be changed based on the service agreement you have set with that customer for this piece of equipment. Some contracts (SLA's) offer a different guaranteed response time. This setting should follow whatever is written in the T & C (terms and conditions) of that customer service agreement. When inputting a service call, EA will look at the response time setting on the piece of equipment the call is assigned to and set the due time and est. start time of that call to the response time setting (i.e. 4 hours) from the call entered time. EA does take into account your business hours settings. So if your business hours are from 8am to 5pm and a call is entered at 3:30, then the due time and est. start time will default to the following day at 10:30am (if the response time is set to 4 hours).