Tracking your contracts won and lost can give you great insight on your trends. This SSRS version of ID582/Metered Contract Customers Lost/Added Last 12 Months will provide you graphs and trending information based on Termination Codes used on eAuto Contract Records.  
Click HERE for instructions on running an eView based on Termination Codes.
Sample: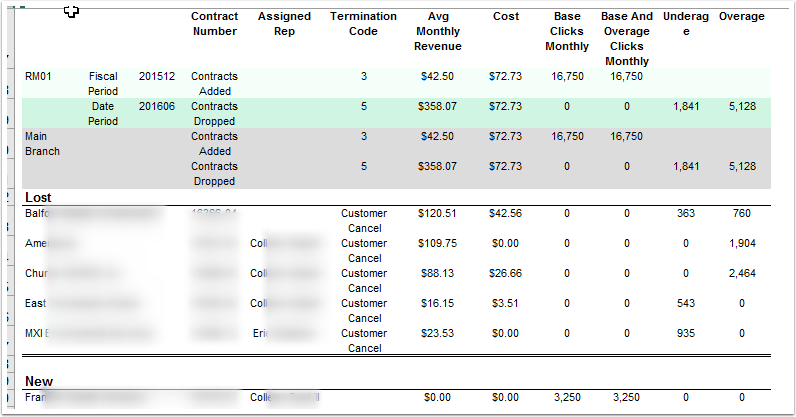 Overview:
This report determines a "Lost" customer when a contract is terminated for a customer and that customer (nor the parent account) has any other active metered contracts at the time this report runs. An "Added" contract customer is determined by looking back one month and if there were no active metered contracts for that Customer (or it's parent), then this report considers that to be an Added Customer Contract. Another caveat is that this reports on "live" data. So it's possible that a contract customer "Lost" 6 months ago has since opened a new contract..in which case that "Lost" contract will disappear from this report and the new contract will show up as an "Add". However, if a contract drop/add crosses, then it's possible for the "Lost" to disappear and the "Add" to not show up since the report looks back one month for an active contract. 
The intention is to give you a trend as to the net impact on your customer base.
The Cost is the actual costs allocated to the contracts. The average revenue for the period is the total revenue divided by the months back (per 'Months Back' filter on the report).
**METERED CONTRACTS ONLY! Not for connectivity contracts etc.
Please understand this report looks at your data at the time the report is run, so due to changing contract coverage etc, the "historical" data on this report might change and differ from the previous month(s) reports. It is a snapshot point in time that is accurate as of "Today"..but it cannot recreate contract conditions historically. So please use it as a temperature gauge metric only that uses contract termination dates / start dates etc. as of today and it's accurate for today. It is not something you can compare this months report to another from five months ago because data conditions could have changed. And please note: previous months could vary slightly if you make a practice of backdating contract start dates and/or terminations.
**Please also note the report will only show the termination code for dropped contracts that were terminated. So if you have no "dropped contracts", then you won't see termination details.
Variable Explanation:
VariableW - #Months Back to for previous active contract (sorry no more than 12 months available)
VariableX - is for when you have multiple Branches and you want us to send a separate report to each branch "Role" specified in the subscription for that branches data only. Select "Enable" for VariableX to send each branch their individual data.
VariableY - select "Customer" to display the salesrep assigned to customer record, or "Contract" to display the customer associated with the contract
Filter settings available:
To note:
The only potential flaw in our logic is when contract administrator might 'inactivate' a contract where the customer is way past due. We see that as inactive of course and that contract customer might show up as 'lost'.  But then next month customer has service call, we tell them it's billable, they ask if they can just pay up in full and be under contract, so we re-activate the contract now all of a sudden it's not lost 2 months ago. So if that is your process, the AR process will alter our report.  We suggest the best way to handle past due customers on contracts, is to create a new billable bill code called 'PastDue' on the contract. Then no need to terminate the contract if we think the customer is going to pay later. Instead just update the contract's BillCode to 'PastDue'. When the next service call comes up billable, tech can pick up the check for contract payment, then tech can do the service call, change the service call to non-billable. (**But be sure to wait until the check clears to flip the contract back to a nonbillable BillCode.)