To add a new user on the CEO Juice website, click on Profile and then Manage Users:

In the Manage Users section, you'll see a list of all users connected to your account. To create a new user, click on the green "Add User" button:

 Enter the email address, first and last name for the user. Check the box for the security level and click Save to add the user: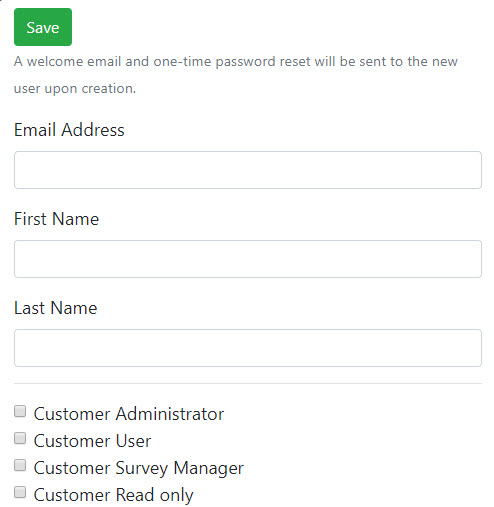 An email will be sent from help@ceojuice.com to the new user providing password and login credentials.
**The email address entered for the user must be an approved domain for your account and be a unique email address.
Security Roles:
Customer Administrator -
View account details
Create/edit login users
Export list of subscribed alerts
Bulk update feature (replaces old email with new email on all alerts) 
Access survey dashboard (includes access to "like" survey comments, more here)
Create/edit survey questions
Subscribe/edit/unsubscribe alerts
 Customer User -
Subscribe/edit/unsubscribe alerts
Access survey dashboard (includes access to "like" survey comments, more here)
Customer Survey Manager -
Create/edit survey questions (click HERE to see how to manage questions)
Access survey dashboard (includes access to "like" survey comments, more here)
Customer Read Only - 
View only, list of subscribed alerts and who is receiving them only
 *Note: to see the CEOJuice library list of alerts/purposes or search our help forum site you DO NOT need login access