Before you complete an eAuto upgrade, please search the WorldShip Computer for these two files: EAutoExport.dat and EAutoImport.dat. These should be saved in a safe location before the upgrade just in case.
Server Move effective UPS Integration:
A) setup the sql userid login to your new eautomate server and that users default schema must be set to _custom_placeholder on the eautomate database
B) you have to change the odbc driver in the worldship workstation to point to the new server and database using the new sql login you created .
C) you have to edit the mapping's in worldship and click the "login" button to reset the logins to the new userid and pw you setup in the first step (for both eautoimport and eautoexport.
New User on WorldShip Computer?
The new user must have the exact same ODBC USER DSN name created under their user profile. Remember, WorldShip stores a lot of the data on the user profile, which is why 90% of clients setup a domain user called 'shipping' so that they aren't constantly having to reset the mapping etc.
To create the new user: look at that users ODBC DSN configurations…there might be one called 'Worldship' or something to that effect. If you see a Worldship ODBC connection, then you need to create the exact same odbc connection under the new user ….and the name is CAsE SensITive! So it has to match exactly.
Why doesn't the UPS Shipping Label Address Info match the SHIP TO info from the packing list/sales order?
Do you have your customer address imported into the WorldShip address book and/or are you using the pencil edit on either the sales order or the shipment in eAutomate to change the ship to address?
ODBC Error State: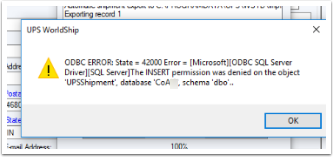 Open the Import/Export Menu in WorldShip, to eAutoExport to verify the user pointing to the ODBC
We just received Wordship 2018 and since we are using the integration with eAutomate and CeoJuice, I want to make sure its ok to install. are there any know issues or things to be aware of prior or during the install?
There should be no problems, OK to update.  Please search the worldship computer for these two files (EAutoExport.dat and EAutoImport.dat), save those files in a safe location before the upgrade just in case.
How many workstations are included in the fee?
The fee includes 2-workstations, any additional are $75.00 each.