We all have trade-ins that we pull parts from when needed and then try to pull that same part again just to discover it's already gone. Then the debate becomes whether to replace that part and still try to refurbish the unit or just strip it.
The report identifies which parts would be most useful to harvest from a given carcass. A run-on-demand SSRS Report, enter the make(s) and model(s) and the report will look at trends in parts usage, clicks-on contract, existing inventory levels (of standard and green parts) and cost of parts when ordered to prioritize and give enough detail for your parts harvester to make education decisions on what's worth digging out and what is not. For retired equipment from your fleet, it will also consider age of part in days and clicks since it was last replaced on that equipment. Assumes a fair amount of parts usage history for that model in question for best results.
Sample:
The highlighted ShipOut ITT filters are available so you can exclude your ITT ShipOut equipment from usage consideration. Use any one or a combination of these filters to identify depending on how you have your ITT equipment identified. Please THIS POST on suggested Best Practice for setting/identifying these devices in eAuto. Parts Harvest report will populate these ITT filters based on your ID945 variable settings. We highly recommend using SSRS Report ID945 for tracking these devices. The set up of this equipment and use of this report will impact this and future SSRS Reports currently in development.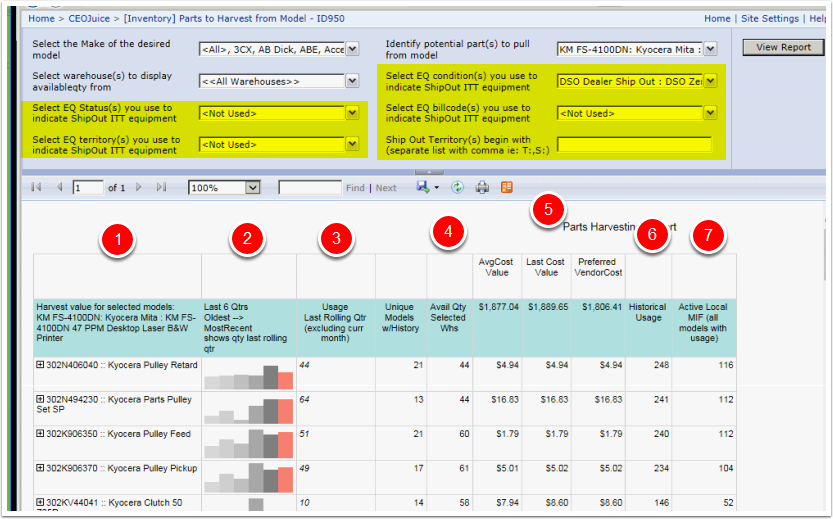 Column Definitions:
1. Shows Item Number and Description of applicable parts
2. Bar graph showing usage (consumption of part on service calls) trend for last 6 rolling quarters. The red bar is most recent rolling quarter. Colors serve as visual separation of bars, colors don't signify anything specific.
3. Usage quantity for the last rolling quarter. A rolling quarter is the last completed 3-months, it excludes current month.
4. Available quantity of item in warehouses selected in 'Selected warehouse(s)' filter on report.
5. Cost columns represent average cost value, last cost value and preferred vendor cost (per Item Record). We do not calculate average cost, we pull it from the information inside eAuto. How it is calculated depends upon several factors, including your inventory accounting method, for instance lifo or fifo, and it is recalculated on-the-fly after every inventory transaction. Further details are covered inside ECi's online help tool.
6. Historical usage is actual usage for last 6 rolling quarters.
7. Active MIF is based on the best information we have based on historical consumption.
Sample Detail at Item Level:
Click on the + sign next to Item Number to see model level drill down for historical usage and active MIF