This Custom Report ages your inventory by warehouse using the date the items 'landed' (received) in that warehouse (see days in stock). You can select standard or available quantity as well as varying other filters. The cost is pulled from the cost pools associated with the item/warehouse.
You may also want to consider alert ID837/Inventory Aging Report by Warehouse (ages on both Purchases and Transfers) (In Development). ID333 is the age of the item from purchase date, ID837 is just how long an item has been in a particular warehouse
CEOJuice Inventory Aging Report:
Various filters available with advanced filter options (right click on image to see larger)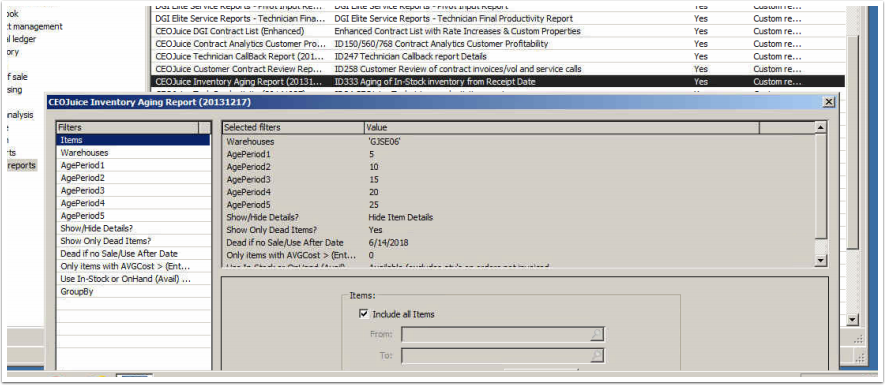 Can select whether to InStock or Available (On Hand) quantity. InStock is everything not billed (regardless of whether on order or service call not yet invoiced). Available is everything not already billed for nor listed on an unbilled sales order or service call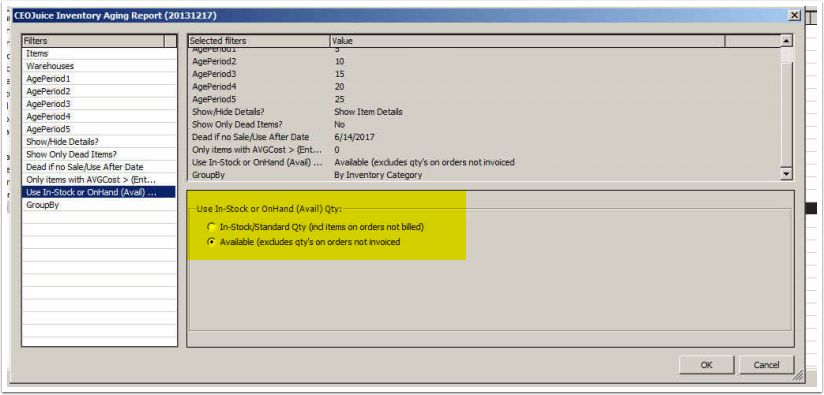 Sample:
Shows value of item based on total quantity as well as % of this item in this warehouse compared. This percentage can be used when trying to balance out or see at a glance % of specific item spread % throughout warehouses.
Includes serial number information as well as whether hosting item.