This alert proactively advises of new callbacks at the time the service call is entered in eAutomate, within fifteen minutes, and is a variant of ID101 which is a daily summary of callbacks. EAutomate already provides this warning to the user opening the call, but this alert allows you to advise the service manager, tech or tech manager or even sales rep that a Callback has been opened. This allows the entire team to be aware of the urgency and possible customer service issues related to the call, and to act swiftly (sending another, more qualified tech for instance, or having sales management contact the customer to personally follow up). If you choose to notify the SalesRep via the checkbox you are sending to the rep assigned to the Customer Record.
See ID580 which is a 'cloned' version of this alert, that allows you to filter down on specific Model Categories
**Alert only fires on Corrective Maintenance Category CallTypes as eAuto only considers those for any call alert parameters**
Variables:
VariableW: Report on Call Back Parameters? (1=Yes, 0=N) - defaults to 1=Yes
VariableX: Report on Call Alert Parameters? (1=Yes, 0=N) - defaults to 1=Yes
**Variables W and X are based on your eAuto Call Alert and Call Back settings. See THIS LINK on those settings required.
VariableY: # of calls to return on alert for review? (2 = current call plus 1 prior call) - defaults to 2.
**This tells the alert how many calls to show on alert, i.e. current call plus just the last call back or plus the last 2 calls?)
VariableZ: BranchNumbers to trigger on (separate by comma or blank for ALL) - defaults to ALL
Variable1: Enter 'Advise' to copy tech from previous call (being charged with the CallBack) or else blank - defaults to 'Advise'
Sample:
(right click on image to see larger)

1. Alert shows what Call Alert settings is triggering the alert. For example, above says 30 days or 2500 clicks, screen shot below shows the correlating call back setting in eAuto: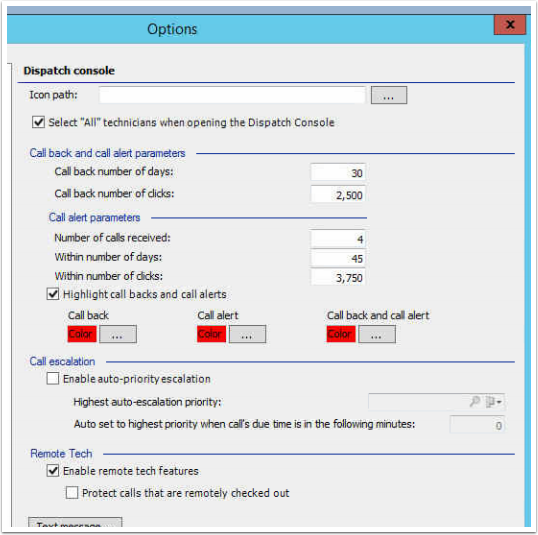 2. Current Tech on listed service call, Previous tech from previous service call
3. Call Count is the order of the service calls - much like a line item numbering, 1 is current call, 2 is previous call, 3 is call previous to the previous call, etc.
4. Call Alert and Call Back columns indicate if alert is firing due to Call Alert or Call Back settings per eAuto, 1=Yes, 0=No
5. Note, if this alert is repeating, then there is a pending corrective maintenance call still open for this equipment that is older than those listed on the alert. That older call must be closed/cleared in order for the alert to stop repeating