Many times technicians never fully understand the number of their calls that do not get fixed the 1st time and result in a callback, especially if the callback is handled by a different tech. This is a subreport from our Technician Productivity SSRS Report (ID204). It details out for a technician the callbacks that were charged against him/her for the previous week.
The Callback Calls are pulling from eAuto settings. See THIS LINK for that set up.
**This is also 1 of 4 (others ID205 ID207 ID372) subreports in ID204/Tech Activity Report
This report can be accessed from your
(1) ID204 Tech Productivity Report by clicking on a cell entry hyperlink

OR
(2) you can run directly from SSRS Reports: Technician Productivity Callback - ID206

Sample ID206/Call Back Detail: Note: Default Print Size is 11x17
**Please note tech and call listed in 2nd column is the actual call back**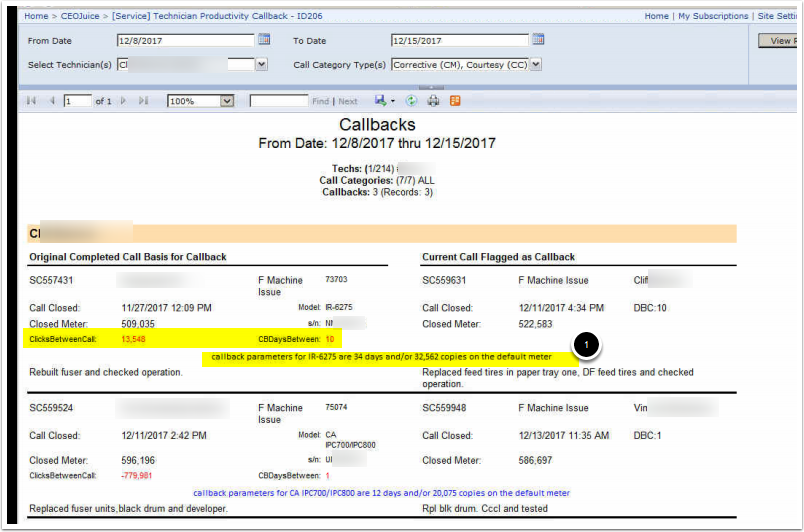 eAuto Call Back Settings
These settings are within eAuto at one of three levels (depending on how you set up). The system uses a simple logic for checking for Call Backs and Call Alerts.
First it checks the Equipment Record:
If this check mark is there… it will look at the Model Record.
This is the Model Record - you get here from Inventory/Model
If this is checked it uses the system defaults.
The system is set at options in the Tool/Options/Service Calls/Dispatch Console
Remember if there is no check mark and zeros for both fields, then ALL call backs and call alerts will be disabled.
NEVER… EVER have zero's for BOTH Call back Days and Clicks.
Some users only want call number of days calculated, and not call back clicks. OR vice versa, only clicks calculated, not days. Whichever you don't wish to use, set with 0 or 99,999,999 to have not considered for call backs. BUT NOT BOTH!
We highly recommend setting to 99,999,999 as this is visually more intuitive for front end users.
These screenshots show how to set for Call Backs at 14 days, but NO clicks considered: