-If you are running the older NON-SSRS Version, please see THIS LINK for an overview-
Some end user customers have a need to receive a spreadsheet breakdown of each contract invoice that shows the location/address/city/state/model of the equipment with the clicks/charges for each machine so they can charge back their internal departments accordingly. This alert will install SSRS Report so you can create spreadsheet manually for your customer (see below) OR you can set on Contract Record to auto create .csv file each time it bills. (Use THIS LINK to see how to set up needed Custom Property in Contract Record for automation.)
This alert sends a single csv file (to the contact on the contract record) that can be imported into excel and reads the information from the contract invoice meterbilling tables. It uses the same distributed check box that the invoice print routine provides to allocate the base/overage charges across the equipment by color according to the % of clicks each machine ran against the meter group totals. Since we are using that same logic this report should match the eAutomate invoice printout.
Base rates on Contract Record have to be set to be billed at the meter group level in order for it to show on this report: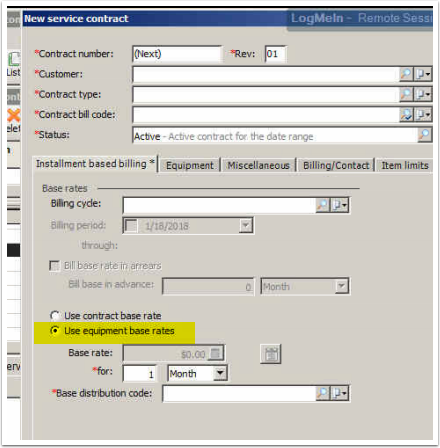 Which in turn, enables Tax Code at equipment level on Contract Record: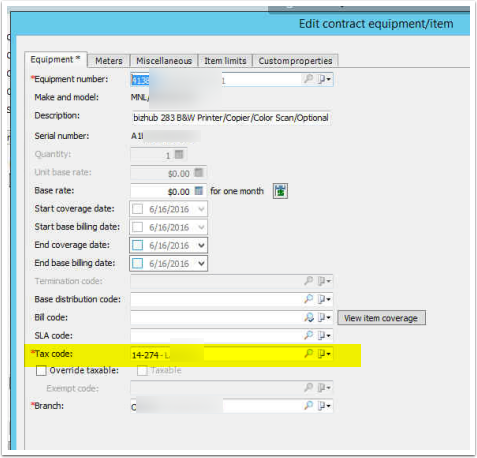 **Please note, if using SSRS Report to create .csv file invoice, you must wait one day after invoice generated in eAuto as the alerts looks to your analytics tables to run and those update nightly.**
If your customer is using cost centers we identify that as the value following the first carriage return (enter key) in the equipment location block. 
Variables:
VariableX (REQUIRED) - defaults to 'Equipment' - This is the Configuration name you use (from lists and codes: Configurations (custom properties)) on your equipment records . If you use a custom property for the cost center, put that group name here so we can provide a drop down list for you in the report if you run it manually via SSRS Reports.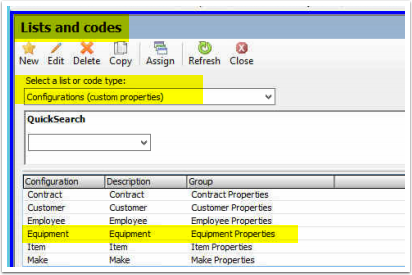 Can also see name of Configuration on Equipment Record:

Variable1 - Variable4 - You can specify up to 4 custom property fields for the report to use as the CostCenter.  
However, the report, nor eAutomate can allocate the equipment$$ across multiple cost centers , so all we can do is concatenate all the values in the custom property fields you specify as a 'location' on the report.  So if you have more than one of those custom property cost centers populated, the combined string of those will appear on the report as a unique location.  A machine that has cost center 123 and 456 will show as cost center 123, 456 on the report and would not appear under the individual cost centers 123 or 456. 
If you want the task to automatically 'send' the report to the contract contact each time a new invoice is generated and you use custom properties for  the Cost Center...then you need to provide the custom property attribute names in Variables1 thru 4 on your alert subscription. We only need these variables for the attribute field(s) you use at your office.
Available Filters:



Sample: