https://ceojuice.com/alerts has been updated and is much easier to navigate through and provides more tools for you. The new site is also mobile device friendly so you can view and scroll through it on your phone, tablets, etc.
**We recommend Chrome for browser as it seems to perform best**
Searching for alerts:
Shown here is how a user with Admin Rights can navigate through alerts and available filters (right click on image to make it larger for viewing):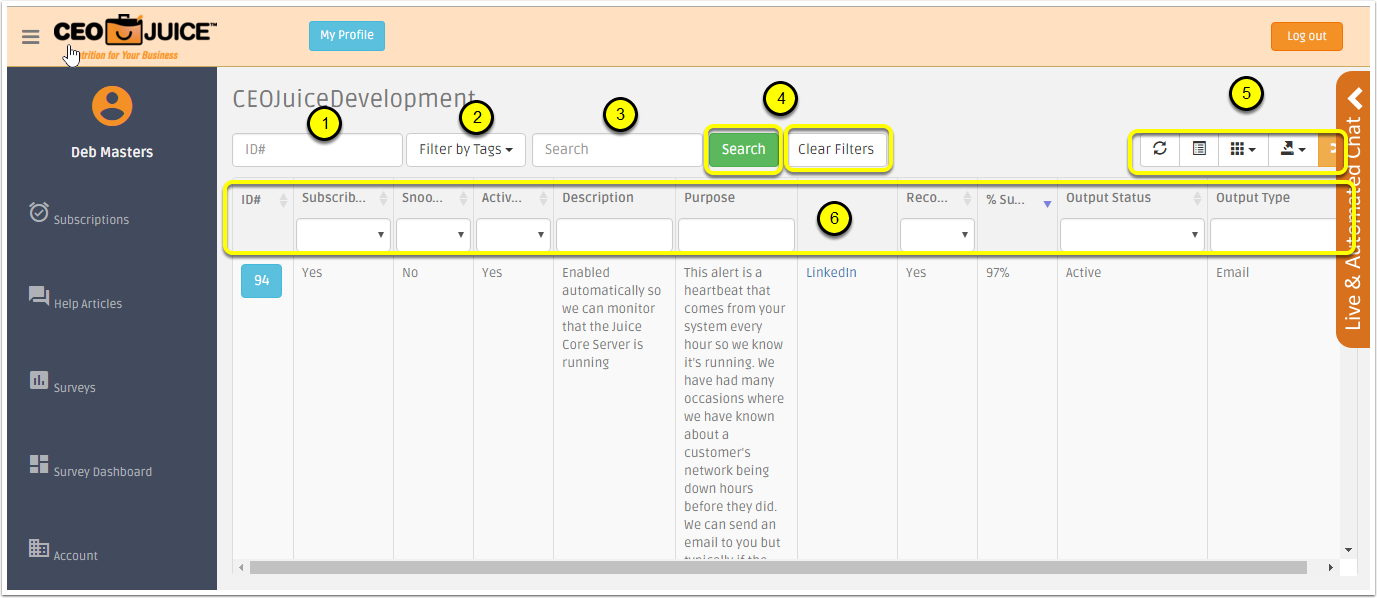 (1) Search by specific ID# (format 109) 
(2) Filter by Tags - we have 'tagged' each alert with one or more tags to link them to functions within eAuto. You can select one or more or none: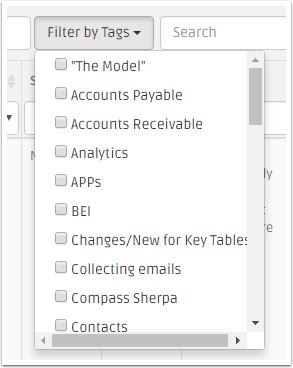 (3) This "wildcard" search allows you to put any word and will search for that word in all alerts title and description and show you all alerts containing that word.
(4) Hit search button to begin search based on your filter settings OR select 'Clear Filters' to erase all existing filters.
(5) Each of these five buttons has its own function and you can hover over each to see what it does:

 Refresh your screen
Toggle to different view format

Select which columns to display on screen. This will also effect what columns will export when using export feature.

Export contents on screen (varying format available & shown)

Replace Recipient-use this function to replace one email with another in alert to: cc: or bcc: of your alert subscriptions. So if Mary leaves and is replaced with Suzie, you can find all subscriptions Mary was receiving and replace her email with Suzie's. **Hint this is a great tool to see a listing of what alerts an email address is currently receive, just set find/replace to same email.
Searching for alerts:
Looking for an alert? You can use the filter tool to search for keywords. We recommend searching from the Alert Purpose column. And if you can't find what you are looking for, please contact us at help@ceojuice.com.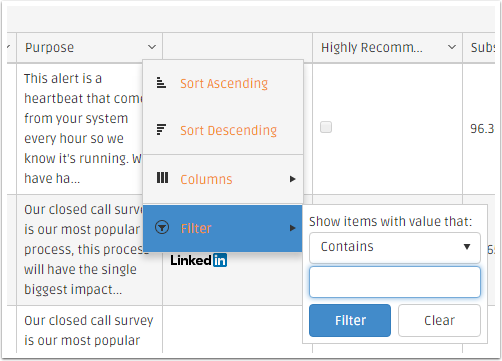 The Business Case explains the purpose of the alert, if click on business case column, you will get box showing full purpose of the alert: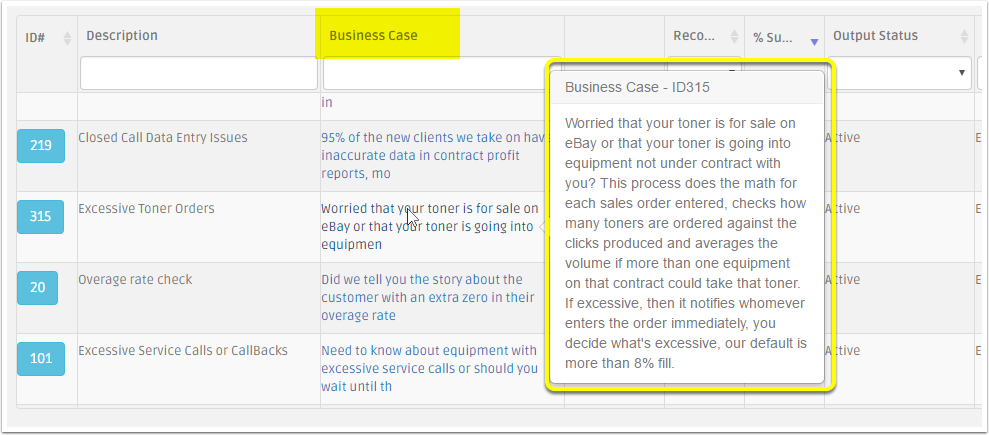 Subscribing to alerts: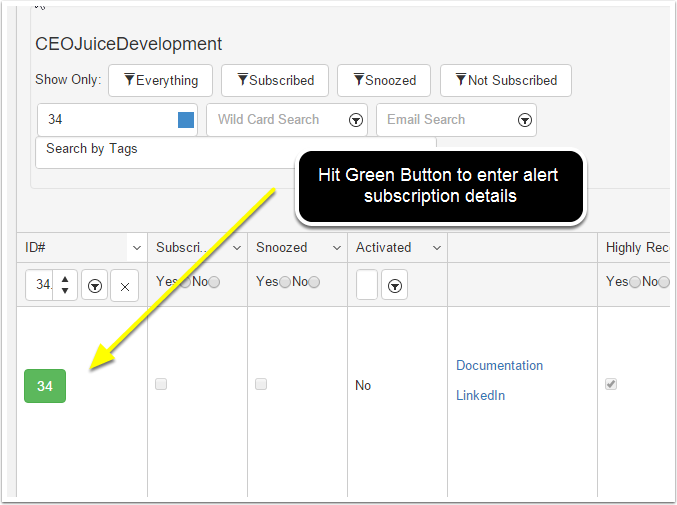 The snooze feature allows you to "snooze" an alert you are subscribed to until a later date (by changing "Snoozed" to Yes). This will effectively change your subscription status to "unsubscribed" but still active. This keeps the alert from triggering until the snooze is turned to "No". You will need to manually set snoozed to No when you are ready to start receiving the alert again. The "Snoozed Until" date and "Reason for snoozing" is for your reference.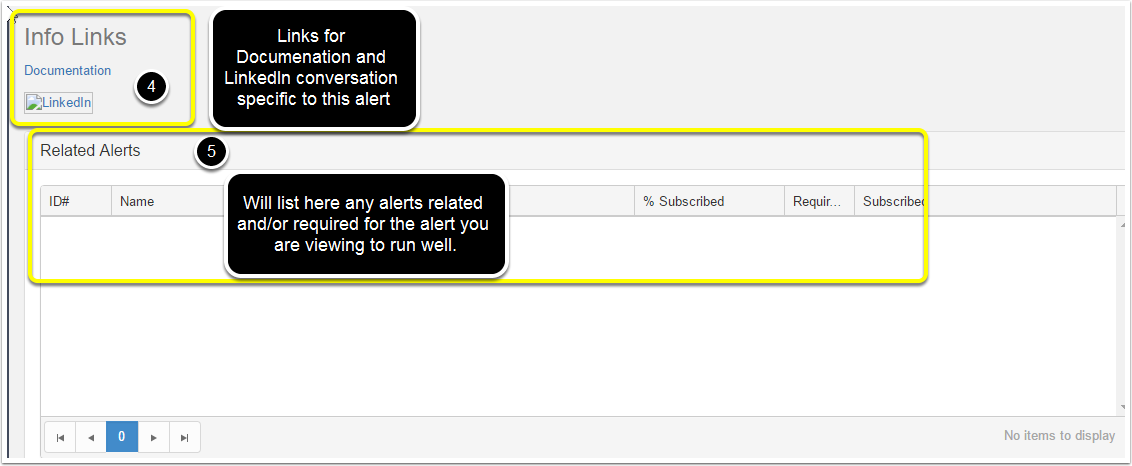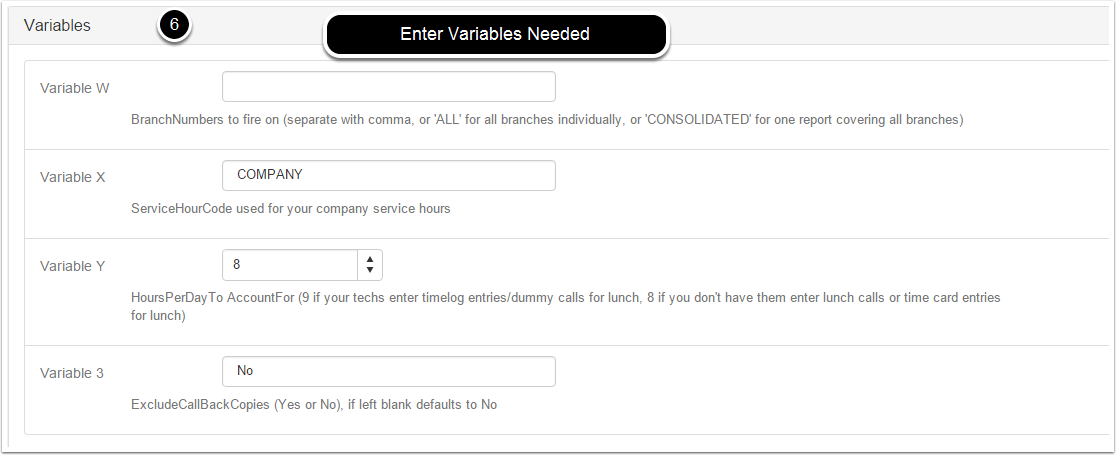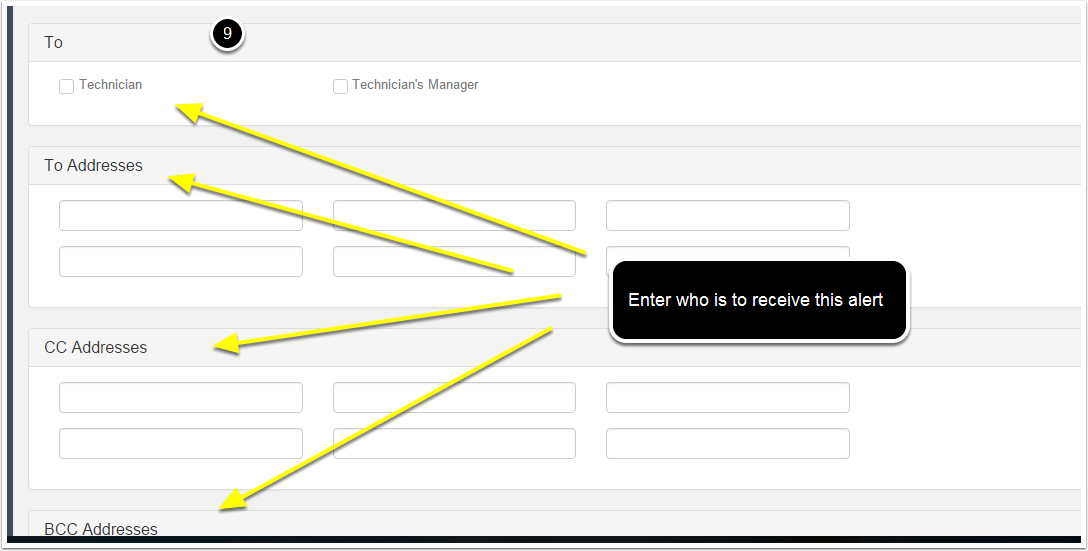 Save changes:
Please note this Save Box on right side of your screen. This will travel with you through the alerts screen. You can use it to save your changes or with a quick click access a section of the alert (i.e. variables)