We have moved many Crystal-type reports that launched from within e-automate to SQL Server Reporting Services "SSRS Reports" that are launched from a browser. The SSRS site does need to be launched from a computer with a connection to our "Juice box". (It will not work from your home computer unless you are using a VPN connection. (If the remote worker is connecting to the network via VPN, then he/she should be able to reach the SSRS server without issue either by server name or IP address. If not, your IT will need to set up the SSRS server so that it is public. Something we strongly recommend against.)
You will have a unique URL for your companies reports. If you do not know the URL, ask your administrator or email help@ceojuice.com.
Once open, the folder will look similar to the below, identifying the name and alert ID# of your reports. The reports installed are based on what you have subscribed to on our website.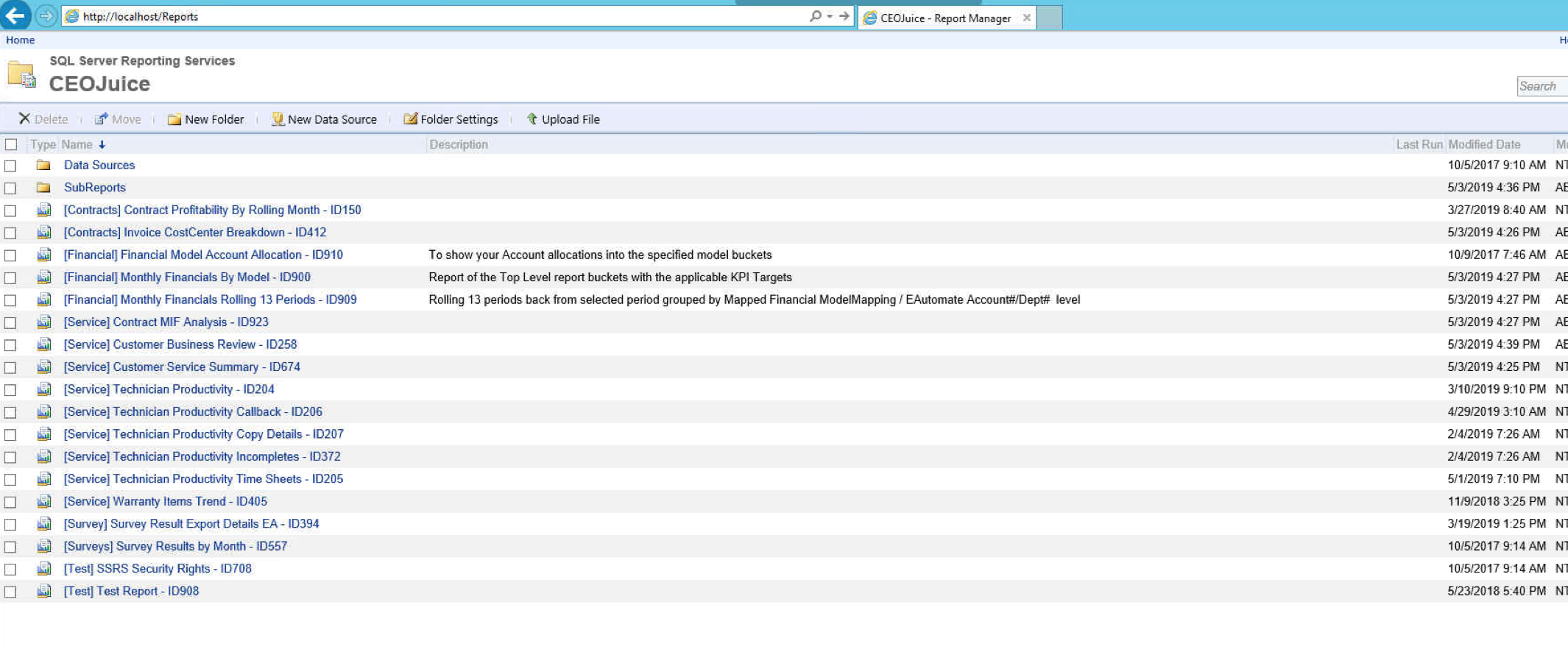 You can create a quick link inside e-automate at the user level to open up the browser - click here for instructions.
If you are an ECi hosted customer, please see this link for instructions on accessing your SSRS Reports.
We tie security permissions back to e-automate (your e-automate login User ID) to ensure you have security to run a report - click here for more.
Our SSRS reports require a minimum SQL version of SQL 2008R2 as it offers more stability, functionality and ease of troubleshooting. ECi has also moved to this standard. Versions of e-automate from 8.7+ are not supported on older versions and their analytics package has not been supported on lesser versions since 8.1. We strongly suggest you consider upgrading if it's not already on your radar.
SSRS is a Microsoft product, so Internet Explorer is recommended (minimum IE10 required), especially for the reports. Chrome, Firefox, Safari or other browsers may not work. The APPs tend to run fine in any browser. If you are getting an error the site may be blocked by your firewall, add the URL as a safe site to prevent this.
Apps are at http://<servername>:8888
Reports are at: http://<servername>/reports
If you have problems loading our SSRS reports, start with this post and email help@ceojuice.com if you still need help.