This alert was built for Deposit Based Contacts, and will send out a contract history statement to your customer showing the starting balance, and all contract charges/credits from the start date of the contract thru the date the report runs. Its meant to keep the customer informed of their contract balance.
We will install initially in Test Mode so you can review before emails go to your customers.
In order for this alert to work, service activity must be recorded against the contract. Please see THIS LINK for Best Practices.
**Please also see ID313 to alert you when the balance on a deposit based contract drops below $VariableW
ID687 Variable Set Up:
VariableW is where you indicate the contract type code(s) of the contract(s) you want to be processed.
VariableX is the attribute name required as a Custom Property on those selected contracts to set/disable the the frequency the report is sent to the customer. We will set these up for you.
Attributes are:
The attribute must be setup as a User Defined and the choices must be created exactly as followed (Don't worry, we will install the Custom Property when we install the alert)
Disabled - tells the task to not process the contract at all
Monthly - Processes on the first of the month regardless if any activity in prior month or not
MonthlyIfActivityOnly - Processes on the first of the month, but only if the previous month had activity against contract
BiMonthly - Processes on 1st and 15th of the month regardless of activity or not in previous period
BiMonthlyIfActivityOnly - Processes on 1st and 15th but only if previous period had activity against contract
OnActivity - Processes only when a service call is invoiced against the contract, no set schedule

Customer recipient set in Contract Record / Billing/Contact tab: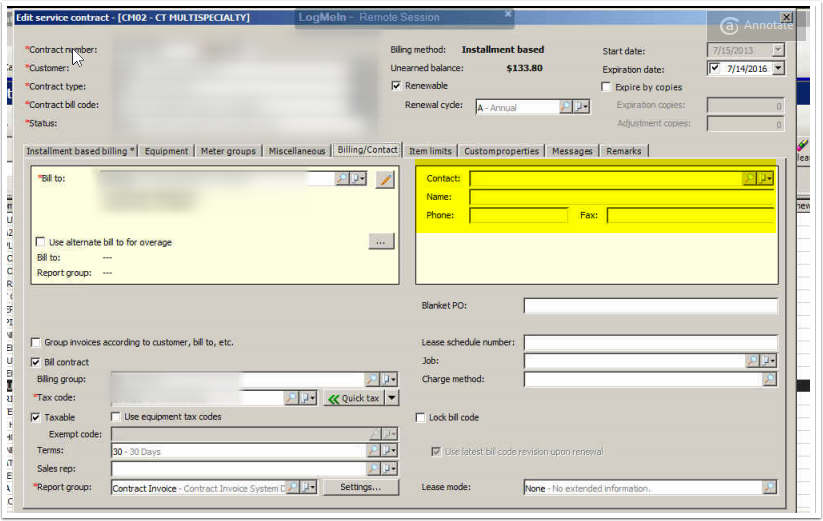 Sample: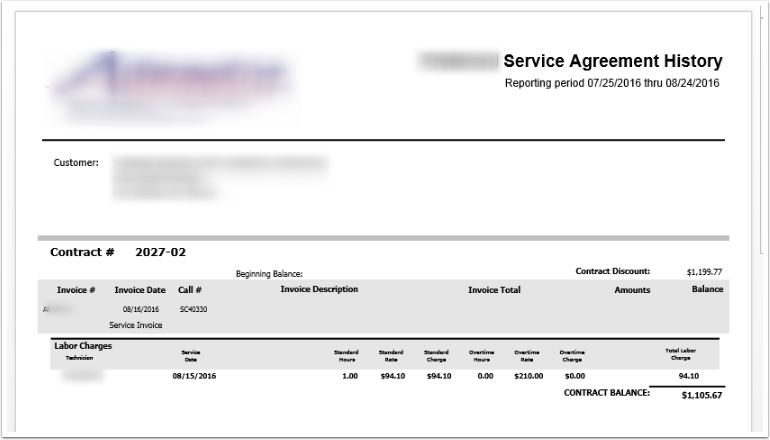 Once alert is running live (no longer in Test Mode), you (whomever listed in to: of your alert subscription) will receive an email letting you know what customer was sent an email and for which contract: