This alert notifies you anytime a Meter is entered into eAutomate with a specified Meter Source.
Jump to a specific section by clicking a link
Overview | Samples | Variables | Alert Functionality | Best Practices & Tips | Related Alerts
Overview
Overview
This alert notifies you anytime a meter is entered into your system with a meter source that you specify in variable W. Since the alert is driven by the specified Meter Source name, it will report on it regardless of who entered it and how it was entered into the system. This alert notifies you one time for each meter source in Variable W per Equipment Number.
Run Schedule: Weekday mornings
Type of Output: Email
* * *
Sample
Sample
The output for this alert includes the Customer Name, Equipment Number, Meter Source, Meter Reading Date, Meter Type (B\W, color, Etc.), Meter Display, Meter Actual, Equipment Meter Contact Name, Email, and Phone Number.

* * *
Variables
Variables

Variable W: enter all Meter Sources that you want to be notified on. Ensure they are listed the same way as your eAutomate system. To have multiple Meter Sources separate them by comma.
* * *
Alert Functionality
Alert Functionality
1. This alert reviews meter reads entered into eAutomate that are a Meter Source that was specified in Variable W. In the example below, Variable W contained Web-Suspect. Since a Web-Suspect meter is present on this equipment it would be included in the alert email.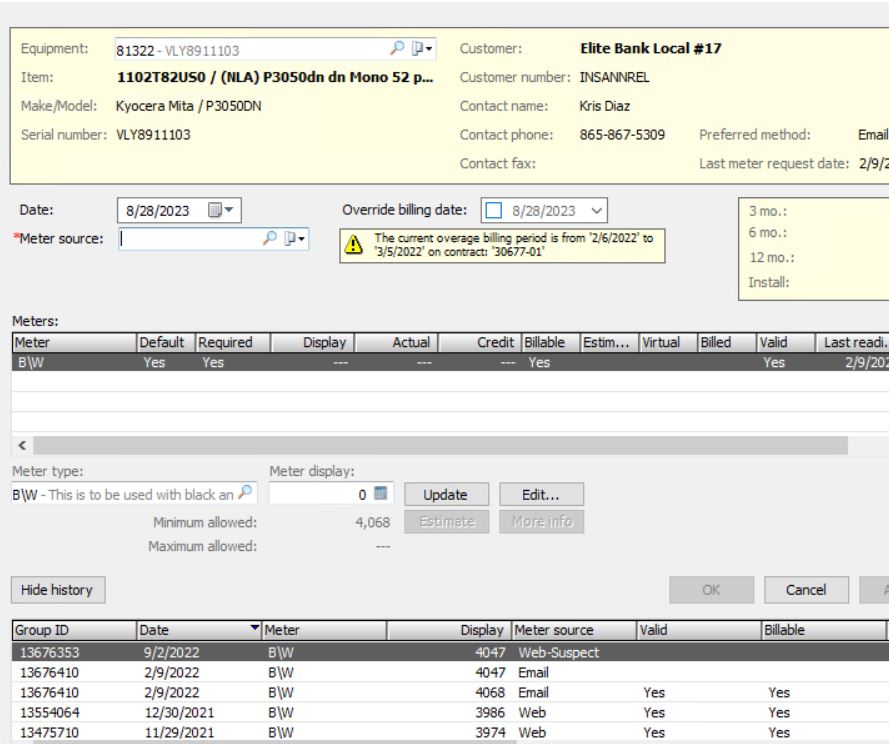 * * *
Best Practices & Tips
Best Practices & Tips
Managing Web-Suspect Meters: This is a great tool for managing suspect meters entered via eInfo by your customers, as they automatically come through with a source of "Web-Suspect". These suspect meters come in as invalid and therefore won't be used in the contract billing queue until someone checks the meter and validates it. Having this report send to the billing admin to review the web-suspect meters from the prior day allows for an organized way to have them validate the meter and contact the customer if needed.
* * *
Related Alerts
Related Alerts
ID968 - Insert Meter Readings From External Sources Overview & Sample
ID151 - Meter Reading Source Analysis Breakdown Crystal Custom Report Version
ID153 - Meter Readings For Equipment Used For Last Weeks Billing Where The Source Contains PHONE Or The Meter Was Flagged As Estimated
ID404 - Alert Customer On New Meters From Specified Source, Overview And Sample
ID538 - Suspect Estimated Meter Readings (In Development)
ID672 - Duplicate Meter Read Entered By Tech, Overview And Sample
* * *