Notify of aging calls
Jump to Overview | Samples | Variables | Alert Functionality | Best Practices & Tips | Related Alerts
Overview
Overview
Some dealerships require that their technicians call the customer for all new calls within X minutes. This alert monitors those calls where the priority is W for longer than X number of minutes, indicating that the technician has not called the customer, changed the priority, or notified dispatch to change the priority. We suggest setting the initial Priority Code to New Call and when the tech calls the customer it is changed to a different code. Escalation alert is ID5.
Run Schedule: Every 30 minutes
Type of Output: Email
* * *
Sample
Sample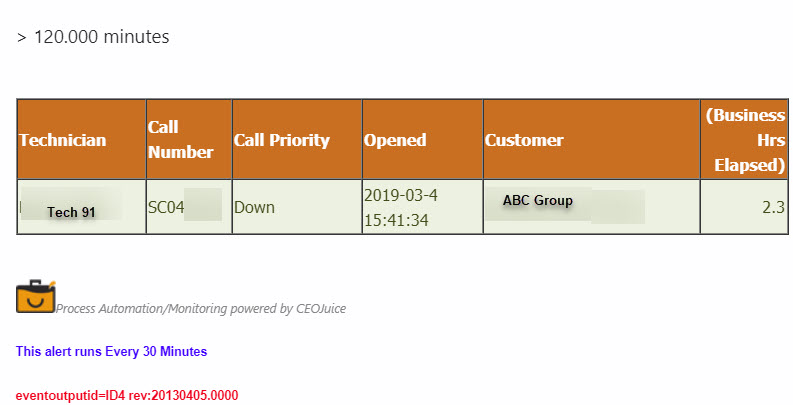 * * *
Variables
Variables
Variable W: Priority Code (only one entry please)

Variable X: Enter number of minutes call should be open/pending before being considered
* * *
Alert Functionality
Alert Functionality
1. Alert will only notify once per call. See alert ID5 for escalation.
* * *
Best Practices & Tips
Best Practices & Tips
None at this time
* * *
Related Alerts
Related Alerts
ID5 - Calls with Priority W > X Min (Escalated)