Escalated notice of aging calls
Jump to Overview | Samples | Variables | Alert Functionality | Best Practices & Tips | Related Alerts
Overview
Overview
This is the escalated alert on ID4, where calls with a particular Priority Code are greater than X number of minutes from when the call was opened. We suggest this escalated alert should have a manager's email in the From Address field.
**Be sure to check with your IT Dept first to ensure ceojuice has permissions to Send As that from address
Run Schedule: Every 30 minutes
Type of Output: Email
* * *
Sample
Sample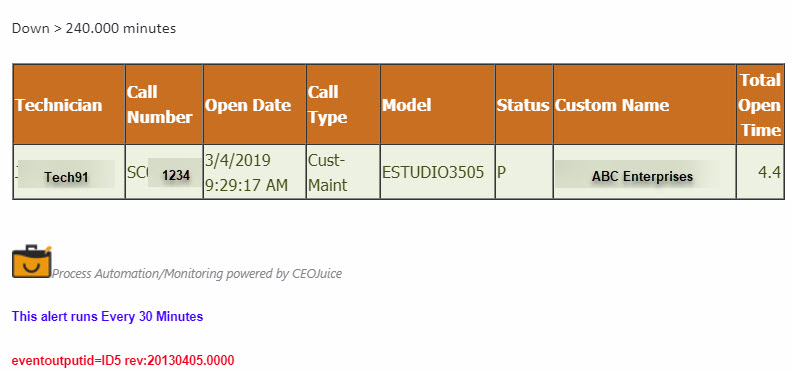 * * *
Variables
Variables
Variable W: Priority Code (only one entry please)

Variable X: Enter number of minutes call should be open/pending before being considered
* * *
Alert Functionality
Alert Functionality
1. Alert will only notify once per call.
* * *
Best Practices & Tips
Best Practices & Tips
None at this time
* * *
Related Alerts
Related Alerts
ID4 - Calls with Priority W > X Min