Jump to Overview | Variables | Connection/API | Related Alerts
Overview
Overview
This process integrates with the Supplies Network API (whether you host your data locally on your network, or in the cloud), and is required for any other CEO Juice process which will leverage Supplies Network data. Data brought down includes information on Customers, Equipment, Meters, Supply/Service alerts, and Supply levels. This data can be leveraged by other processes in our catalogue, for instance ID968/MeterReads and ID742/Sales Quotes, both of which insert data into eAutomate based on the data in Supplies Network. Other processes can monitor the Supplies Network data and alert or report on problems and trends.
* * *
Variables
Variables

Variable1: Once you have entered your Supplies Network credentials in Profile/Integrations (see below), then use drop down in variable to point to those credentials.

* * *
Connection/API
Connection / API
1. We need your Supplies Network Unique ID to be entered by you on our website and set up as shown below. The user entering on our website will need 'Customer Admin' security role - ask us at help@ceojuice.com if you need to know who has.
*We can integrate regardless of whether your Supplies Network hosted locally or on the cloud.
Please enter credentials on our website (https://www.ceojuice.com/CustomerAdmin/Integrations) via Profile / Integrations: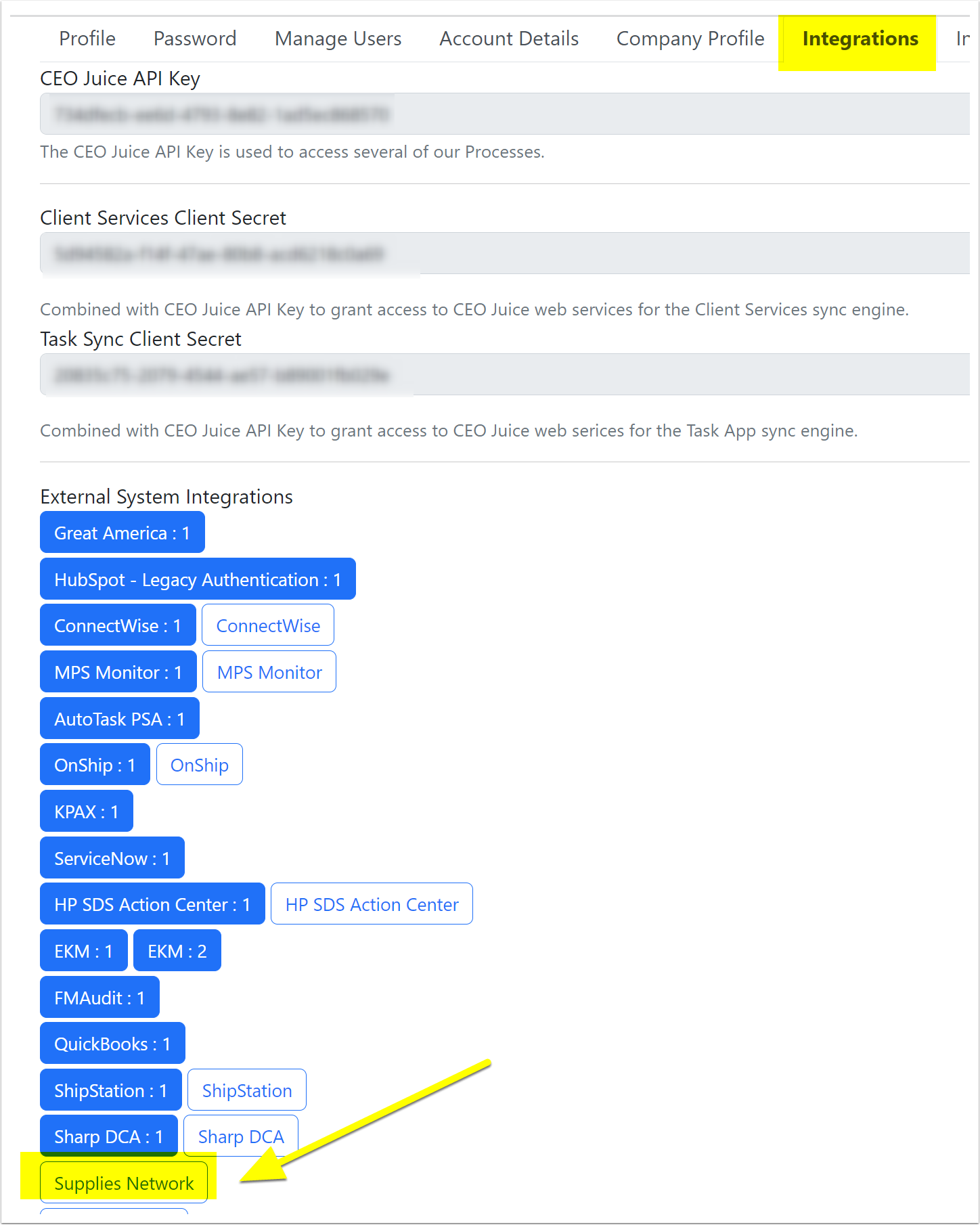 Please be sure to select SAVE:
Unique ID can be found here:

2. Link that integration to Variable1 on your ID30 subscription:

* * *
Related Alerts
Related Alerts
ID742 - Convert Sales Quotes for specified CreatorID(s) to Sales Orders
ID968 - Advanced Meters DCA Data
* * *