Notification of call backs and call alerts per your eAuto settings
Jump To: Overview | Samples | Variables | Alert Functionality | Best Practices & Tips | Related Alerts
Overview
Overview
Need to know about equipment with excessive service calls or should you wait until the customer complains? This alert is driven by the Call Back/Call Alert parameters. Up to 3 separate emails will be sent based on the subscription. One to tech/tech mgr, another to sales rep/sales mgr and a separate roll up to anyone in the to:/cc:.
Run Schedule: Daily
Type of Output: Email
* * *
Sample
Sample
To Fixed Emails on To/CC/BCC AND To Tech/Tech Mgr:
Emails sent to To/CC/BCC will include ALL calls, ALL techs. Emails sent To Tech / To Tech Mgr will send email for each tech.
Note: Technician listed in table below is the tech who closed the most recent service call and may not be the technician who worked the previous service call. It is recommended you talk with the original technician to discuss what might be going on if multiple Call Backs or Call Alerts are happening. See ID206 On Demand SSRS Report for more callback detail, including which tech is being 'charged' with each callback.

To Sales Rep, By Sales Rep:

* * *
Variables
Variables

Variable Y: If you only want your Sales Reps/Rep Managers to receive CallBack alerts then put 'CallBack', if they only want CallAlerts then put 'CallAlert'. If they want to receive both then either leave blank or put 'CallAlert, CallBack'.
**This will NOT apply to any recipients listed in To/CC/Bcc or To Techs/Tech Managers**
Variable X: List Branch Number(s) you'd like to limit output or leave blank for ALL
* * *
Alert Functionality
Alert Functionality
1. This alert reports on settings in eAutomate, we don't use any variables to determine excessive calls or do any of our own calculations. CLICK HERE shows you where the eAutomate settings are for callbacks by days / clicks
2. eAuto ONLY calculates for Call Types set as Corrective Maintenance: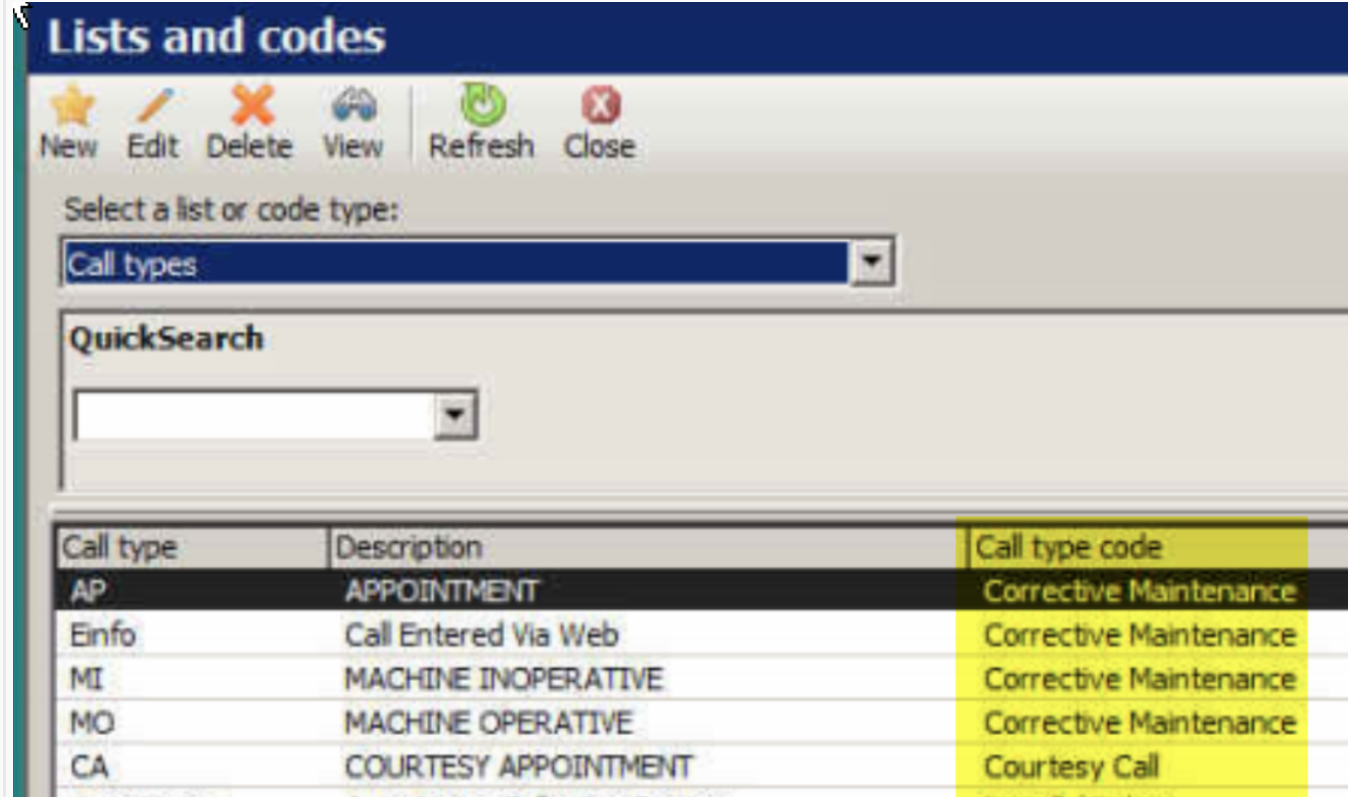 3. Tech listed on email output and Tech who will receive email (when you have To Tech set on your alert subscription) is not necessarily the tech being 'charged' with the Call Back. Please use ID206 Call Back Detail for that information.
4. The email generated when selecting To Sales Rep and/or To Sales Manager will notify of either Call Back and/or Call Alert settings based on your VariableY setting.
For Sales to only receive CallBack alerts then put 'CallBack', if they only want CallAlerts then put 'CallAlert'. If they want to receive both then either leave blank or put 'CallAlert, CallBack'.
**This will NOT apply to any recipients listed in To/CC/Bcc or To Techs/Tech Managers**

5. Alert uses our background tables from ID320 to determine Sales Rep assignment. Check with help@ceojuice.com to confirm if we are considering your CRM or eAuto Customer Record.
* * *
Best Practices & Tips
Best Practices & Tips
Review the service history – Check for customer errors. The issue maybe environment or customer abuse. If so, send a trainer or sales rep to see if additional training fixes the issue.

Check usage – Make sure they are not running 30,000 per month on a 16 ppm machine. This is an upgrade opportunity.

Setup inspection call – Best way to get the problem fixed is to get onsite with the customer and find out what the issues are. Sometimes it is just an oversight of one technician.

Do a total onsite PM/rebuild. Sometimes replacing everything at one time can resolve strange issues. This also gives you a baseline.

Mark the machine in e-automate. The customer record lets you put in Service messages. Do a onetime message. So setup a onetime message that says to send a supervisor or senior technician. This way you resolve the issue on the next call. I like to put a note to have them contact me after the service call. This way I can call the customer and see if they finally resolved the issue.
If needed, place a loaner machine and bring the problematic equipment into the office. It is always cheaper to give a loaner than loss a customer.

If possible upgrade the equipment. Check to see if an upgrade is possible. This is a win-win. You get a problematic machine out of the field and get a sale. Get sales involved. I know in service the last thing we want is a sales guy messing things up but they can be helpful if guided.

Get a ticket with the manufacture and get you manufacture representative down to see the machine. See if they have any ideas. If they are a good manufacture (Lexmark for example) they may exchange the machine for you.

The last and final option is to swap the machine at your own cost. Used equipment can be less expensive than 5 service calls. And a happy customer is a repeat customer.
Few items about the report:
1. Call back repeat by itself - Example: CallBack within 10 days per model setting
Not a major issue. Small item to watch. Could have been resolved on the third service call.
2. Call alert repeat by itself – Example: CallAlert 3 calls in 30 days per model setting
This means you are spending a lot of time at this customer over a large time span. These are important because most likely you are not get mean copies between calls.
3. Call alert and call back together – Example: CallAlert 2 calls in 60 days per model setting AND Callback within 10 days per model setting
DAMAGER – Lots of calls over a long period of time and the problems will not go away. These are the most important to look at and really need onsite attention.
The numbers in these examples are out of eAutomate so they may vary from dealership to dealership.
Below are some easy standards:
* * *
Related Alerts
Related Alerts
ID12 - Model Records Missing Call Back Parameters
ID206 - Tech Productivity Callback Report
ID572 - Triggers at time of new Service Calls That Qualify as Call back / Call Alerts
ID633 - Push callback criteria from BEI into eAutomate
ID640 - Push callback criteria from Pros Elite into eAutomate
ID651 - Call Back Analysis Report
* * *