This is for the new SSRS version, click here if you are still running the old Crystal version.
**Minimum eAuto 8.5 required**
This report at the equipment level shows Service History for a given customer or contract across a given time frame. For each equipment there is a roll-up of service details (including total calls, volume, average response time and up/down hours) and some detail on each call within the period. With this tool you can show you customer exactly what they're getting in the way of service, and the roll-up numbers will show them exactly how good you are at it.
Filter Options:
**Please note:  CM Type Calls set to YES will only show CM Types Call in Service Details, to see ALL service call details, set to NO.**

Can group report by:
Equipment Location, Bill To Customer Location, Contract Number, OR Contract Type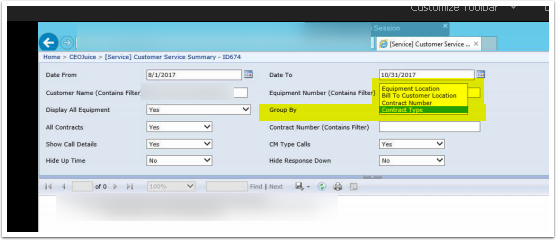 You must enter a Customer Name and then you can drill down to Equipment Number OR Contract Number to refine the report.
*If you filter by Customer Name, then you will receive a service history for ALL equipment under the account. 
Narrowing down to filter by Customer Name and Equipment Number, you will receive the service history for that specific machine ID# for its lifetime of service in eAuto under that Customer Name. (We made the customer name required to prevent the report running with a blank customer name and possibly pulling too much data/killing the report. However a work around is to just enter a blank space in Customer Name, enter the Equip Number and it will run fine.)
Narrowing down to filter by Customer Name and Contract Number, you will receive all equipment listed under the specific contract number (regardless of whether the equipment or customer under contract number has changed over time).
*If you use the date filters in any combination, please note the report produced will only reflect the service history for that time period within the filters you have assigned.
Sample: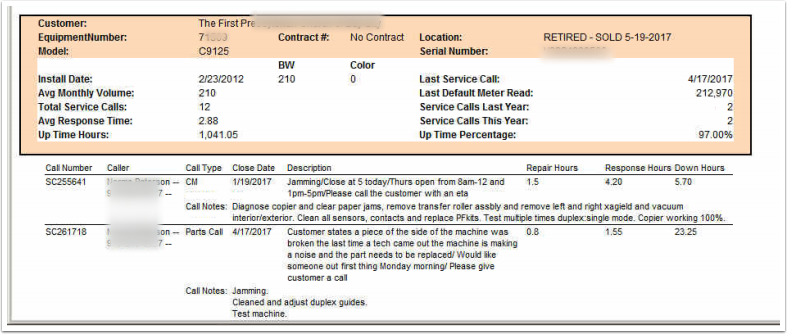 **Please note:
Average Monthly Volume – this average is specific to your filters
If you filter by contract and equipment, then the average monthly volume is ONLY based on that contract. If you do NOT filter by contract, but DO filter by equipment, then the average monthly volume will be for the lifetime of the machine regardless of which contract(s) it has been a part of. If you filter by equipment, contract and time, then the average monthly volume will ONLY reflect average for that ID#, under that contract, during filtered time period.
Up Time is the percentage of business hours the machine was not down for (please see these links for discussions on use of uptime: LinkedIn and EUG).  'Down' is calculated from call placement time to call completion time.  Only Corrective Maintenance calls are used to calculate uptime percentage.
Up Time is the working hours available less any holiday hours per year entered in eAuto (you must have service hours, holiday's, etc. listed in Tools/List and Codes/Service Hours/Daily Hours Tab and Holiday Tab)
Down Hours is only calculated on Corrective Maintenance Category Call Types and is the total time from call open date/time to call close date/time.