NOTE: THIS ALERT IS NOT FOR ANY CLIENT WHO HAS BEEN ON eAUTOMATE FOR LESS THAN 18 MONTHS! ! 
This task process is to run through and inactivate Equipment records in eAutomate that do not meet ALL of the following criteria:
1)  Install date (if that value is set) and EquipRecord create date has to be more the VariableW years ago. If there is no InstallDate then it will look to the CreateDate of the Equipment Record (you can use Service Equipments eView to see Create Date).  Please note this is based on calendar year, not since X Months. Since the alert considers calendar years, if VarW is '2' then it excludes any equipment with date of this or last calendar year, but if 2 or more calendar years ago then equipment is considered eligible for deactivation, AND
2) Equipment not on an Active Contract, AND
3) Equipment not on an Active Lease, AND
4) No Service in last VariableX months (only considers CM and PM Category Call Types), AND
5) No Supplies shipped in last VariableY months, AND
6) No Meter Readings received in last VariableZ months, AND
7) Equipment Not In-Stock/Inventory
NOTE: The alert logic only considers equipment where the associated ModelEquipment Record indicates the Model is a HOST and is not an ACCESSORY.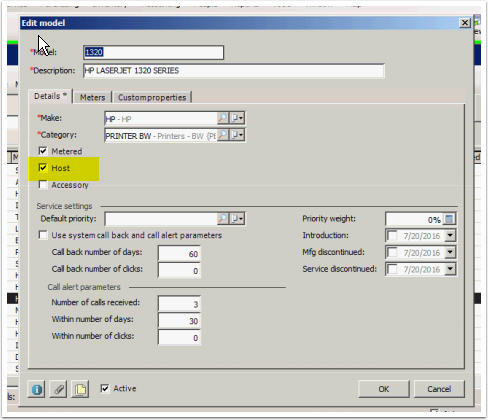 **Our installer will run this in test mode first so you can see a list before we make any changes to your eAuto.**
See ID156 for making CustomerRecords inactive