This alert notifies when a new call is opened within X days of install. When the call is closed, we notify again.
Jump to:
Overview | Samples | Variables | Alert Functionality | Best Practices & Tips |  Related Alerts
Overview
Overview
The experience of your customers within the first few days is critical to setting the tone of the relationship for the next year or so. A service call on brand new equipment is not good, but often it's not that there was a service call, but how quickly did you respond and what actions you take to make it right. 
This alert will trigger when a new service call is opened for equipment that has an install date within Variable X days of install. The alert will trigger again when the call was closed. This allows you to proactively monitor service calls placed on new equipment.
Run Schedule: Every 10-minutes
Type of Output: Email
*  *  *
Sample
Sample
Open Call:

Closed Call:

*  *  *
Variables
Variables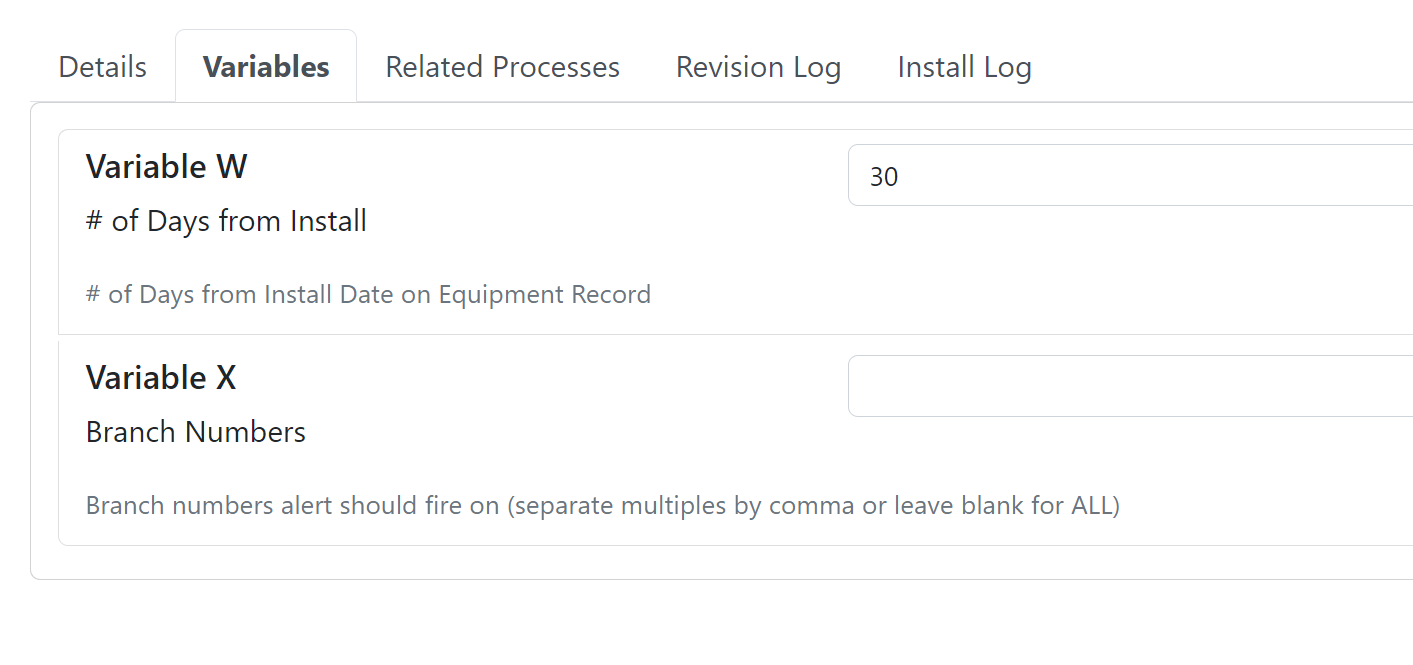 Variable W: Enter the number of days from the install date on the equipment record for the alert to trigger. The default value is 30.
Variable X: Enter the branch numbers for the alert to trigger on, separated by commas. Leave blank to trigger on all branches.
*  *  *
Alert Functionality
Alert Functionality
1. Looks at Open Call Time (not date call invoiced) to consider VariableW Days for closed call info.
2. Alert only triggers on Corrective Maintenance (CM) and Preventative Maintenance (PM) calls, the idea being that you don't want to know about follow-up install or network service calls but just want to be advised if the equipment breaks.
3. If you've opted to send to Sales Rep, we send to the last rep to sell the equipment in question, the alert does not look to Customer or Contract Record settings as it looks at the SalesOrder for Sales Rep assigned.
4. Equipment Record MUST have an Install Date recorded: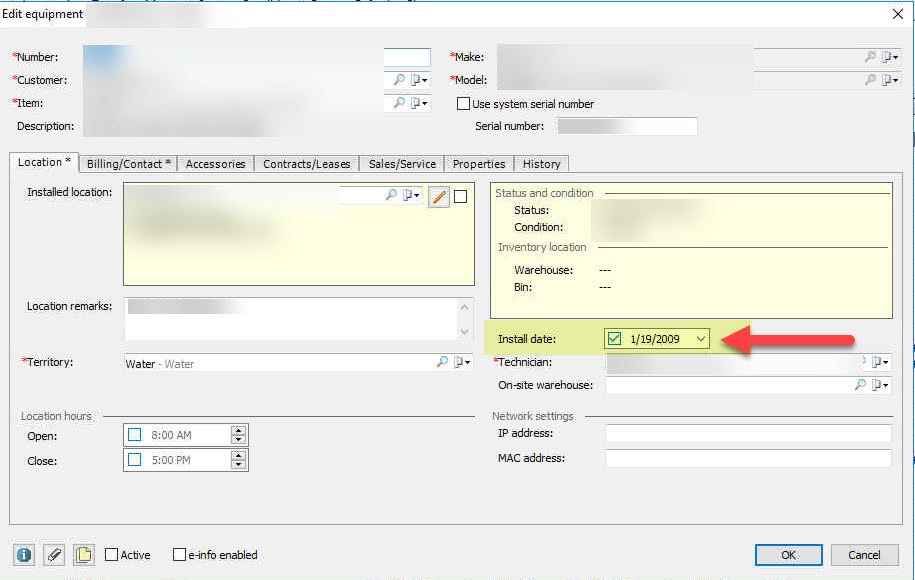 *  *  *
Best Practices & Tips
Best Practices & Tips
1. This alert is capable of sending to branch roles, please see this link for more details on setting up branch roles.
*  *  *
Related Alerts
Related Alerts
ID35 and ID47 - These alerts are a process for maintaining service coverage while a service contract is set up. 
ID100 - New Call opened for equipment that has a status of Demo
ID155 - Call Closed for Contract Inspection / Termination / Collect Toner
ID166 - To Notify SalesRep when a call is opened/closed for a particular customer/equipment
ID214 - Install/Pickup CallType Category Calls closed 
ID561 - New Call Opened for Equipment Still Under Warranty
ID656 - Call Opened of Call Type Category OR Call Type OR Priority OR Bill Code OR SLA Code
*  *  *