You know those sheets of paper on top of every piece of equipment in your warehouse? The ones that indicate why it's there, where's it going and usually with nearly illegible handwriting in all the blanks? This process will allow you/your users to generate those forms.
It will include the equipment record customer, location customer, location remarks, as well as all the custom property attributes you have associated to the equipment selected for the report.
The SSRS report will prompt you to enter in the Equipment ID# you wish to print the form for and then print out all the information with 1 machine per page.
This report requires rights to inventory reports and service contract reports. It also requires standard SSRS Report access set up. Please see THIS LINK for those one time set up instructions.
You can also create a quick link for your warehouse staff direct to this report by using eAuto's Add-In Manager, see THIS LINK for how to set up.
SSRS Filter Options:

Just enter the Equipment ID# of the device, select if you want Custom Properties listed on Cover Sheet and then select header color.
Additional Notes (optional): can add any needed additional text/notes to print on Cover Sheet (one time option to be included at time of printing)
Cover Sheet will populate any/all Custom Properties with a value entered. Any Custom Properties with no value, will not print on Cover Sheet.
Select the color background so you can easily see from afar the color. Use the color options to identify different stages from afar in your warehouse.

To print the Cover Sheet, go to disc icon and select export to PDF, document formatted for 8.5 x 11 portrait printer settings. Or you can use printer icon to print directly if your web browser is configured to do so.

Sample: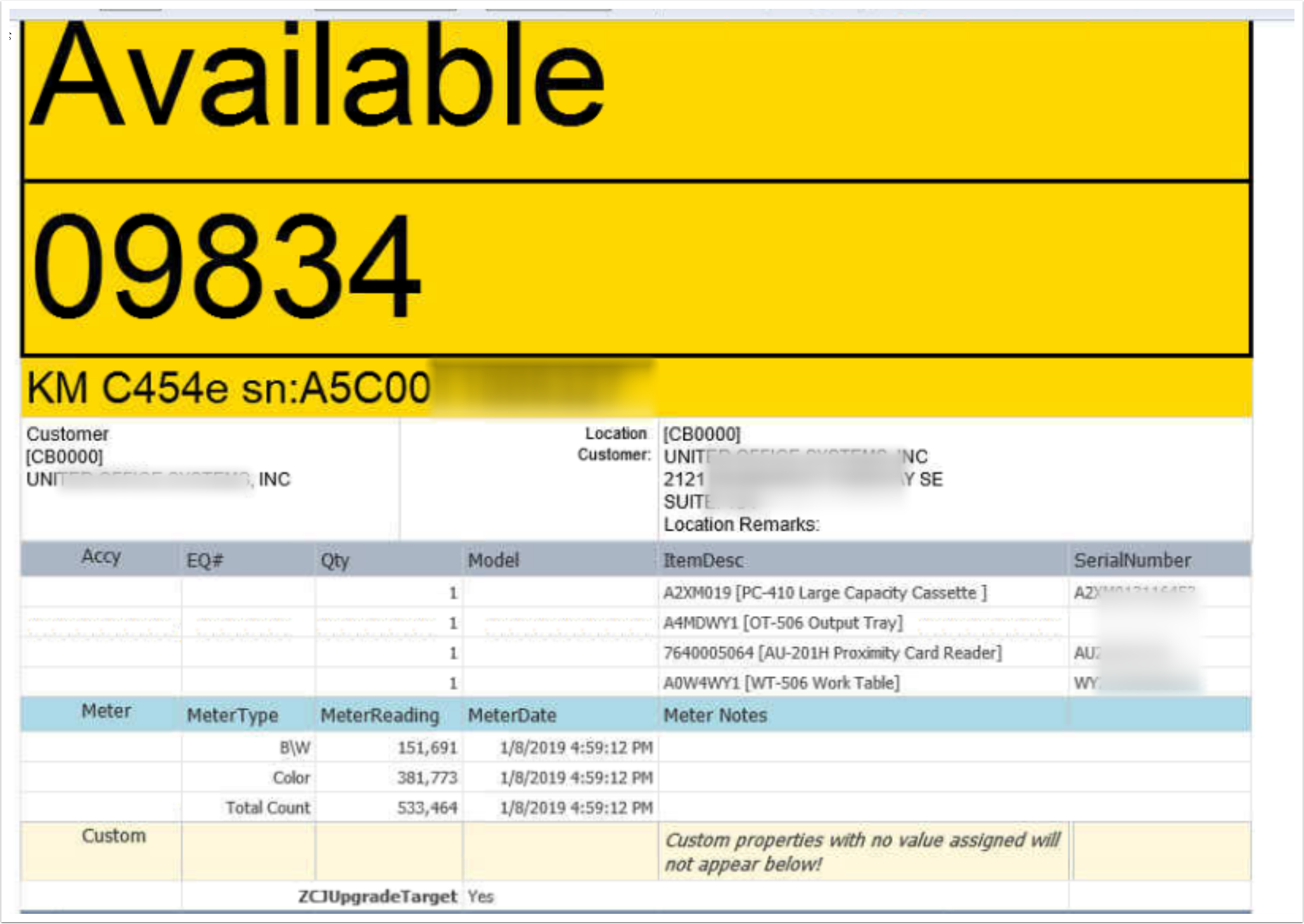 Status on Equipment Record shows at top with ID# and Model/Serial Number Details
Shows both Customer and Customer Location details from Equipment Record
If accessories linked to main box, then those accessories will also show on Cover Sheet
Most recent meter(s) from Equipment Record will show along with any Meter Notes (i.e. estimated)