This alert will provide you a regular report showing all the parts that techs were missing in their car stocks and were therefore forced to reschedule (considers all rescheduled calls regardless of whether PO linked to call or not). The alert can look to see exactly what parts the tech had in stock at the time (s)he rescheduled the call and report only those parts that the tech was missing at that time, so you get a read on exactly which parts are causing you problems. The automated alert will provide a monthly report, and a Custom Report is also available to run directly from eAutomate so you can change date ranges or focus in on specific techs or categories of part. The only thing we can't report is any (bad sync) parts the tech may have needed since that is just a text field and the part is entered later.
To further clarify:  The report looks to see what parts were in stock in their trunks at the time the call was rescheduled, not just the incomplete calls that have parts on them. So the list of parts from calls with an incomplete code will not match to what the report is showing you for that technician.
**Alert must be set to run monthly ONLY as it configured to only consider the previous month's activity.**
If you do not see the report in your custom reports console, please email help@ceojuice.com and we will get it installed for you.
See also ID393 and ID628 for other alerts addressing this issue.
ID629 Sample:

Available Custom Report Filters: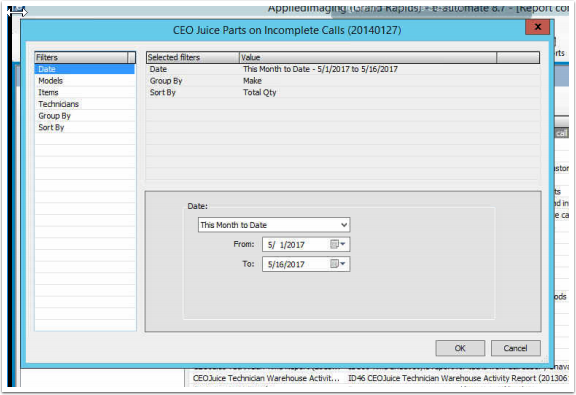 Custom Report reports on all calls rescheduled for parts (unlike alert where you set how many reschedules via VariableW)