This alert notifies you if a service technician entered a service read that is the same read as the last entered read of any meter source. Chances are that what they entered was not the true meter read while they were on site.
Jump to a specific section by clicking a link
Overview | Samples | Variables | Alert Functionality | Best Practices & Tips | Related Alerts
Overview
Overview
This alert is for dealers who do not allow their service technicians to force a meter into the system. In other words, their techs cannot enter a meter reading that is less than the previous meter. When this practice is followed, technicians typically enter the same meter reading as the last entered so that they can close their service call. Doing so skews reporting and also does not give the tech credit for the copies produced between calls.
This alert will notify you when a service read entered contains the exact same meter readings as the previous entered meter reading of any Meter Source. This allows the instance to be investigated in the system and resolved as needed.
Run Schedule: Hourly
Type of Output: Email
* * *
Sample
Sample
The output of this alert contains the Technicians full name, the Customer's name, the Equipment Number, the Service Call number, the previous meter date, the previous and current reads entered for BW, Color, Other and Total.

* * *
Variables
Variables

Variable X: List Call Types which are to be excluded from this alert (dupe meter reads are expected - shop work as example). List multiple Call Types separated by comma.
Variable Y: Some technicians who forget a meter are in the habit of posting a dummy read which is 1 or 2 higher than the last read. If you want to catch meter reads which are only a few clicks above last read, set this value. As example, set to '1' and be advised of all Service Calls where new meter read is 1 greater than last read.
* * *
Alert Functionality
Alert Functionality
1. This alert reviews Service Call Meter Reads entered into the system for an Equipment Record and compares them against the prior read entered by any Meter Source for same Equipment Record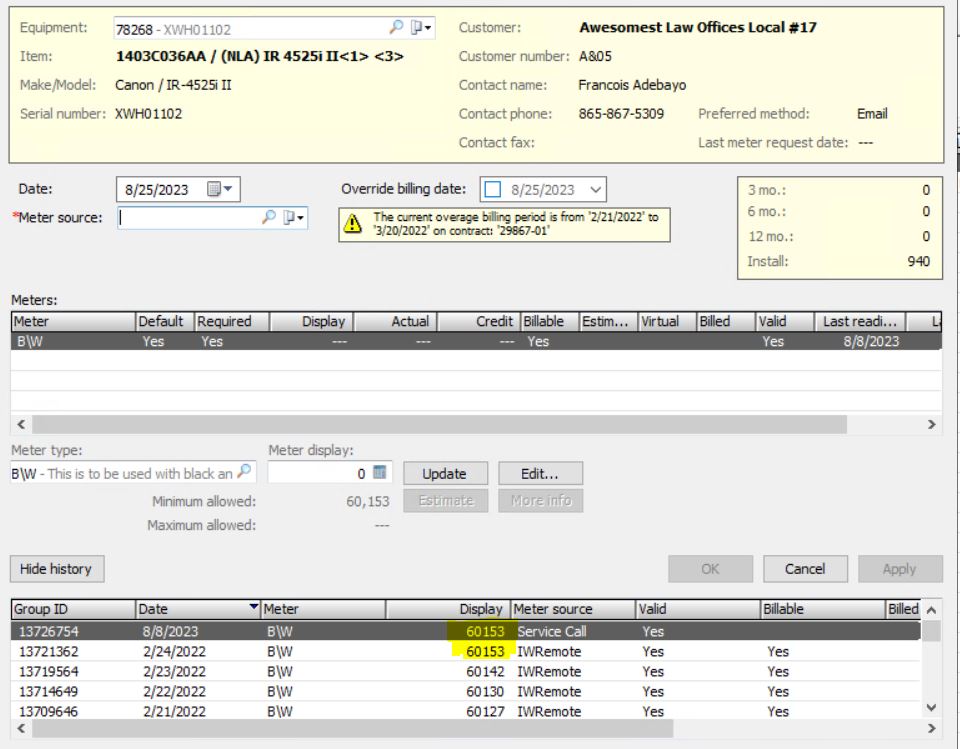 2. In the example above, the last meter reading entered was 2/24/22 as 60,153, and the service technician entered the same read on 8/8/23. This would be found and included in the emailed alert. This is suspicious especially with how many months are in between the 2 reads.
* * *
Best Practices & Tips
Best Practices & Tips
See this post for Best Practices for Entering Meters on Service Calls When Tech Did Not Get the Meter
* * *
Related Alerts
Related Alerts
ID440 - Alert If No Meter Reading On Service Call Within Variable W Minutes Of Arrival Time, Overview & Sample
ID378 - Alert If New Meter Reading Display Is > 0 But Actual Is Zero, Overview And Sample
ID396 - Alert To Email Tech When There Is A New Service Call For Equipment With Previous Meter Reading Of "Estimate/Other", Overview And Sample
ID15 - Forced Meter Overview & Sample
ID506 - Duplicate Identical Billable Meter Reads Overview & Sample
ID222 - Active Contract Equipment With No Service Call In Filtered Days Custom Report Overview & Sample
ID197 - Meter Reading Created Today > W% Of Previous Reading Overview & Sample
ID556 - Reports Of Same Meter Reading Billed W # Of Times Overview & Sample
* * *