This APP assists you in keeping your Service Lease Records current
Jump to Overview | Samples | Accessing App | App Functionality | Best Practices & Tips | Related Alerts |
Overview
Overview
Ensuring your reps are on top of lease end deals is critical (ID65 helps), ensuring techs are not putting parts in machines about to go back to the leasing company is also important (ID799) and you also need to ensure your leasing company is charging correctly when it comes to increases etc and that your reps have accurate information when quoting upgrade options.
Up to now getting all your lease data in eAutomate and keeping it updated is a very manual process and can be a challenge!
This process uses an App to compare the lease data you have in eAutomate with your leasing company and choose what to update in eAuto. We can pull the leasing information through an API for Great America customers and pull from a spreadsheet for others (chase them to get us API access, no charge to leasing company).
We also often see where an addendum is signed and while the dealer has the original lease entered correctly, the update never makes it to eAuto.
If no data is in eAuto then just push everything in.
We see very few dealers take the time to list all the equipment on each lease as it is just too much work, so we added that also.
* * *
Sample
Sample

* * *
Accessing App
Accessing App
**DO NOT USE INTERNET EXPLORER AS YOUR BROWSER! IE is no longer supported and our Apps do NOT working in the IE environment.
1. Please see ID709, for instructions on setting users security access
2. Apps are launched from any browser with a connection to our server (won't work from home unless you have a VPN ETC.). Access via URL: http://<webserver>:8888/ceojuice (replace <webserver> with the name of the server where the ceojuice software is installed, the juicebox). Ask us at help@ceojuice.com, if you do not know the name.
3. for ECi hosted clients, please see THIS LINK on accessing your apps
CLICK ON lease-reconciliation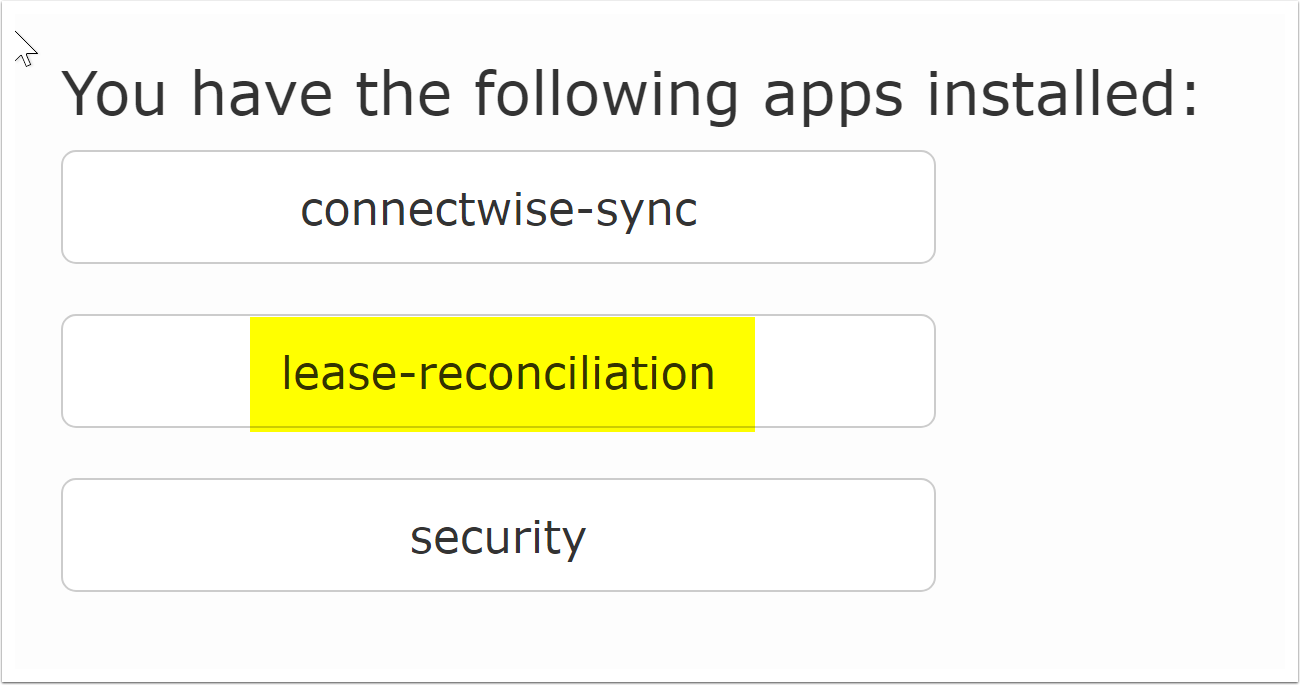 * * *
App Functionality
App Functionality
1. App will push new and/or update existing Service Lease Records. These records are found via Service / Leases: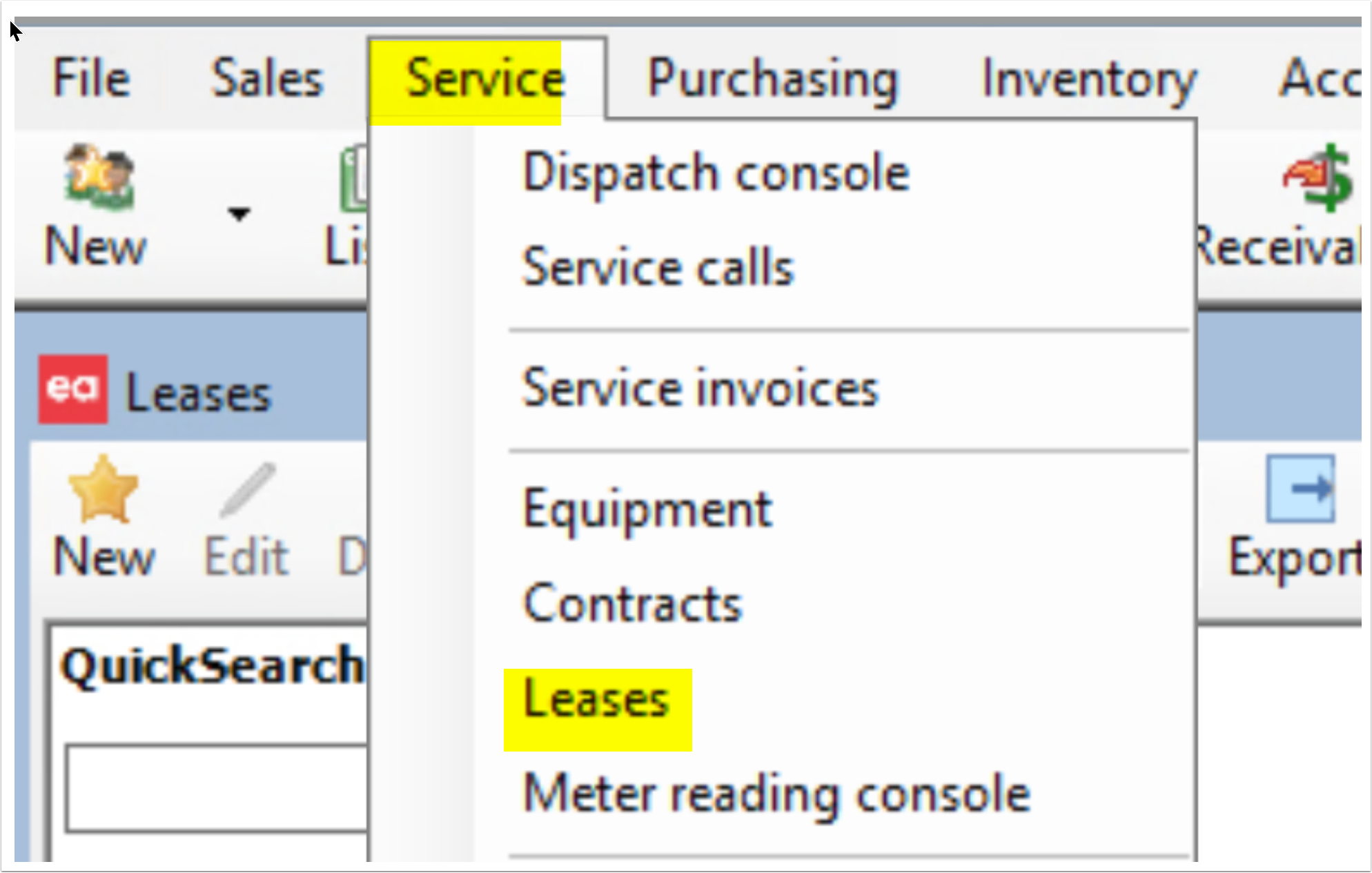 2. REQUIRES at least one Service Lease Record in eAuto for each of your Lease Companies so our app can recognize which are your Lease Companies.
3. Requires basic lease info so our app can help you get those loaded into eAuto even if you have nothing yet. The basic requirements for the Service Lease record are shown below with red * .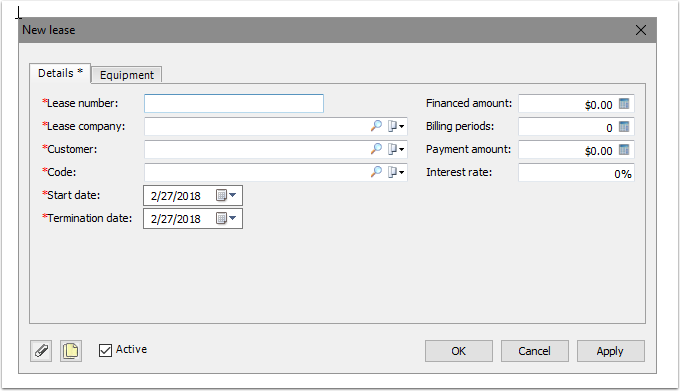 4. If you have leases through Great America, then you can enter your GALC API credentials and your portfolio will automatically upload into the app. Click here to see how to enter your GreatAmerica API key.
5. For any other lease companies (not GALC), you can upload your excel file containing your portfolio data.
6. Ready to get started? Steps are to (1) Upload lease portfolio data into the App, (2) create "batch" which contains portfolio as of that day, (3) reconcile/audit/create new Service Lease Records into eAuto. Click here for a step by step guide on using this App.
7. We show the eAuto columns in yellow next to the leasing company data. The Pink fields are where the data does not match.
Choose how many rows you want to work with at one time (we suggest all before next step)

Ask our app to match the lease company data to your eAuto data, we know you may not always add the trailing -001 etc and allow for this.

Option to check all at once to update lease number in eAuto OR just check the box in row to update just that one(s)
Other Options:
Filter by leasing company

Just see the ones that don't match

Search for a specific lease

Bulk update everything on that page or update lines/items individually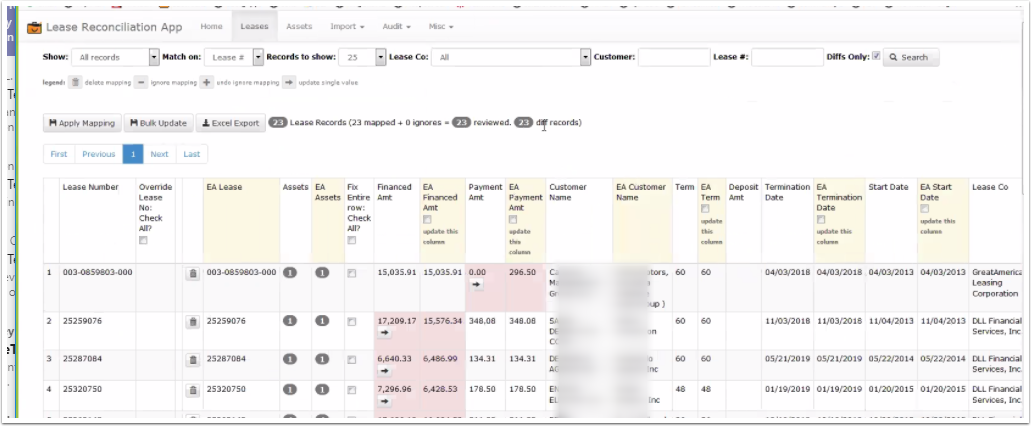 Below we show if the lease is active in eAutomate

The Asset column compares the number of assets (equipment) on each lease

Clicking on the asset number takes you to the assets for that lease

"Lease Occurs Multiples Times in EA" - mapping will not edit, need to correct on eAuto side first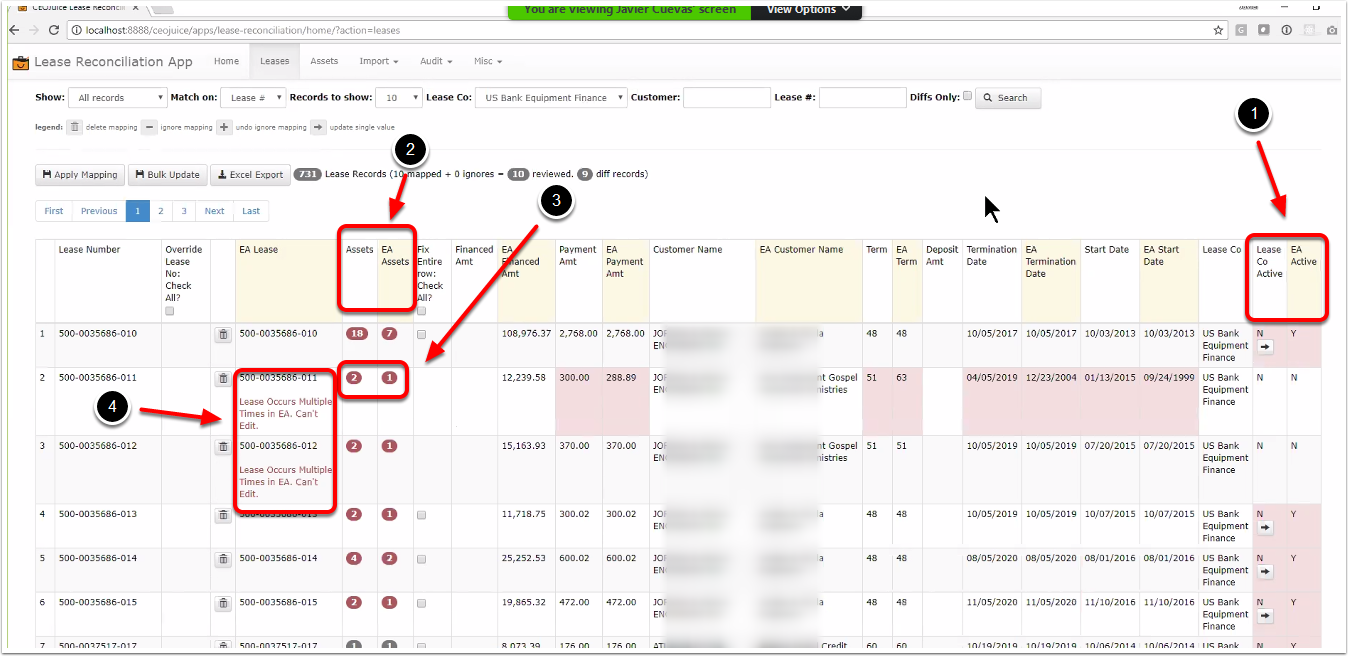 7. The app sees duplicate assets and allow you to delete and ignore: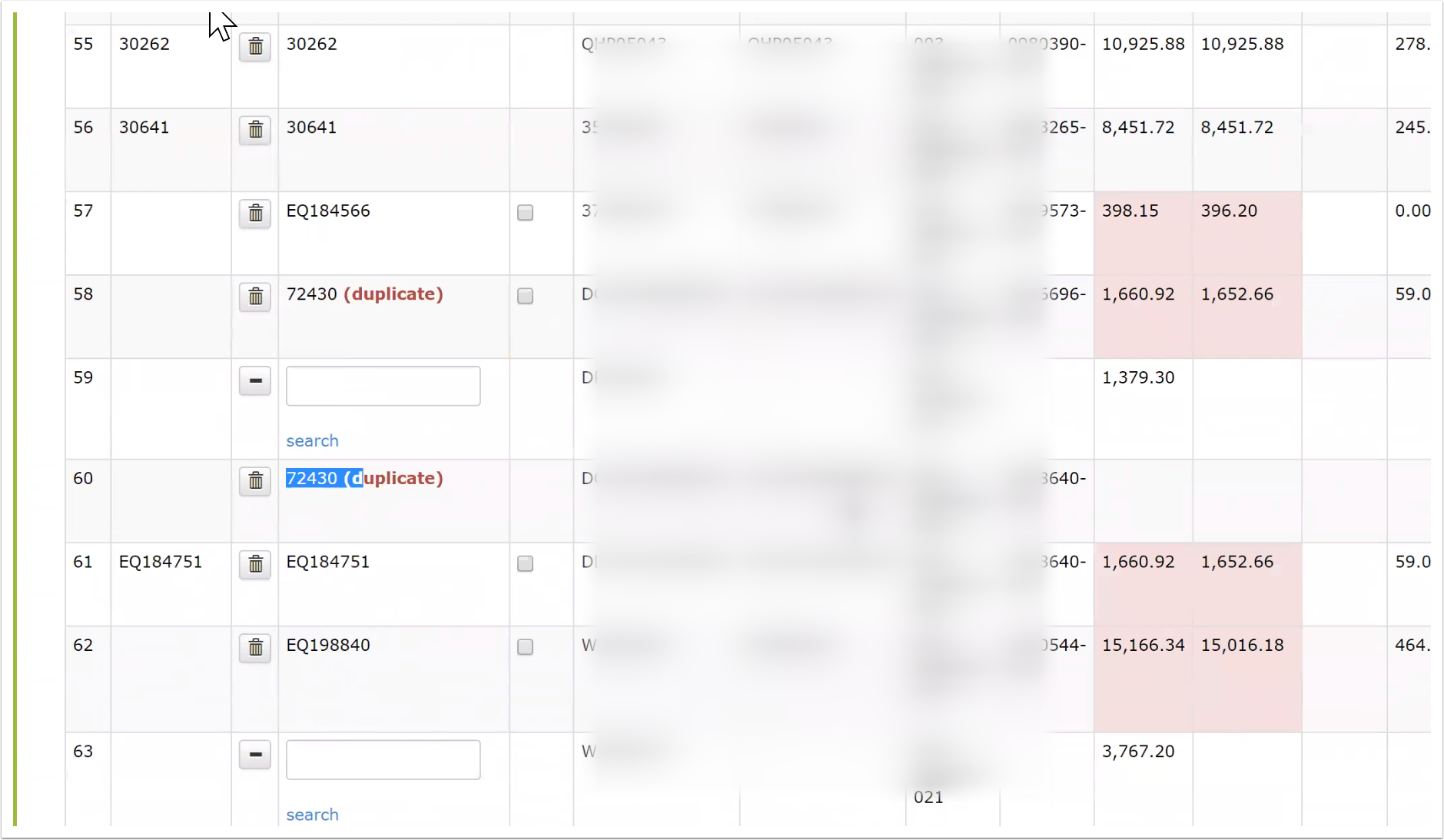 8. To ignore the mapping, click on the trash can icon next to the lease, and then click on the - icon to ignore the mapping. Once you have ignored the mapping for the lease, that lease will not show in the list. To see the leases that you have ignored, click on the Show Ignored option (1), then you will see the leases ignored in the list again (2):
Click on the + icon to undo the ignore mapping on the lease.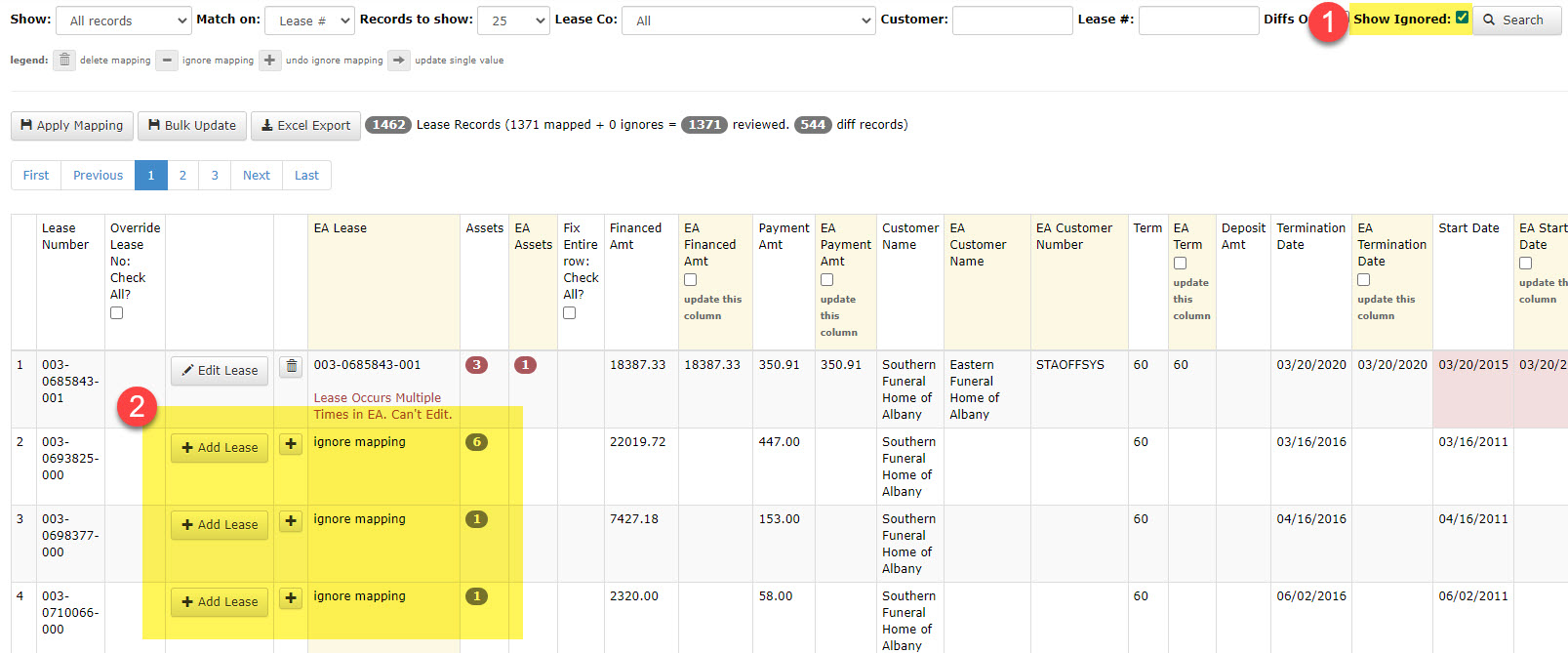 * * *
Best Practices & Tips
Best Practices & Tips
Click here for a step by step guide on using this App. Click here for Frequently Asked Questions (FAQ). Leasing companies looking to setup API access click here.
FAQ's
1. Can the Lease App import our lease info if it doesn't already exist in eAuto?
YES! Once you have created the batch for your lease company, go to Leases and use (1) Add Lease:

You can then search for the Customer Record to create Service Lease in eAutor, then select Save Lease to EA:
You will need to manually enter
1. Customer Record
2. Lease Code
3. Interest Percent (if needed, but be sure to enter 0 if not needed, don't leave it blank)
Other required fields should already be populated from your lease company provided data in your batch.
Be sure to select Save Lease to EA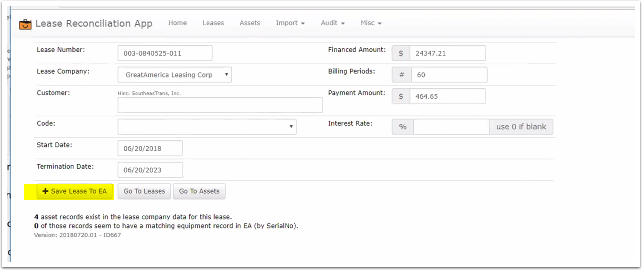 After you have saved the lease to eAuto, the asset/equipment per the Leasing Company portfolio you imported (batch) will populate, select applicable Equipment Records for asset level details to be saved to your eAuto Lease Record. This is searching for serial number to match.
If the Equipment Record is not populating, then you will need to create the Equipment Record in eAuto first.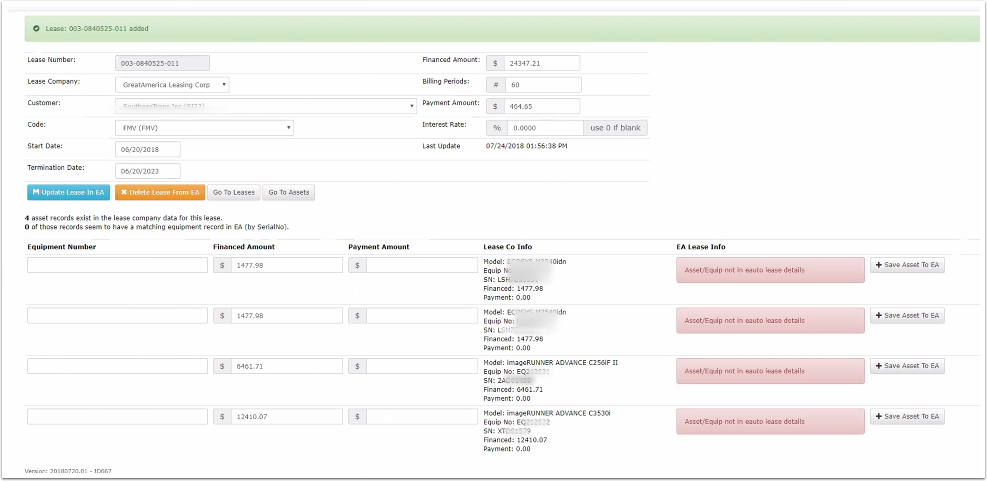 As a reminder the minimum requirements to create a Service Lease are shown below with red *.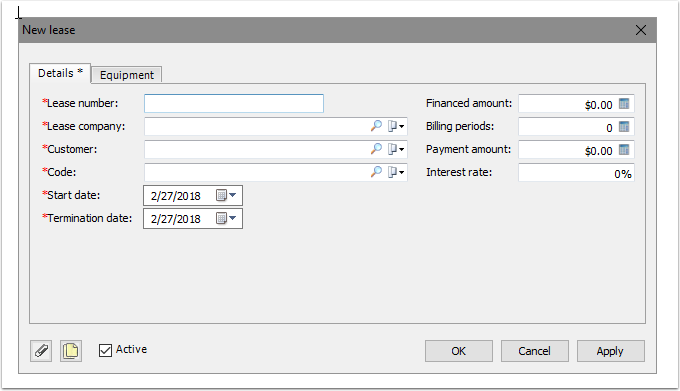 2. What if I want to delete mapping done already?
You can delete and revert back to the previous values on eAuto Service Lease Record: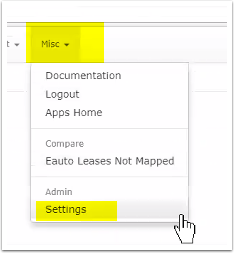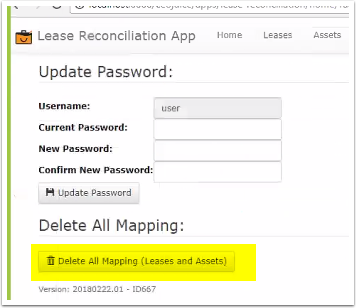 If you want to delete a new Service Lease Record created via app using 'Lease Edit':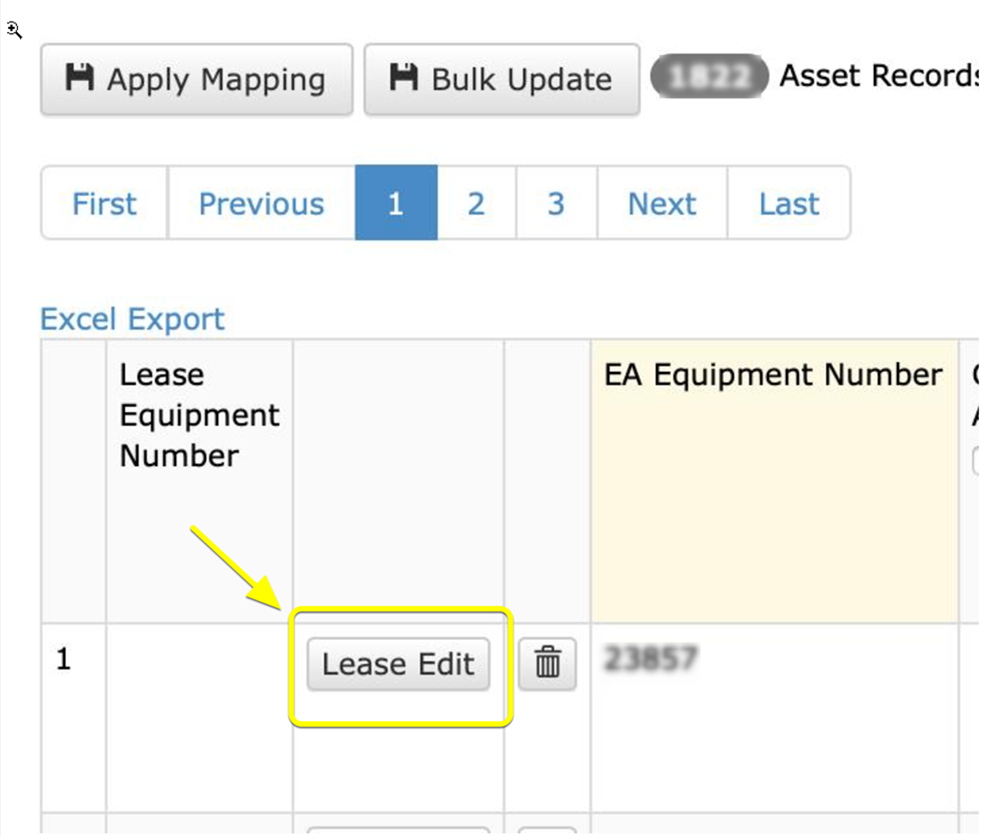 This then takes you to the details of that lease record and you can then select 'Delete Lease From EA':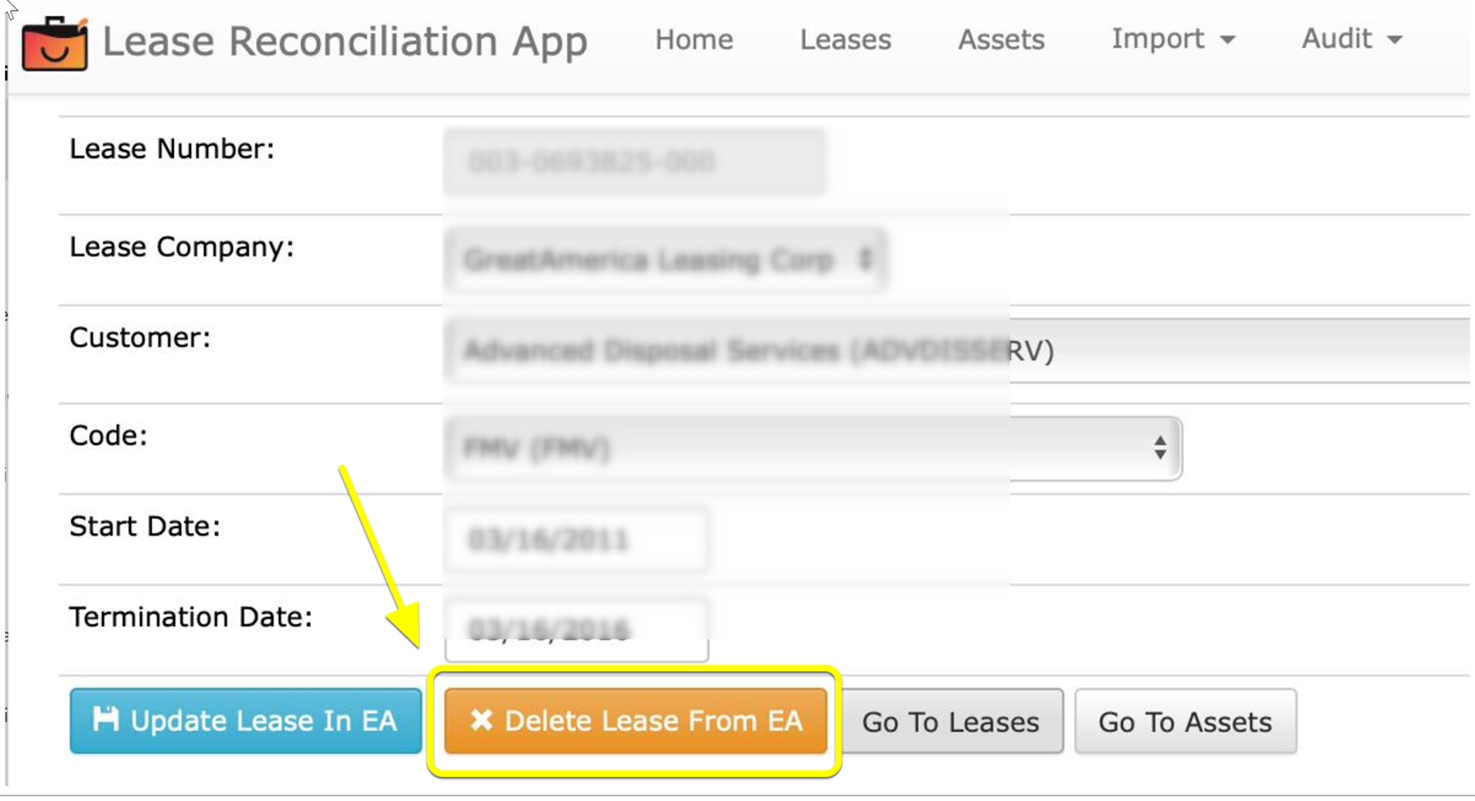 3. Can I audit what has been done?

See before and after values: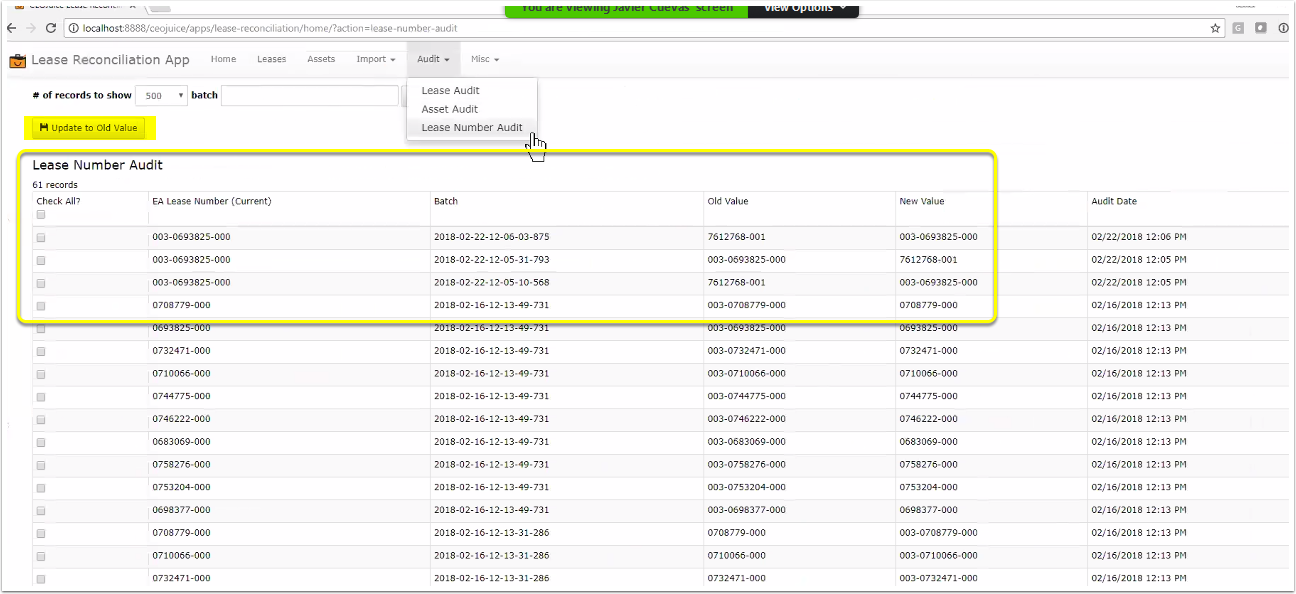 If you want to go back to previous value, Just be sure to check box in left column to update to the old value:

4. My excel file isn't naming columns correctly.
Look at your original excel doc to make sure first row is column names (and not a title or other misc info). You will need to go back to excel doc, delete extra row then re-import.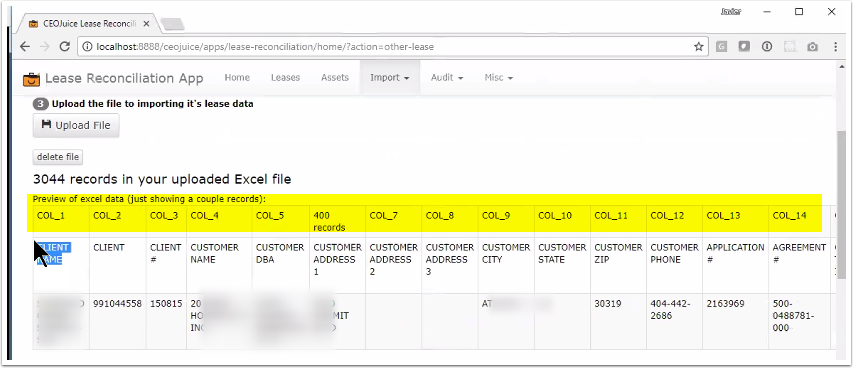 5. Can I see what eAuto Service Lease Records I haven't picked up from Lease App to reconcile?
If you want to see what eAuto Service Lease Records have not been considered through the app, go to Misc / Eauto Leases Not Mapped.
Use this function to inactivate lease records in eAuto.
This will help you find any eAuto Service Lease Records not uploaded to your app via a batch:


6. How can I tell if lease portfolio vs. eAuto shows lease as Active or Inactive?
Updated versions to our alert show column indicating if Lease Co portfolio and eAuto Service Lease Record is "Active":

7. Why does Great America show a lease as active when it was disposed of months ago?
Per Great America "we still have the machine and it gets removed when we dispose the machine. It is not ideal, but we may be having a system update in the next year (2020) that might clear this up."

8. How do I stop the app from linking to a specific lease?
You can use the ignore mapping function to delete the mapping between a lease record in eAutomate and one you have imported. To do that:
A. Find the lease in the list and click on the trashcan icon to delete the mapping:

B. Then click on the - icon to ignore the mapping:

C. You can still find these ignored leases by clicking on the Show ignored check box in the search filters:

To undo the ignore mapping, click on the + icon
* * *
Related Alerts
Related Alerts
ID65 - Leases Still Active and Expiring Within VariableW Months
ID593 - Service Call That is Possible Lead
ID787 - Lease Expiration Report
* * *