Alerts sales reps (will look first to ID320 subscription for sales rep info and if nothing present will look to the customer record in eAutomate) to leases that are expiring within the # of months you specify as (W) variable. Leases expiring within W months will continue to appear on this report until they are marked InActive! This report will also pull the last note off of the lease from the eAutomate notes where the notetype = VariableX above.
**Requires equipment be linked to Service Lease Record**
Sample: When run in Summary Mode no equipment will show:

When run in Detail Mode all equipment listed on the equipment tab in Service Leases will show:

Equipment Tab of Service Leases in Eautomate: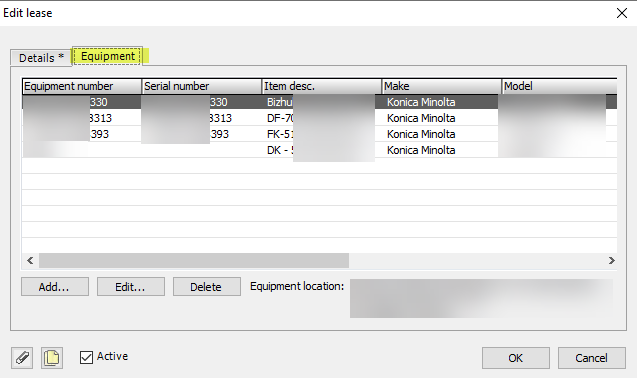 Variable Options:
VariableW: # Months until expiration (how far in advance to notify of upcoming expiration)
VariableX: NoteType used for eAutomate Notes on lease (defaults to 'LeaseNotes')
VariableY: Alternate email to use when no Sales Rep associated with customer (perhaps Sales Mgr or Admin?)
VariableZ: Detail or Summary (Enter the word Detail or Summary to indicate the mode you want the output to be in, defaults to detail if no selection) Sample below showing detail.
Variable1: LeaseCodes to exclude (leave blank to report ALL)