Survey sent to contact you specify after equipment is installed.
Jump to Overview | Samples | Variables | Alert Functionality | Best Practices & Tips | Related Alerts |
Overview
Overview
Survey after equipment is installed to thank your customer for their order, verify contact information for meters and AR, verify everything working as ordered/expected, and see how sales performed.
(See additional cloned outputs ID679, 680, 681, 682 to use for additional survey options or branches so you can have different settings, verbiage, contact details, etc.).
Run Schedule: Hourly
Type of Output: Survey and Email
* * *
Sample
Sample
Sample of standard email:

Sample of extended email which includes "How to do business with us" section: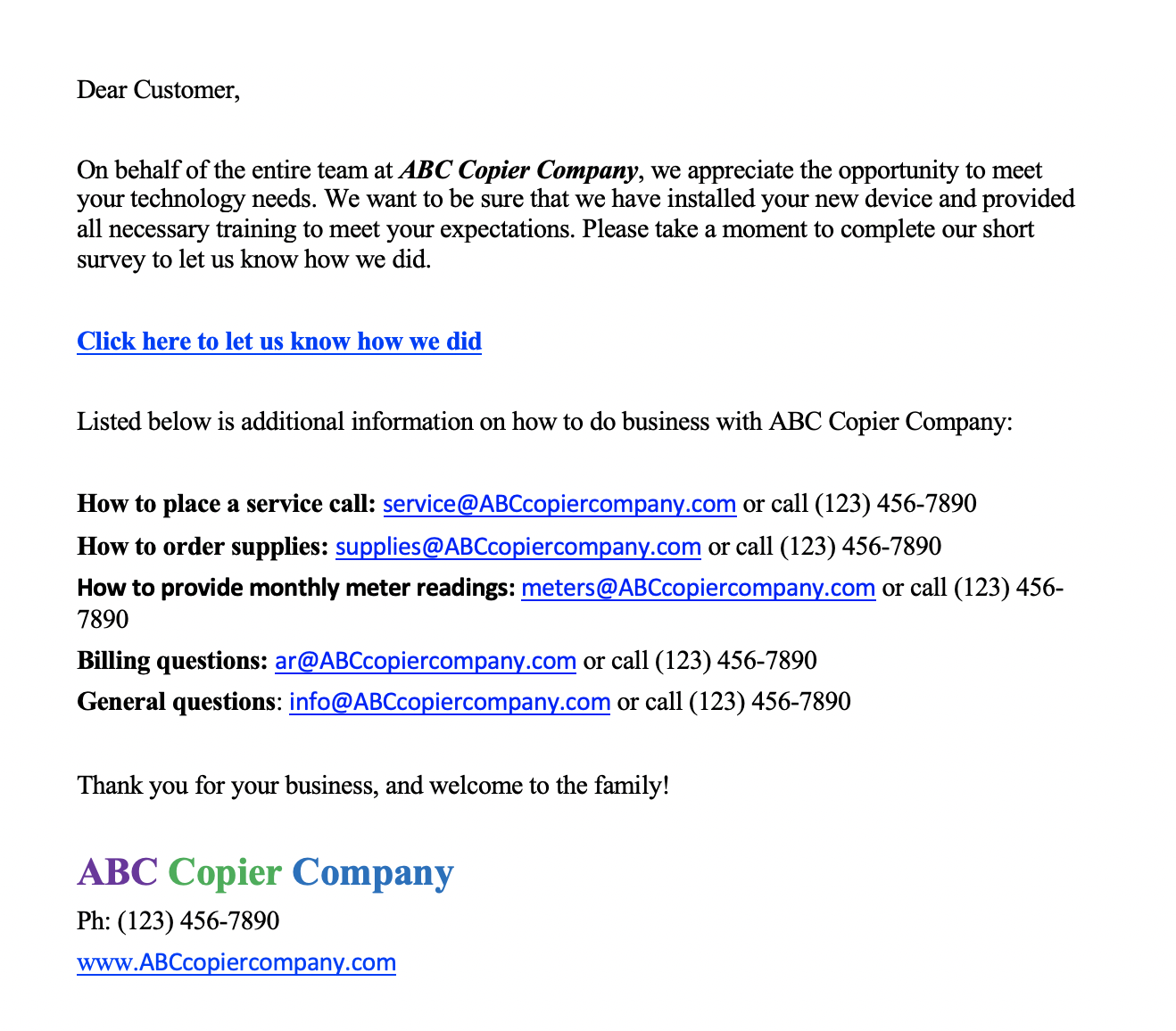 Default survey questions: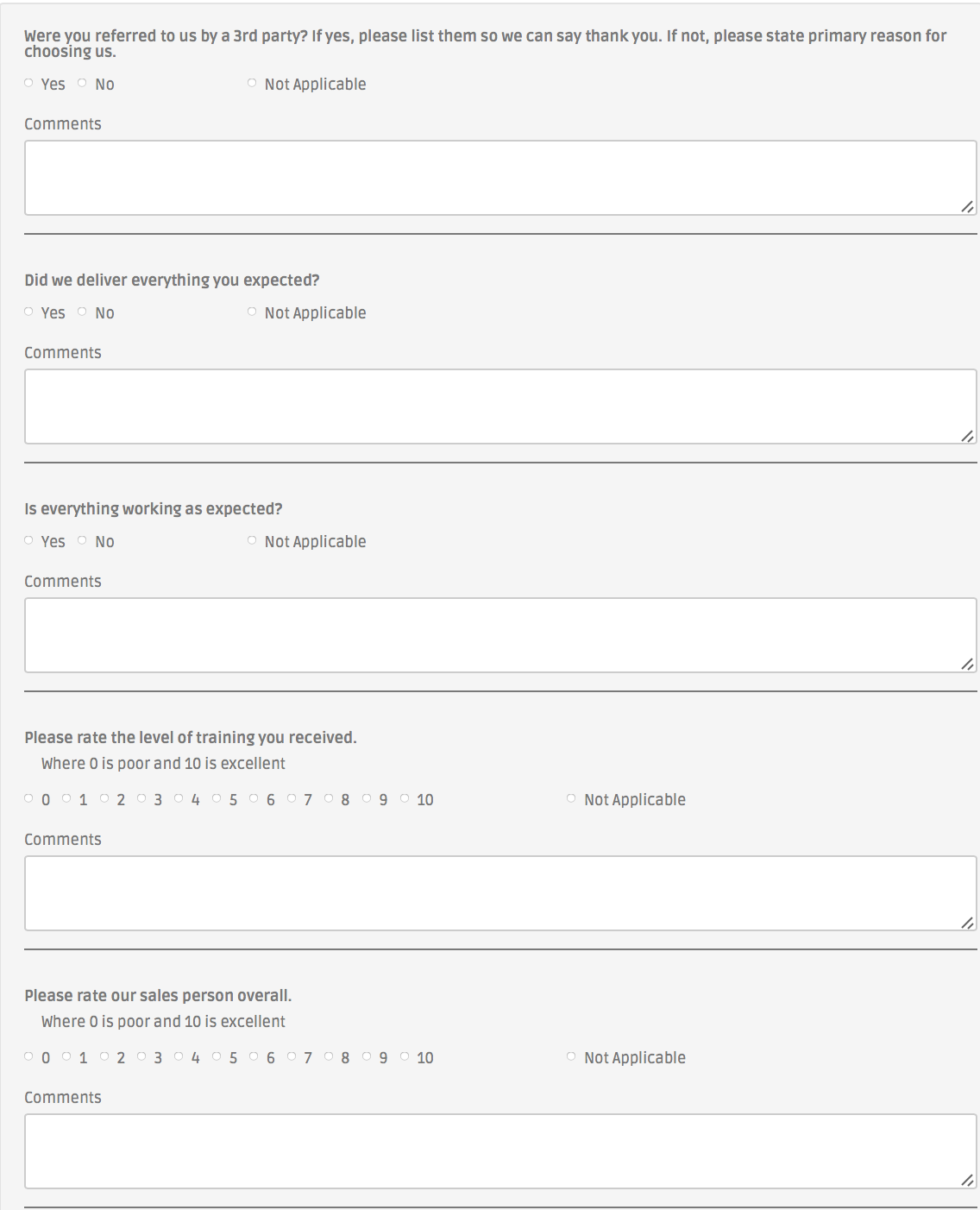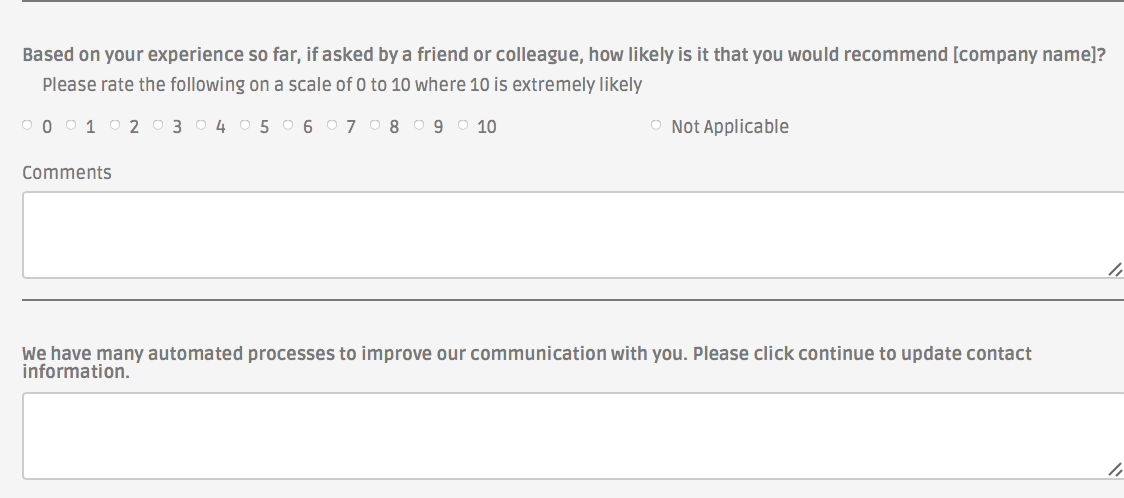 * * *
Variables
Variables
Variable X: Contact Category to assign to contact to receive survey.
Variable Y: Note Type to enter in Contact Record to show when the survey was sent.
Variable Z: Enter "All" if you would like to see all surveys that are completed instead of targeted answers, otherwise leave blank.
* * *
Alert Functionality
Alert Functionality
1. The survey is triggered once the Contact Category (listed in Variable X) is added to the Contact Record of the person who is to receive the survey. (We will create this Contact Category for you if we have appropriate access to e-automate.)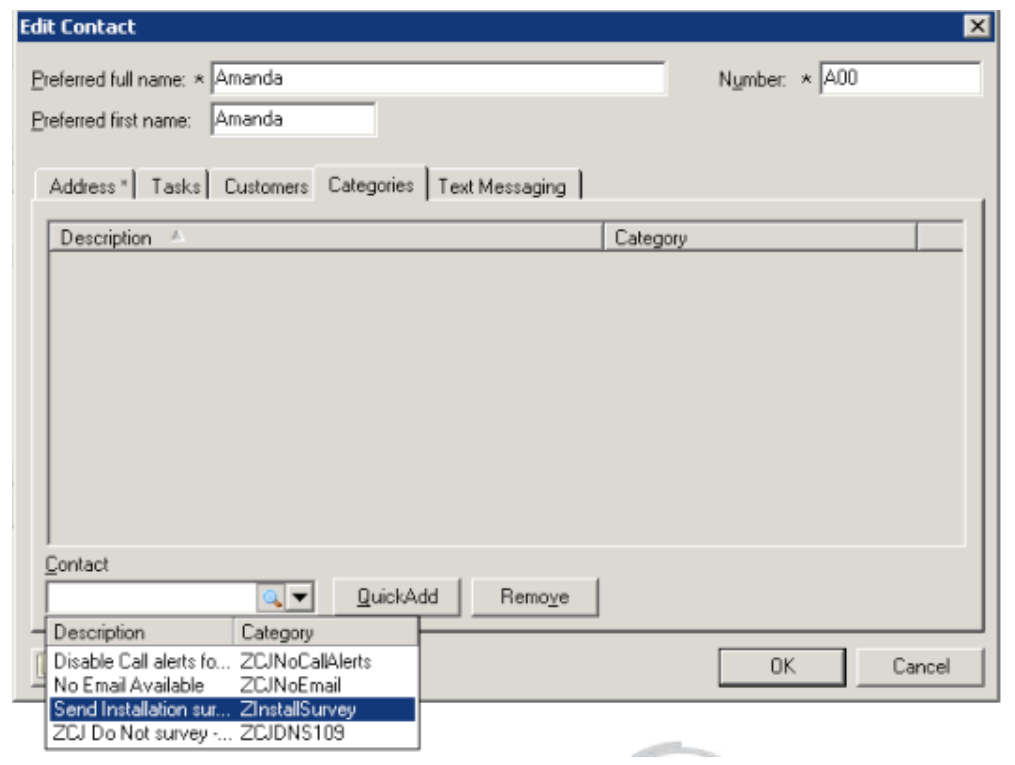 Once the survey is sent, a note is added in the Contact Record showing 'Survey Sent' (per Variable X that we will create for you), which stops future surveys from going out to this contact. If you want to survey the contact again, you will need to delete the note but make sure the category is still set to 'ZInstallSurvey'.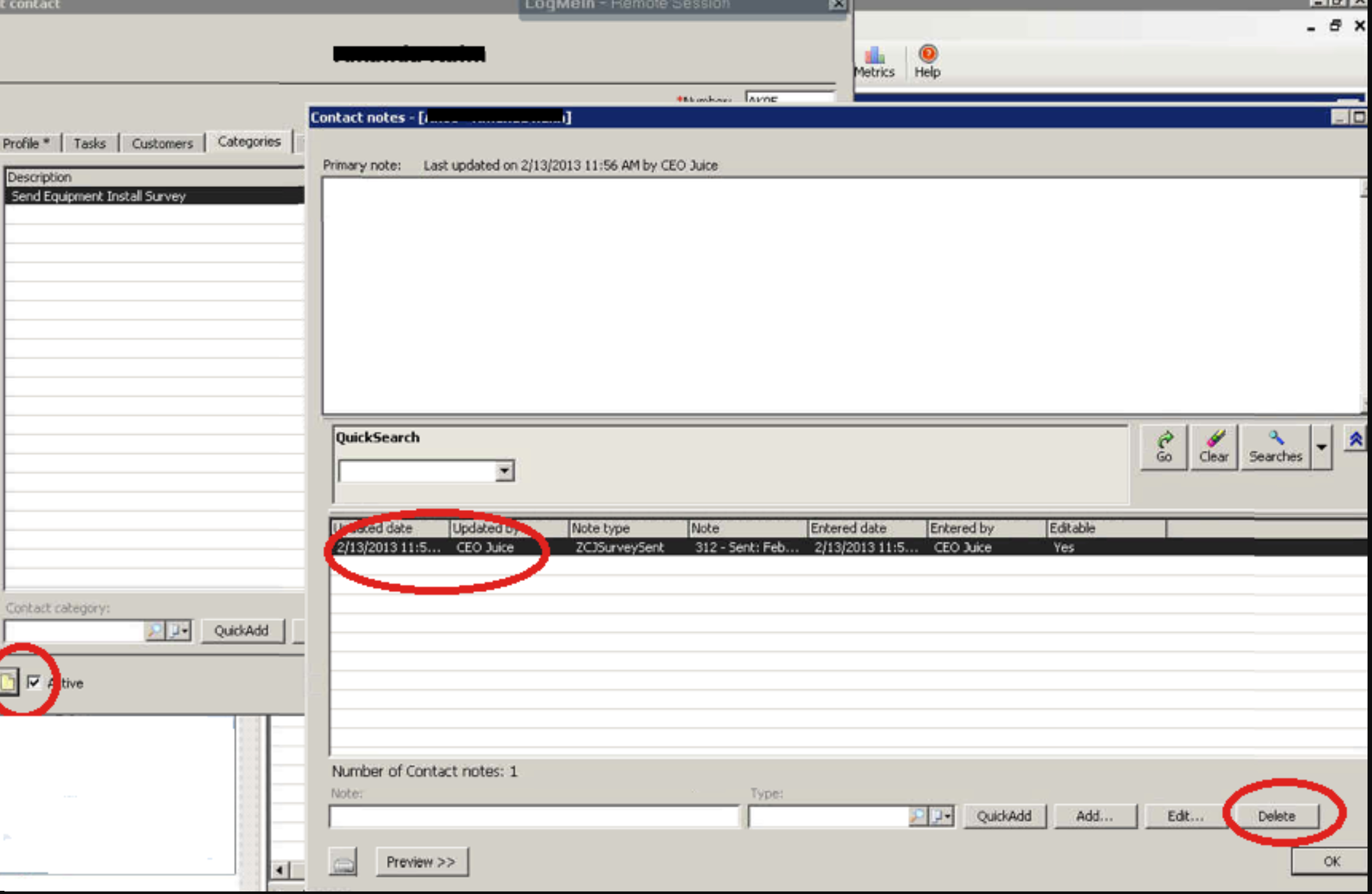 2. This survey is designed to be sent after equipment is installed and training is completed. You can have multiple versions of the survey, one survey for a new customer and an alternate survey for an existing customer. Let us know at help@ceojuice.com.
3. It can take up to two hours after updating the Contact Record for the survey to be processed and emailed.
4. The cover email and questions can be customized as needed.
5. We have the option to obtain contact information. When activated, your customer will be asked at the end of the survey to provide contact information for meter contact, accounts receivable contact, equipment contact, decision maker and agree to accept marketing from you. You can choose any or all of these. For example, you may decide that you just want to get contact information for Equipment and Accounts Receivable.

* * *
Best Practices & Tips
Best Practices & Tips
1. Use THIS LINK for instructions on setting the Contact Category for the survey to send.
2. Click here to understand the importance of the first question "Were you referred to us by a 3rd Party."
3. We have a process to prompt you to send the survey to a contact - subscribe to ID630 HERE.
4. More here on understanding survey responses and more here on viewing results in the survey dashboard.
5. If you wish to automate the sending of the after install survey, we can do so via Service Calls IF you have with specified Install Type (i.e. Install Call Type) by using ID524 OR we can send a survey based on specified Order Type via alert ID529. Reach out to us at help@ceojuice.com for more details.
6. We will create the Contact Category in Variable X and Note Type in Variable Y for you as long as we have appropriate access to e-automate, but if you would like to or need to, please use these instructions:
Variable X and Variable Y Code Set Up
1. Contact Category (Variable X):
Via Tools / Lists & Codes / Contact Category, create new:
Category: ZInstallSurvey
Description: Install Survey - ID312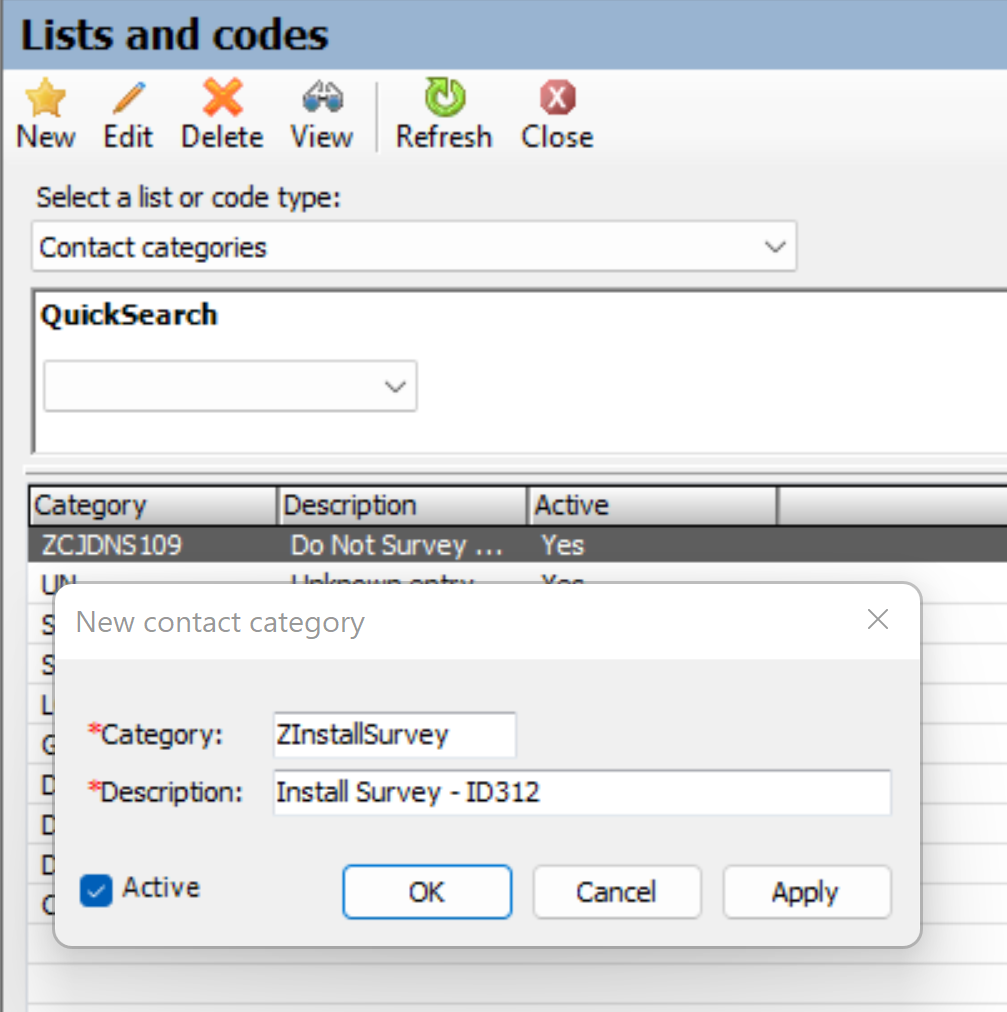 2. Note Type (Variable Y)
Via Tools / Lists & Codes / Note Types, create new:
Note type: ZCJSurveySent
Description: Survey Sent
**Be sure to select "Allow changes, edits, and deletions of notes of this type."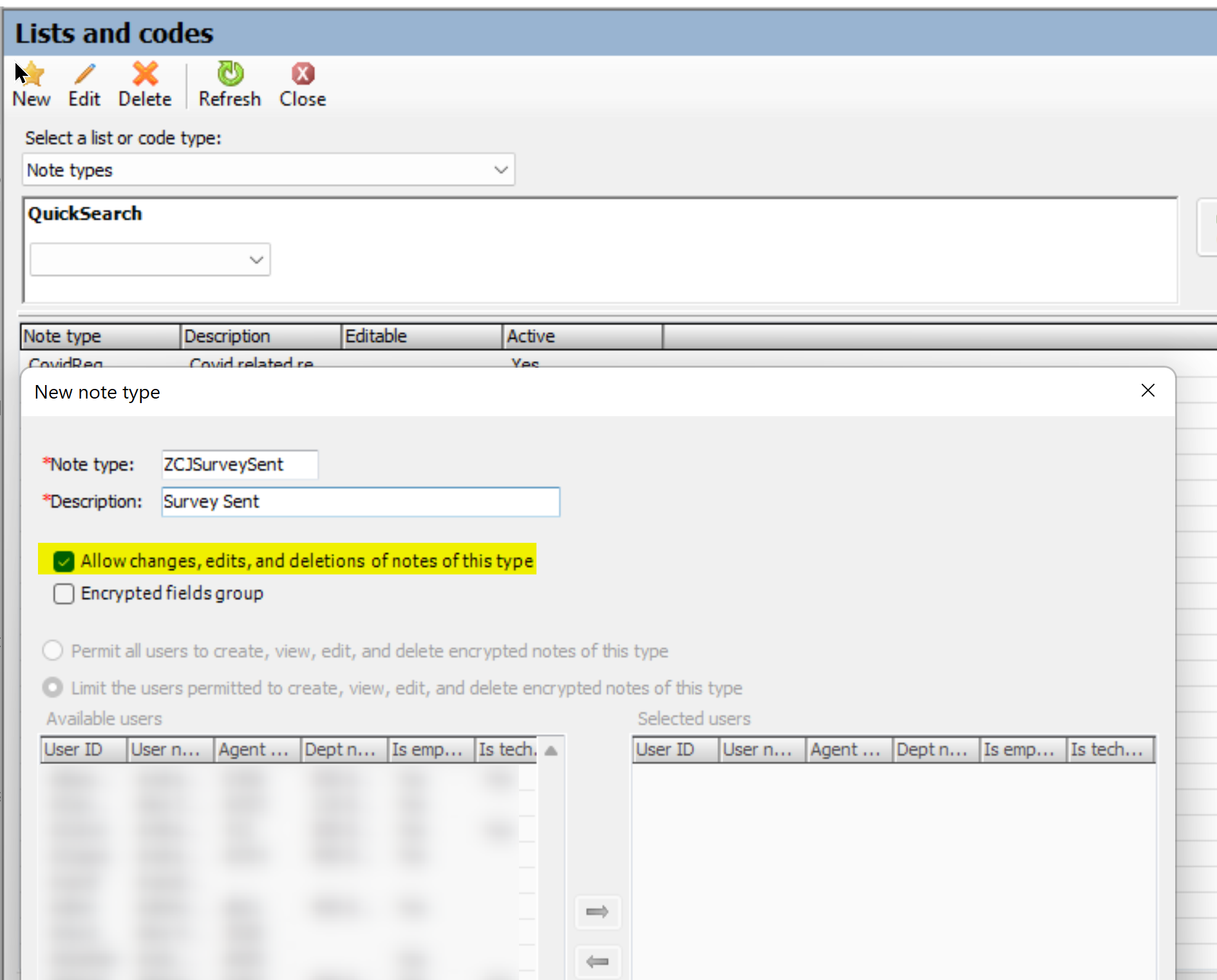 * * *
Related Alerts
Related Alerts
ID109 - Service Call Survey
ID630 - Customer Ready to Receive Install Survey
* * *