In the copier market the concept to use a model to define "what good looks like" started with Tom Johnson and the Global group of companies. Sometimes referred to as the "Global Model" (or the Tom Johnson Model or Hey Hanson Model), it's the concept of setting a benchmark for what should be achievable. For example making 52% profit in service. By understanding what well run companies are achieving, dealers can compare their numbers and see the areas where (in theory at least) there is room for improvement.
There is a one time exercise to map all your chart of accounts so we can report everyone the same regardless of your accounts. This is ID893 - Financial Model Mapping Application.
Click here for the Power BI DashBoard version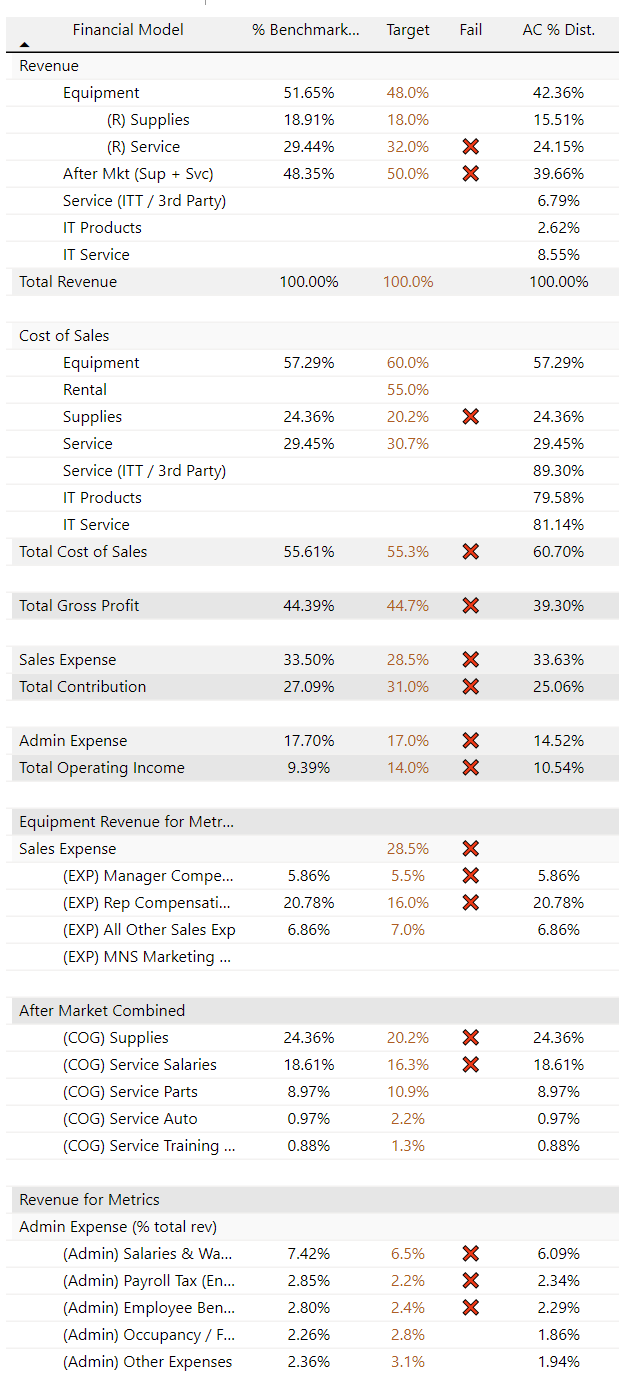 Putting the numbers together for the model is a process that would typically take several days working spreadsheets, however once our system is set up it's a one minute exercise.
Strategic Business Associates continue to evolve the benchmarks for dealer groups including the CDA, BPCA, SDG & PDG so that these members can share their model % with each other without having to share their actual financial $$.
Our trio series of alerts (ID900 ID909 ID910) give you the tools to review your Financial Performance.
Some of the typical benchmarks are:
| | | |
| --- | --- | --- |
| Revenue For: | COGS For: | Expense For: |
| Equipment | Equipment | Salary & Wages |
| Supplies | Supplies | Payroll Tax |
| Service | Rental | Employee Benefits |
| Rental | Service | Occupancy |
| Managed Services | Admin | |
Strategic Business Associates (SBA) benchmark these numbers for four of the main copier dealer groups, The Copier Dealer Association (CDA), The Business Products Council Association (BPCA), The Select Dealer Group (SDG) and The Pro Dealer Group (PDG). They also teach theProFinance Business Model with regular classes every few months. All 4 groups have the option to have the numbers they turn in to SBA be certified by CEO Juice. With this pool of about 150 dealers, SBA are able to best define what the benchmark numbers should be. In addition companies like Pros Elite Group can help you fine tune.
* * *
We have a trio of alerts necessary in order to produce these reports results:
1. ID900 is our report that shows your mapped numbers with the SBA chart of accounts and your financial numbers.
You can run the report via SQL Reporting Services (SSRS) as needed AND we will send an email every Monday & Thursday of the new month until GL periods are closed. Then email will send updated information through last closed period. This email will contain link to the SSRS Report, a snapshot and excel doc of the first page.
Please see this post for instructions on running ID900.
Sample:
Email Snapshot:
Snapshot is only of all Imaging Financial Division Benchmarks as this is the model. The %'s are of overall revenue and may not add up to 100% depending on how you may have mapped (i.e. IT Service is not part of model).
% numbers in red indicate Benchmark was not met
Weighted Profit is dependent on Overall Financial Division

**The Cost of Goods, Gross Profit, Sales Expense, Contribution, Admin Expense & Operating Income are all a % of Sales Revenue: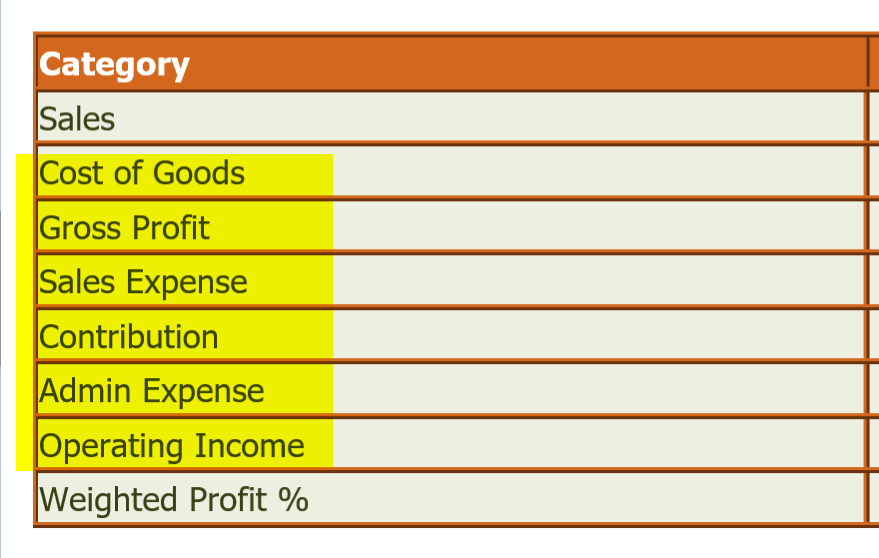 Attached Excel File Sample:
**Emailed report only includes Imaging Financial Division, so if you run report manually via SSRS Reports, please keep that in mind if you're seeing/expecting different results:
Worksheet 1: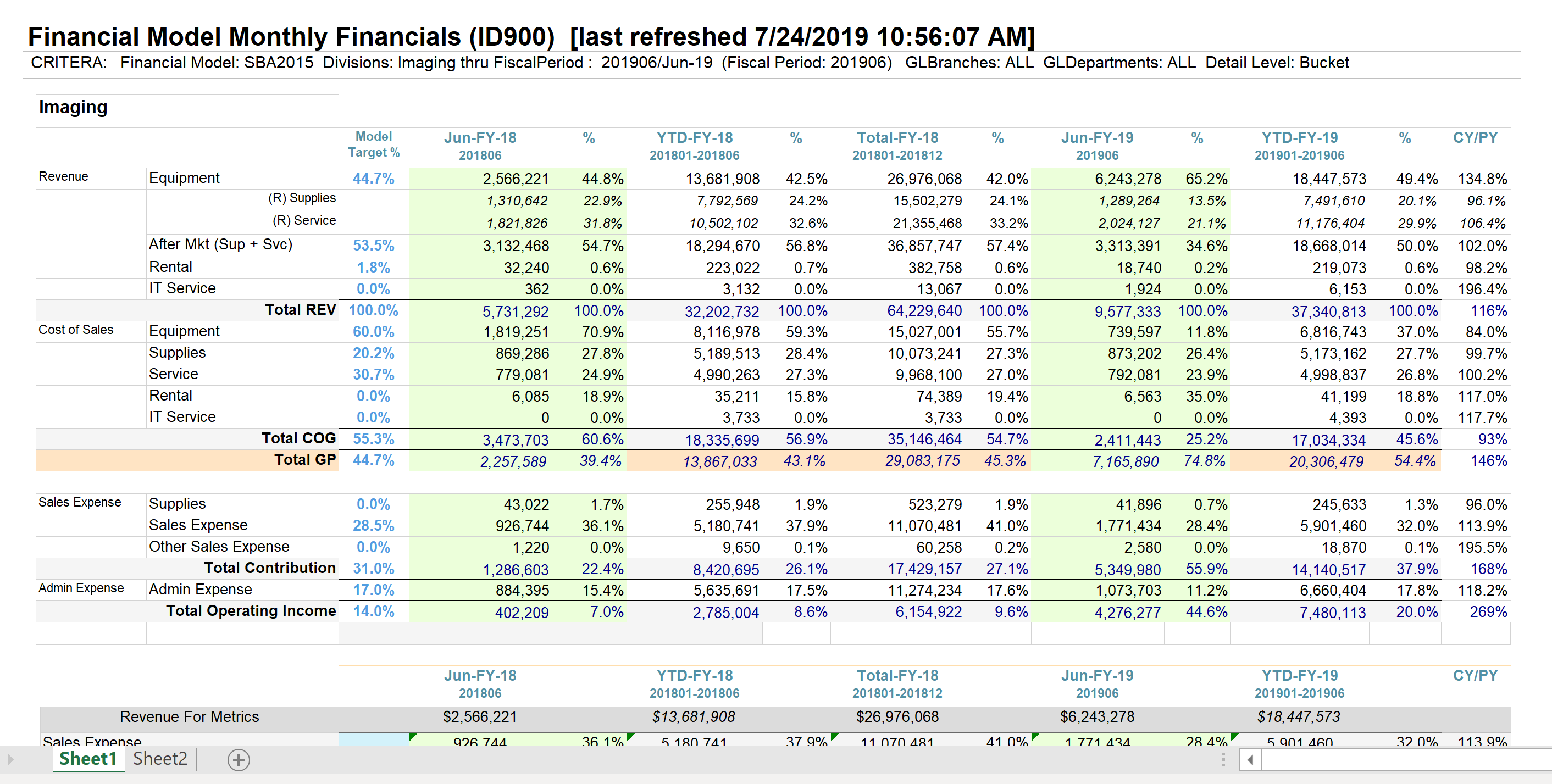 Worksheet 2: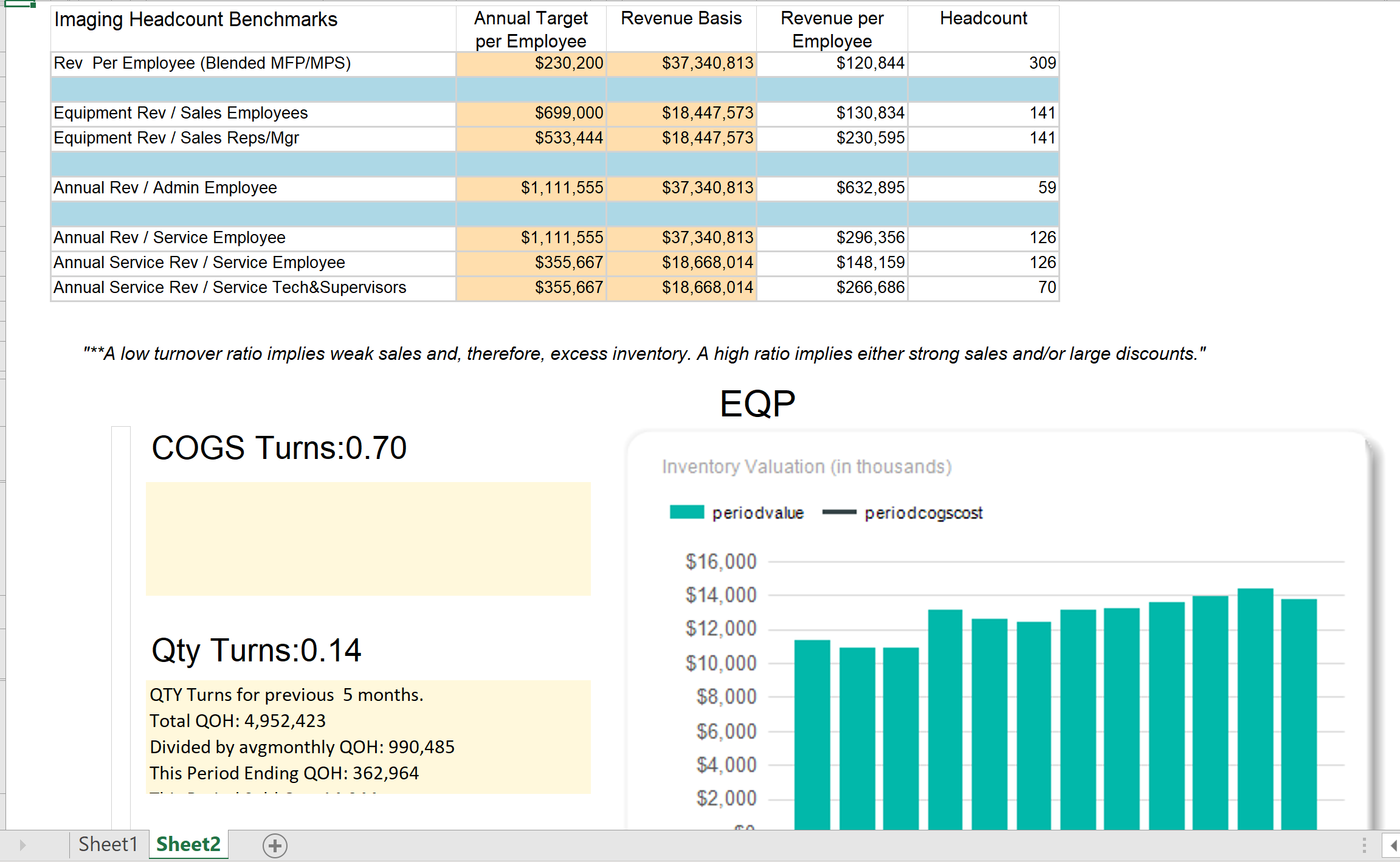 2. ID909 is a report to help you review and analyze your financials month over month for rolling 12 months and help to understand how they can be improved. This is the key report as you are looking for trends!

Revenue:
Expense:

Net Profit:

Current Year vs. Previous Year Balance: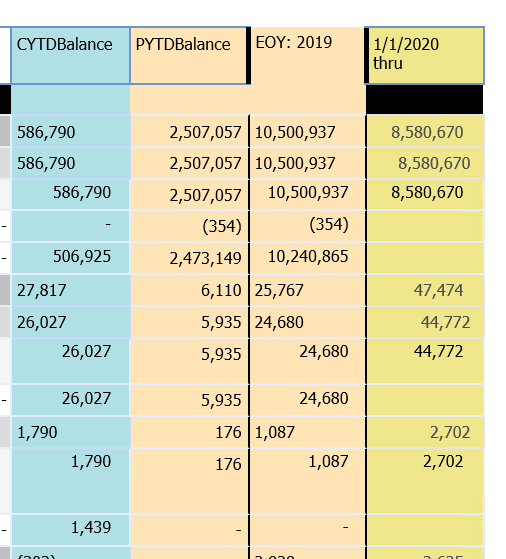 3. ID910 is a report to help you analyze what accounts are mapped and has no financial data.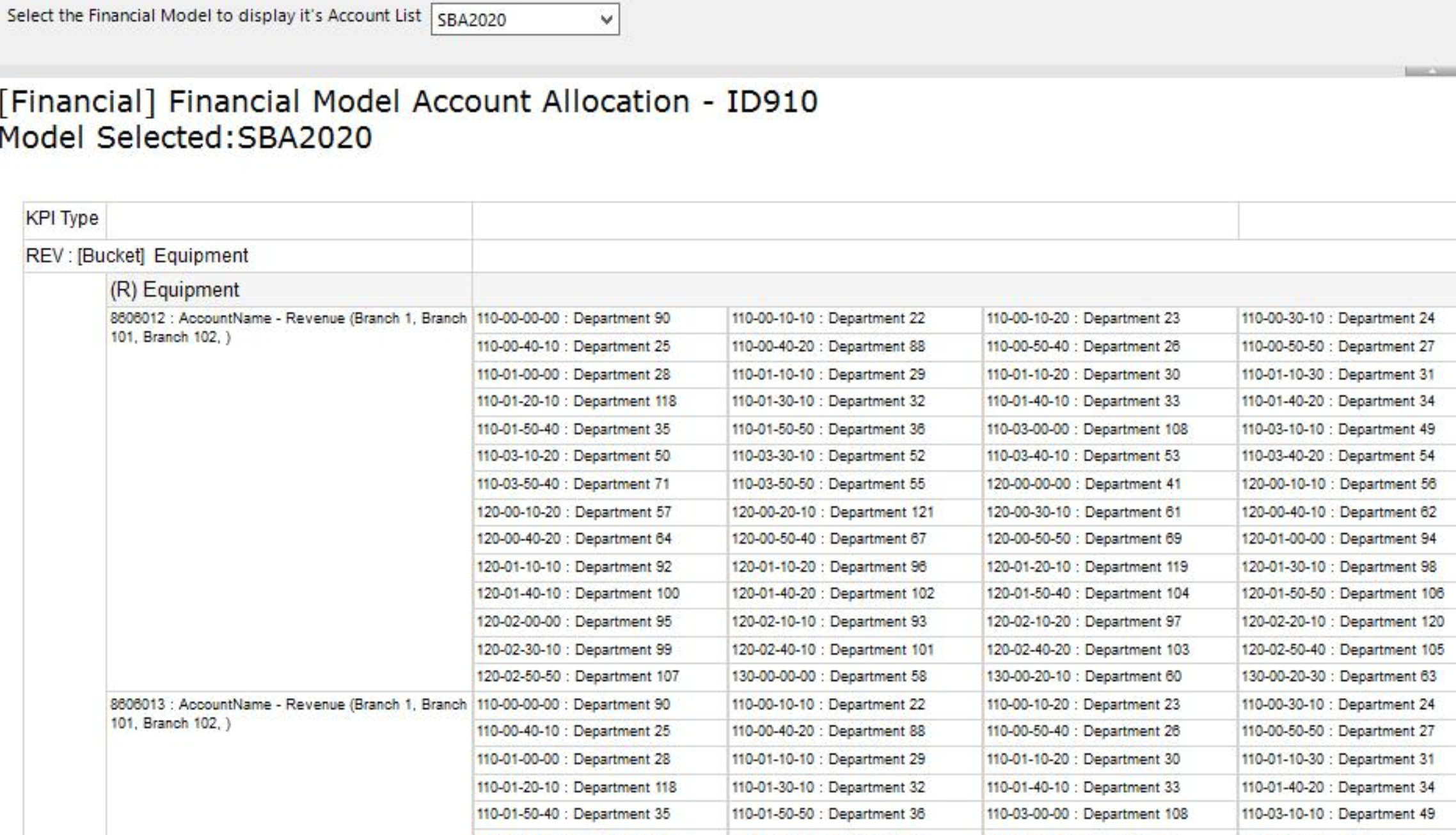 Webinar: