Dealer Benchmark Reporting
Jump to Overview | Samples | Variables | Alert Functionality | OnDemand Report Filters | Best Practices & Tips |  Related Alerts | Webinar | Suggested Chart of Accounts
*  *  *
Overview
Overview
In the copier market, the concept to use a model to define "what good looks like" involves setting benchmarks for what should be achievable (i.e. 52% service profit). By understanding what well run companies are achieving, dealers can compare their numbers to see the areas where (in theory at least) there is room for improvement. 
Putting the numbers together for the model is a process that would typically take several days working spreadsheets; however, once our system is set up, then it is a 1-minute exercise. Our reporting supports the benchmarks set by SBA or Berry McKinley Models, so you can share your Model % with each other without having to share actual Financial $$'s.

Our trio series of alerts (ID900 ID909 ID910) give you the tools to review your Financial Performance. Also available via Power BI Dashboard via ID704 so you can easily share the report within your organization or with your contracted consultants.
Run Schedule: ID900 sends an email every Monday and Thursday starting on the 1st each month, and will send one final report on either that Monday or Thursday following the close of your prior month period.
Type of Output: On Demand SSRS Report & Email
*  *  *
Sample
Sample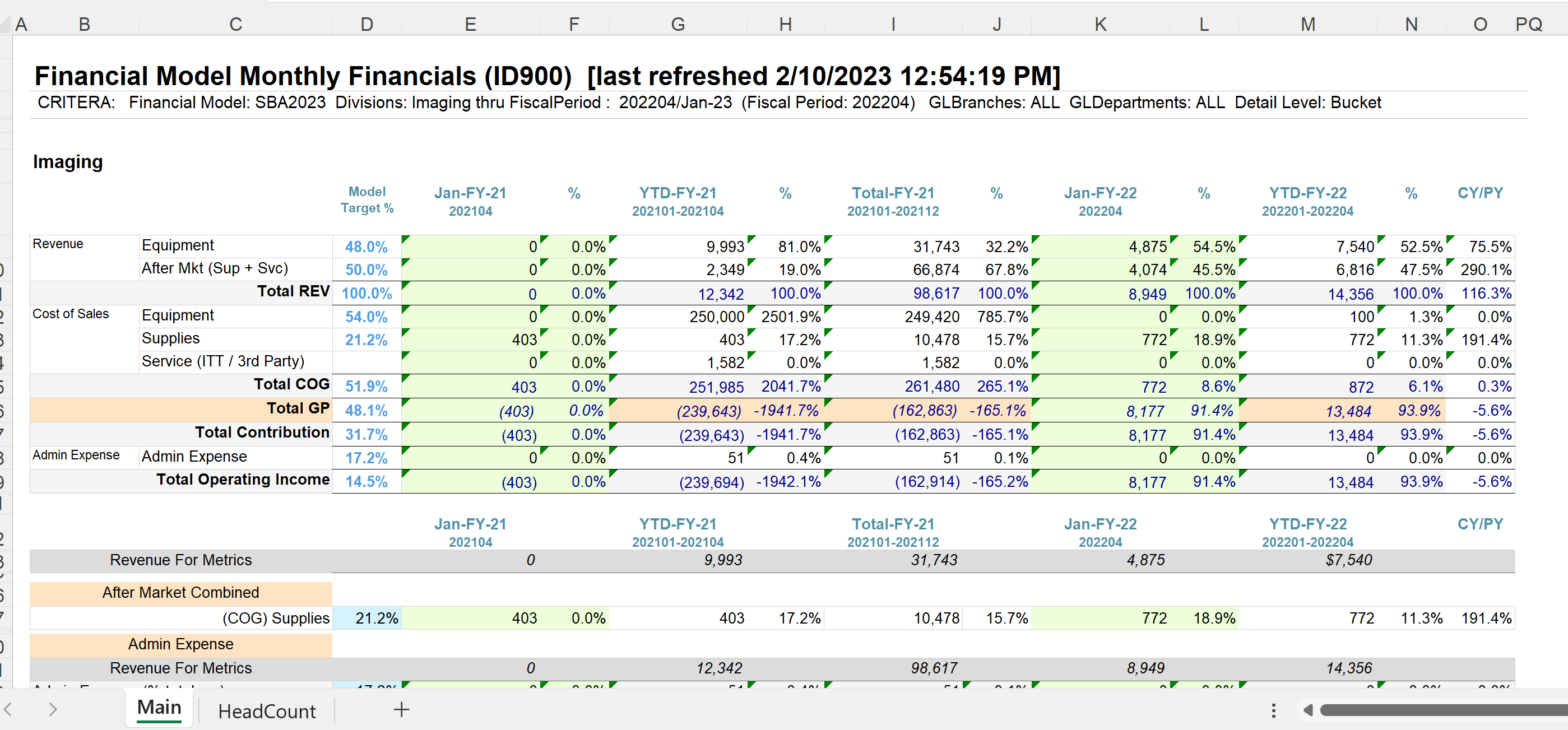 *  *  *
Variables
Variables
This process has no variables
*  *  *
Alert Functionality
Alert Functionality
1. There is a one time exercise to map all your chart of accounts so we can report everyone the same regardless of your accounts. This is ID893 - Financial Model Mapping Application. 
2. We have a trio of alerts (ID900, ID909, ID910) necessary in order to produce these reports results. ID900 sends an email AND is an On Demand SSRS Report. Both ID909 and ID910 are On Demand SSRS Reports only (see On Demand Report Filters section below for more details).
ID900 is our report that shows your mapped numbers with the SBA chart of accounts and your financial numbers.
You can run the report via SQL Reporting Services (SSRS) On Demand as needed AND we will send an email every Monday and Thursday starting on the 1st each month, and send one final report on either that Monday or Thursday following the close of your prior month period. This email will contain link to the SSRS Report, a snapshot and excel doc of the first page. (see details 
Please see this post for instructions on running ID900.
Sample Email Snapshot:
Snapshot is only of all Imaging Financial Division Benchmarks as this is the model. The %'s are of overall revenue and may not add up to 100% depending on how you may have mapped (i.e. IT Service is not part of model).
% numbers in red indicate Benchmark was not met
Weighted Profit is dependent on Overall Financial Division

**The Cost of Goods, Gross Profit, Sales Expense, Contribution, Admin Expense & Operating Income are all a % of Sales Revenue: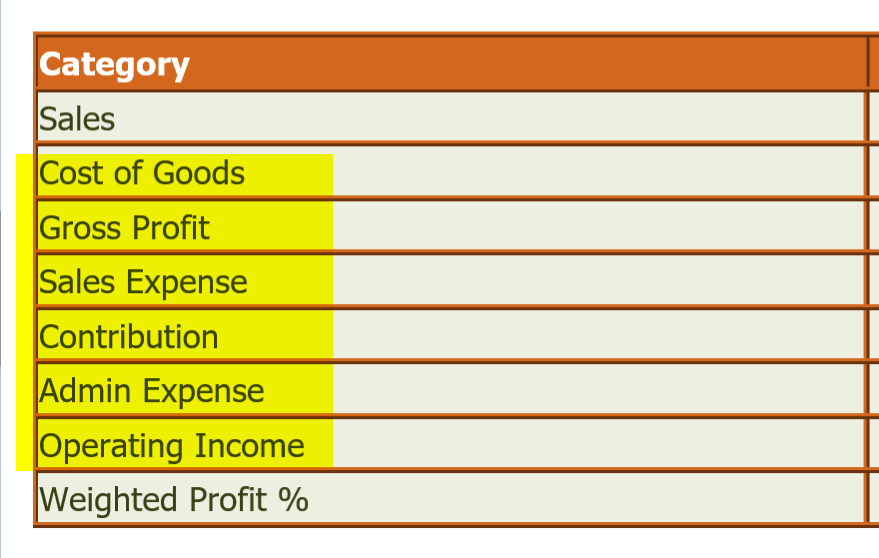 *  *  *
OnDemand Report Filters
OnDemand Report Filters
Export any of the results to excel via the disc ikon shown under report filters: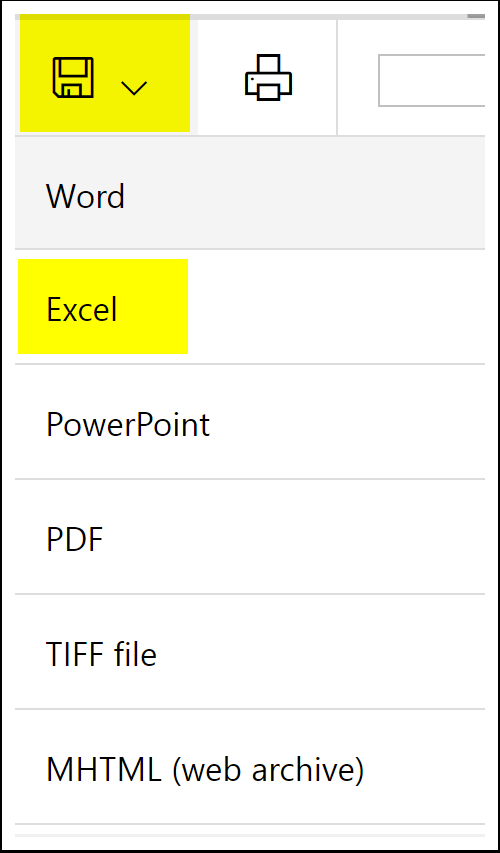 1. ID900 Monthly Financials by Model:
**Emailed report only includes Imaging Financial Division, so if you run report manually via SSRS Reports, please keep that in mind if you're seeing/expecting different results.

1. Month: Report runs by period, but we show the date as Month - Year so it's easier to understand. 
Each time you access the report it will be set with dates where you left off last time you ran the report. So:
A-if you find discrepancies go back to mapping to fix and update again
AND/OR
B-if it has been some period of time you still must go back to mapping and review for any new account AND update the mapping to get newest info brought in.  
To see last years total numbers, then run thru December of last year

2. Model - Only select ONE

3. Refresh data - if any changes to mapping (ID893 Financial Mapping App) or to refresh totals for new month you haven't run for before:

4. Annual Target - you select, default is 17343990:

5. Financial Divisions - pulled from ID893 Financial Mapping App:
For dealer group survey, be sure only Imaging is checked and for BMK2019 Model, be sure only Managed Services/IT is checked:

6. GL Branches - select from Drop Down:

7. Display Bucket Contribution Table - shows contribution table on 2nd page: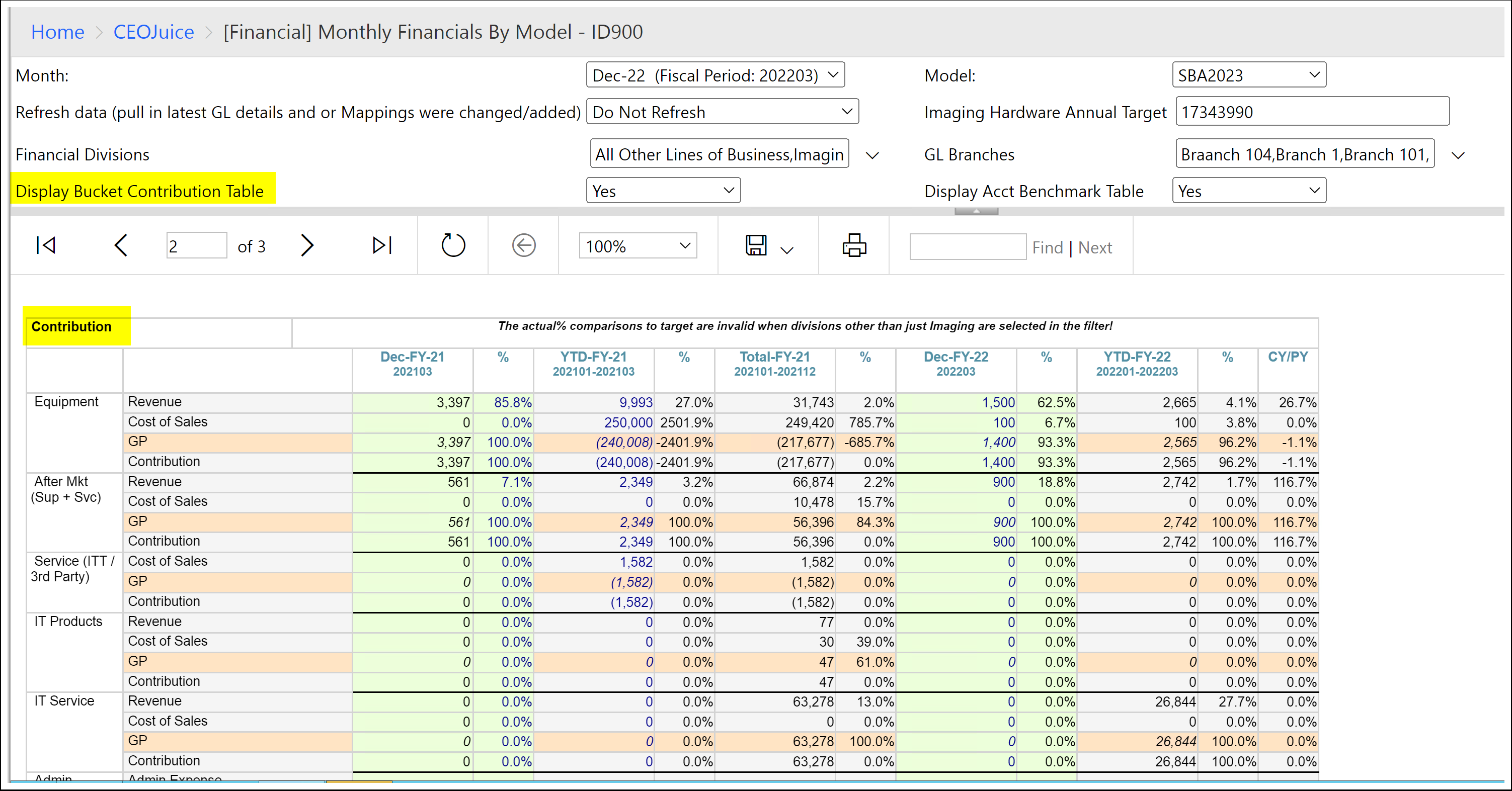 8. Display Acct Benchmark Contribution Table - shows benchmarks  table at bottom of first page: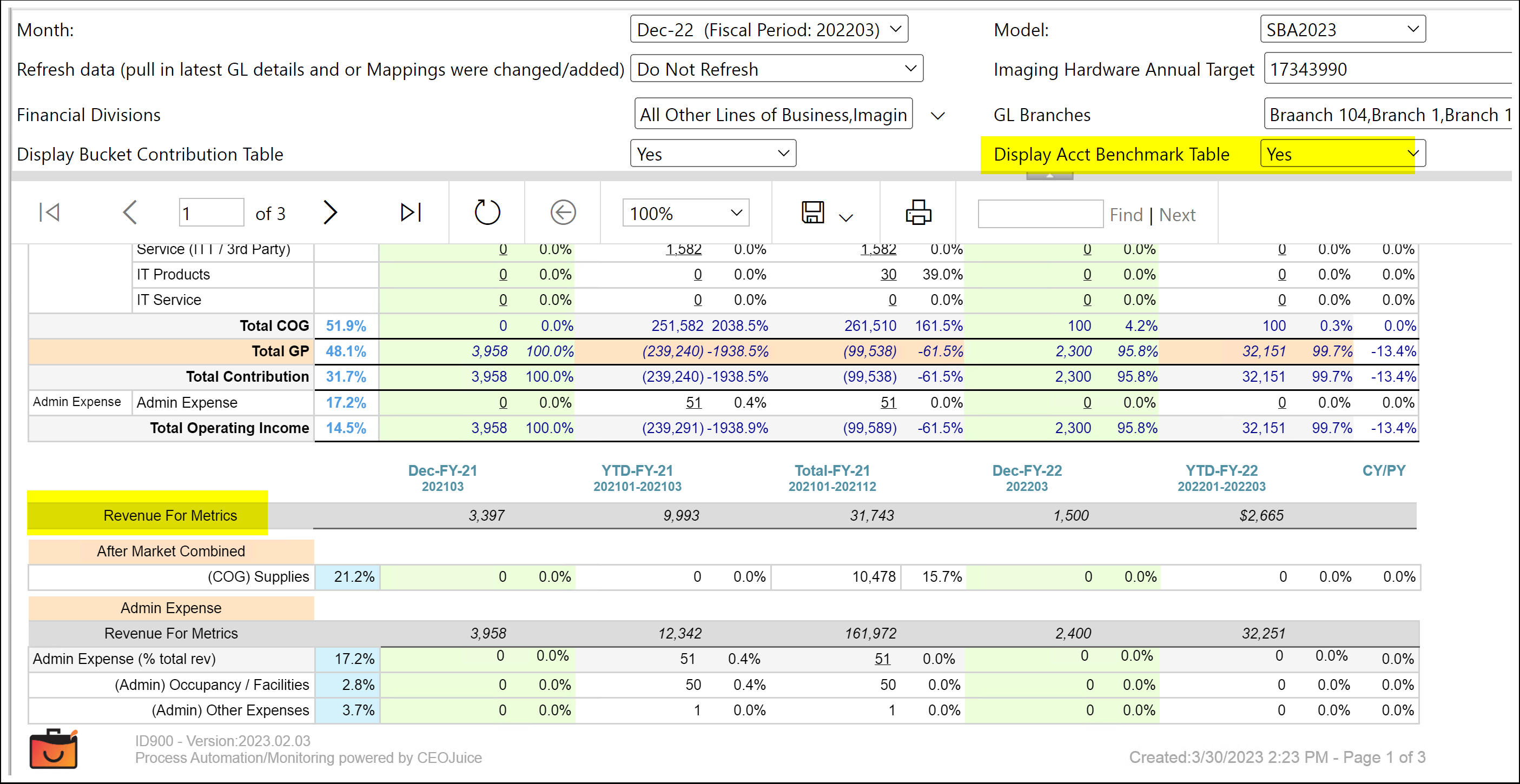 2. ID909 Monthly Financials:
Helps you review and analyze your financials month over month for Rolling 12 months and help to understand how they can be improved. This is the key report as you are looking for trends!

Very similar filters as you've seen on ID900. But for ID909 you can use filters to run for just specified GL Department(s), Financial Division(s), Financial Bucket(s), and/or Financial Department(s). 
Depending on your version of SQL Reporting Services, you may need to manually select ALL in drop down for them all to be considered:

Use Quick links at top of Page 1 to jump to sections as seen below:

report provides column for each month as well as Current (CYTD) and Previous Year-To-Date (PYTD) figures, % difference (PTYD), the end of year total from previous year (EOY 2021), and last 12 Rolling Months (4/1/220 thru):

3. ID910 Financial Model Account Allocation:
Helps to analyze what accounts are mapped and has no financial data. Designed to be exported to excel.

1. Model - Only select ONE:

2. Unmapped Date Filter - select whether to include or exclude unmapped accounts OR show only unmapped:

3. Model Account Types - select which account types to include:

1st page outlines all mapping rules down to a single row so users are able to export to excel and sort and filter: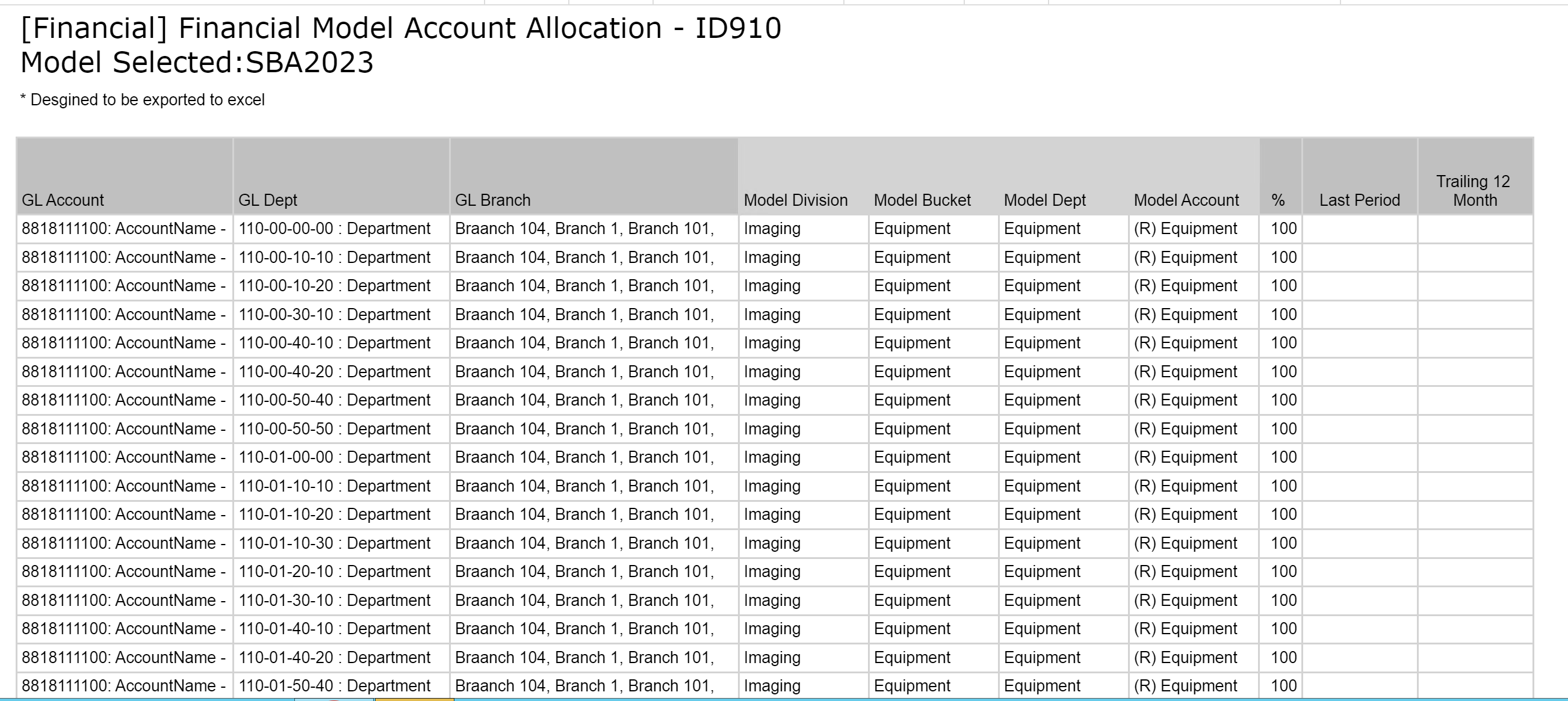 2nd page shows results of mapping: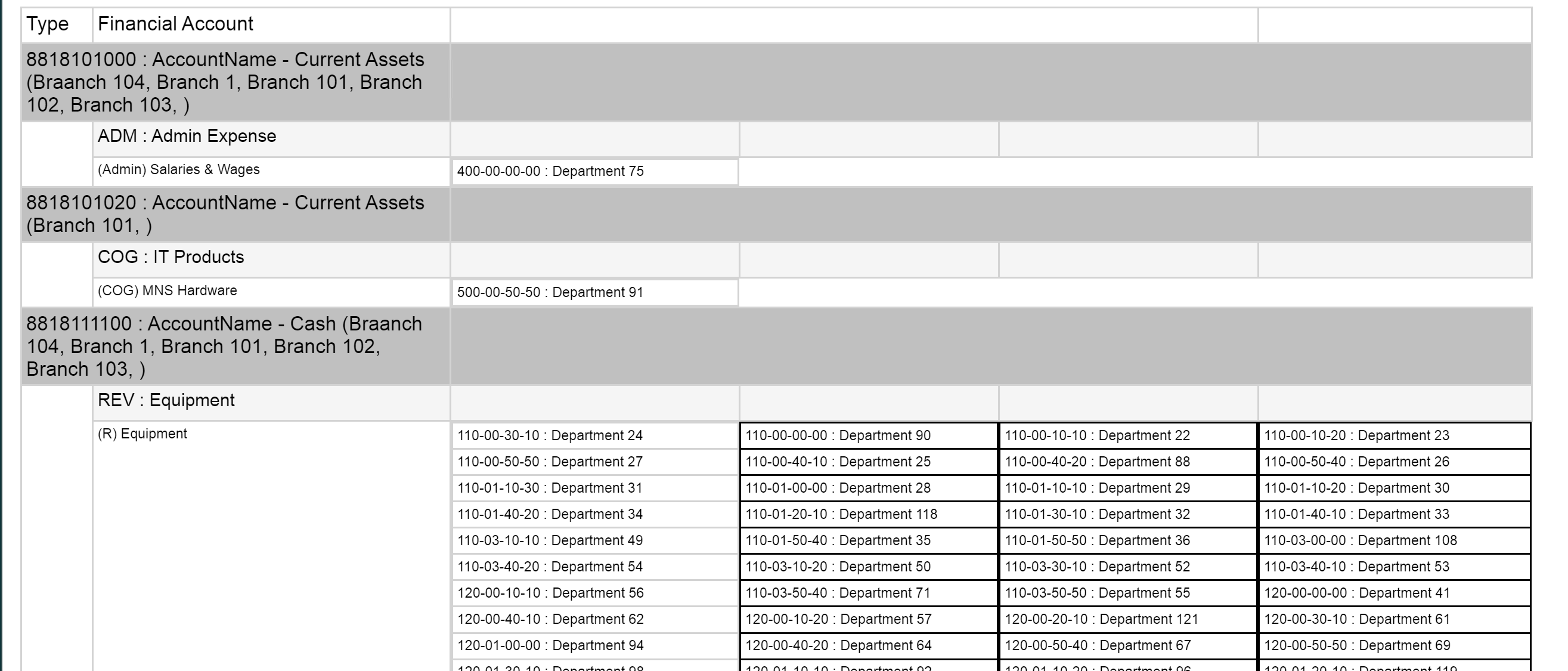 *  *  *
Best Practices & Tips
Best Practices & Tips
1. Strategic Business Associates (SBA) benchmark these numbers for four of the main copier dealer groups, The Copier Dealer Association (CDA), The Business Products Council Association (BPCA), The Select Dealer Group (SDG) and The Pro Dealer Group (PDG). They also teach the ProFinance Business Model with regular classes every few months. All 4 groups have the option to have the numbers they turn in to SBA be certified by CEO Juice. With this pool of about 150 dealers, SBA are able to best define what the benchmark numbers should be. In addition companies like Pros Elite Group can help you fine tune.
2. Below is a link for a sample Chart Of Accounts, that when used in combination with Branches and Departments, will feed into ID900, Account Mapping tool.  This tool will allow accurate reporting to the various dealer groups, such as SBA, CDA, BPCA, SDG, & PDG.  
*  *  *
Related Alerts
Related Alerts
ID893 - Financial Mapping App
ID901 - Unmapped Accounts for Financial Benchmark Reporting
ID704 - Power BI Financial Performance Benchmarking (The Model)
*  *  *
webinar
Webinar: