Import meters from various DCAs as well as our other processes that import meters (ID398/ID386), store them in a temp table then only import to eAutomate the ones needed for billing, vastly reducing your meter table size.
Jump to Overview | Variables | Sample | API Details | App | Validating Meters | OnDemand SSRS
* * *
Overview
Overview
Tools like FM Audit, Print Audit & Print Fleet have a lot of useful data but getting it filtered and to the correct people can be a challenge. We also see clients where the meter table size is out of control as various tools import all meters for all devices they monitor.
This process will import meters from various DCAs as well as our other processes that import meters (ID398/ID386), store them in a temp table then only import to eAutomate the ones needed for billing, vastly reducing your meter table size.
We will only push in meters that are due to bill per your Contract Record, devices not due to bill will not be listed on our reporting.
**Requires MINIMUM .Net version 4.7 on server for CEO Juice.**
In addition, as predictive data become available in software like HP Smart Device Service we have the potential to review the error code and meter on a device needing service, predict what part is needed and check that the assigned tech has that part in their stock. We can filter supply orders and create sales orders with a specific hold code if the customer is using too much toner. We can evaluate service data that suggest a service call is needed and email the last person who placed a service call on that device to confirm it's really a problem. We can add a link to a video showing how to repair so the tech sees it in Remote Tech.
We can also support additional DCAs like EKM Insight, KPAX, and MPSMonitor (use ID311), giving you the same experience regardless of the DCA.
To start the DCA process please subscribe to alert ID968 (be sure to list at least one email recipient so we know who to contact) and collect needed API details. Please also let us know if you want to push meters in to a test DB 1st or straight to live. We will initially ask for a list of meter types to map to what we see in the DCA but we are about to release an App to allow you to update yourself.
**Requires MINIMUM .Net version 4.7 on server for CEO Juice.**
* * *
Variable
Variables
Use drop down to select with DCA you are using:
Variable1: Select which DCA Platform you are using with MPS Monitor (KPAX or EKM)
VariableW: Indicate eAuto Meter Source to be assigned to meters entered
If you would like us to import from more than one DCA, you can subscribed to multiple ID968 processes by selecting plus (+) sign after your first subscription is completed:

VariableX: Name of Custom Property available at either Customer (location) or individual Equipment level to EXCLUDE from this process altogether (On/Off, default 'On')
VariableY: Do not import a new meter read unless it has been VariableY days since last Valid meter read (set to -1 to completely suppress since-last-read functionality and use ONLY due-to-bill per VariableZ)
VariableZ: Import meter reads if no read in last VariableZ days AND meter is inside a Billing window (due to bill soon per the Billing Tolerance settings in e-automate). Set to -1 to suppress this functionality and use only days-since-last-read functionality in variable above.
* * *
Sample
Sample

* * *
API
API Details
We need your API Details entered by you on our website as shown below. The user entering on our website will need 'Customer Admin' security role - ask us at help@ceojuice.com if you need to know who has.
Please enter credentials on our website (https://www.ceojuice.com/CustomerAdmin/Integrations) via Profile / Integrations:


Please use these links for instructions on creating API Details needed based on DCA type:
KPAX: https://support.ceojuice.com/hc/en-us/articles/360053613371-KPAX-API-Integration-ID968-
* * *
APP
APP
You will need to tell our app which eAuto Meters correspond to the DCA Meters, so we know which meters to insert where in eAuto.

Go to your CEO Juice apps (if you don't know the URL use http://localhost:8888)
Select model-mapping-and-key-services: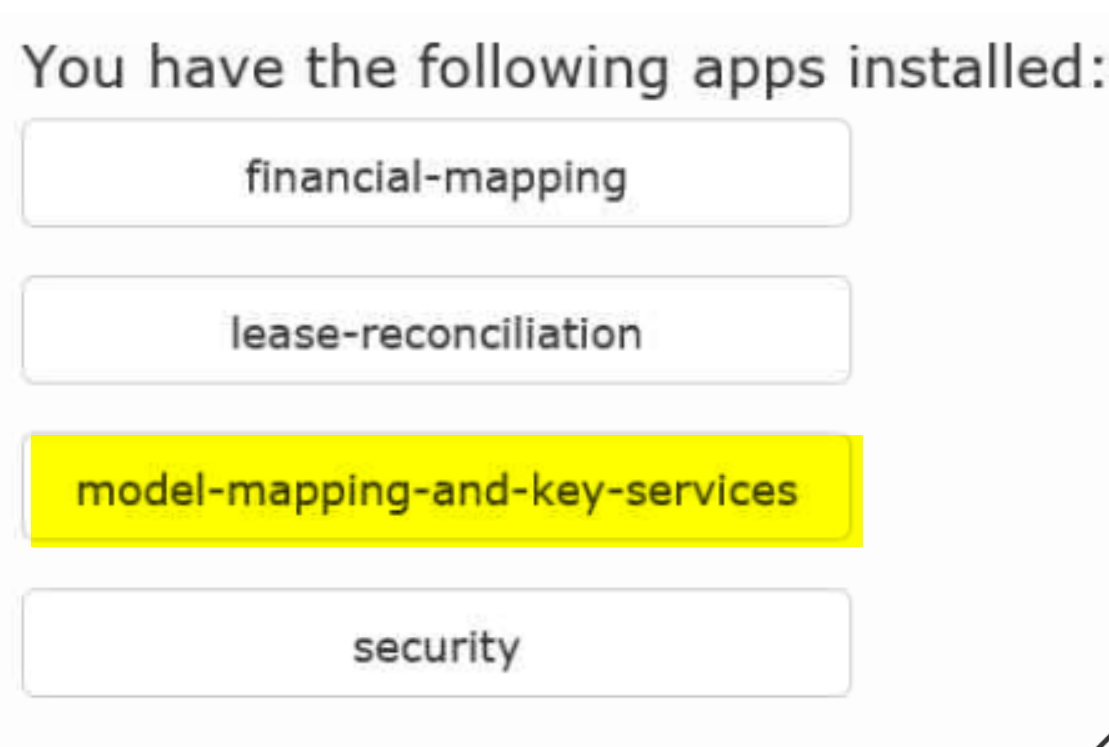 The two hyper links at top take you to
(1) Metertypes
(2) Meter Mappings

Metertypes shows the DCA Meter Type names and eAuto Meter Type names, indicating if mapped and/or if ignored for mapping:
To get started go to Meter Mappings to start mapping your MP Monitor or HP Action Center (DCA) Meter Types to eAuto Meter Types:
Once you have mapped all your meters, the app can determine which meters to insert into eAuto.

When you select Add Mapping you will need to select the EA Metertype to be mapped to DCA Metertype: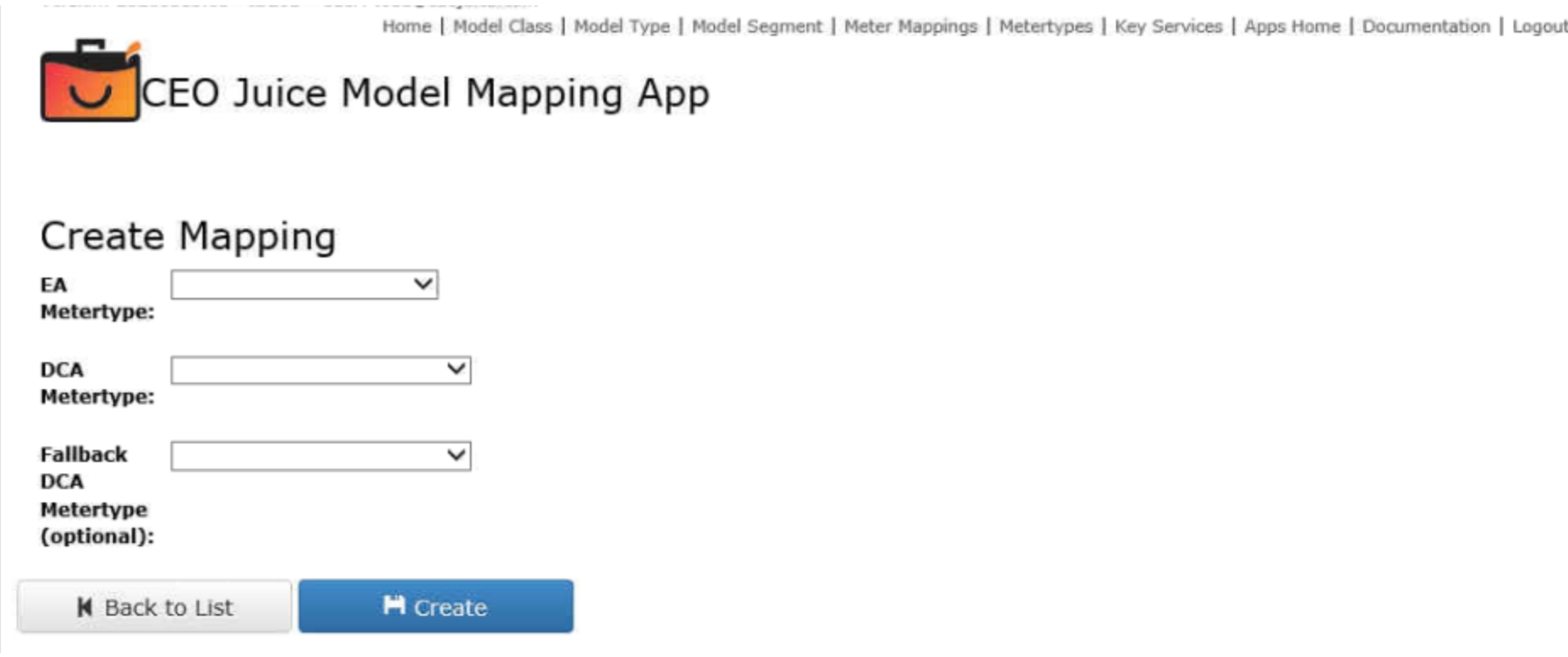 The 'Fallback DCA Metertype (optional)' is only needed when the same EA Metertype applies to more than one DCA Metertype.
For example:
B\W only device has DCA Metertype of Total Meter which needs to be mapped to EA Metertype of B\W. But a color device has DCA Metertypes of Total Total Meter, Total B\W, and Total Color. You don't want DCA Metertype of Total Meter to go into eAuto as Total B\W clicks.
So you want the DCA Metertype = Total B\W and the Fallback DCA Metertype = Total Meter
Essentially you are telling the app, if Total B\W from DCA does NOT exist, then use DCA Metertype of Total Meter for my eAuto B\W meter.
IF you have any questions or need changes on what DCA Metertypes are being pushed in, please contact your DCA support team directly as they can help you set which meters report.
* * *
Validating Meters
Validating Meters
Required Meters and Considering Valid:
Our integration will only consider meters set as required on Equipment Record AND due for billing today or past due per Contract Record.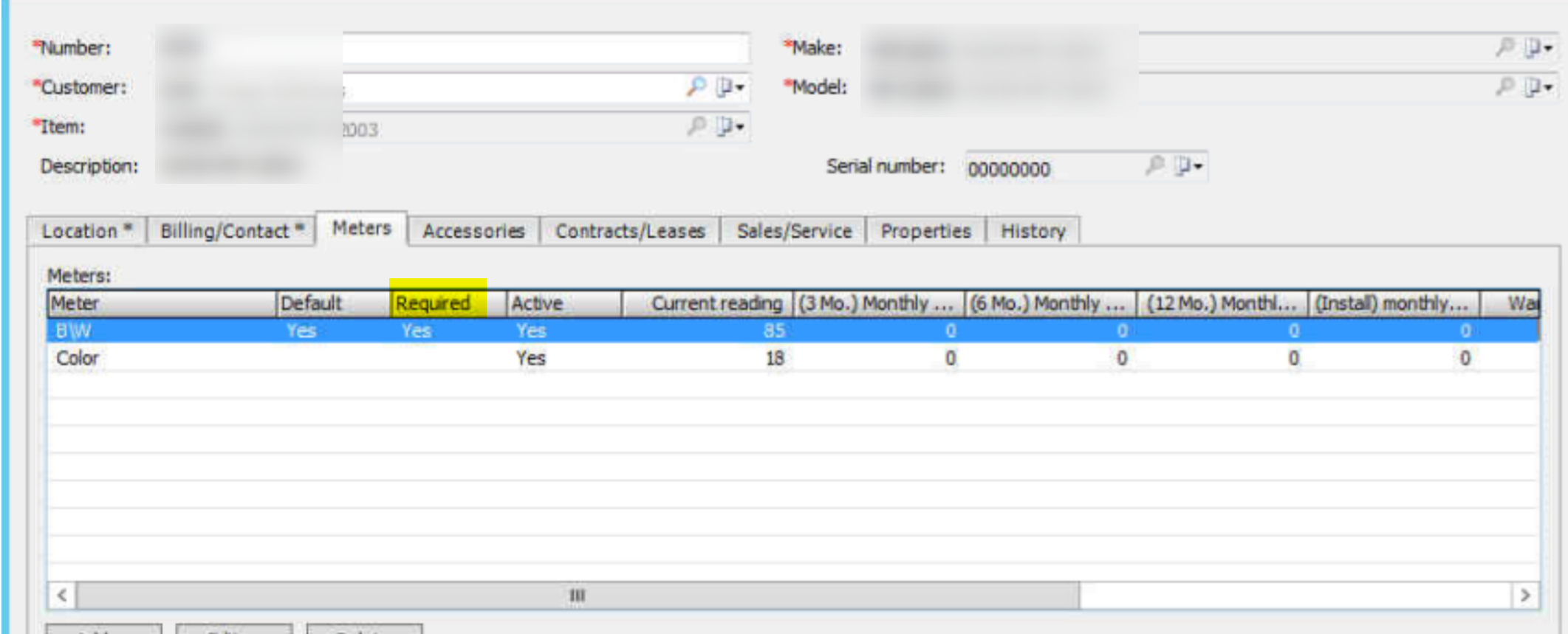 We then use your eAuto Meter Validation Buffer to check the meter is valid:
This can be seen via Tool / Options / Equipment: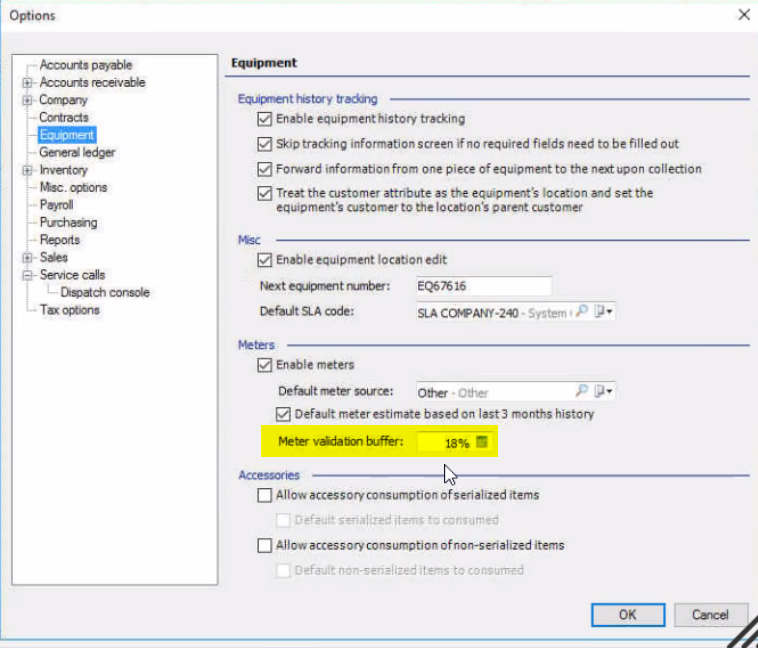 We are NOT consider these meter tolerance settings: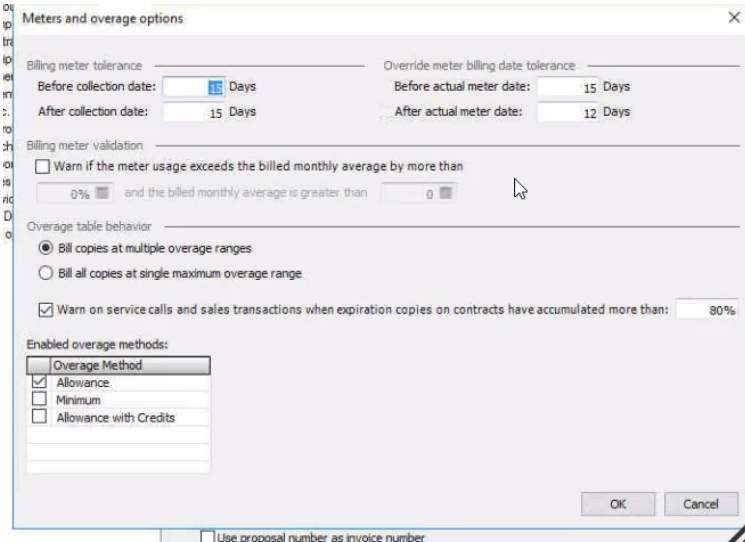 Devices with more than one meter:
We look for the serial number in eAuto and the meters required to compare what DCA meters are being pushed in. IF at least one of the required meters is greater than previous, we will push in ALL meters. If all meters are less than previous, NONE of the meters will push into eAuto.
Mapping Errors Explained:
Negative value indicates mapping not found: the DCA meter has not been mapped to an eAuto meter. Use the MeterType Mapping App to set.
read Invalid due to less or equal to previous: the meter from DCA is less than or equal to the previous meter in eAuto. You will need to correct the previous read in eAuto OR wait until DCA meter exceeds your previous meter.
If you have a DCA meter that is older than current day of meters being pushed in, then this indicates the device has fallen off monitoring, meaning no new meters coming in. But our integrations always considers the most recent record available:

* * *
OnDemand SSRS Report
OnDemand SSRS Report
You also have an On Demand SSRS Report to review what has pushed in that day and what has had errors that day. This is essentially a duplicate to the daily email sent to those emails listed on your ID311 subscription.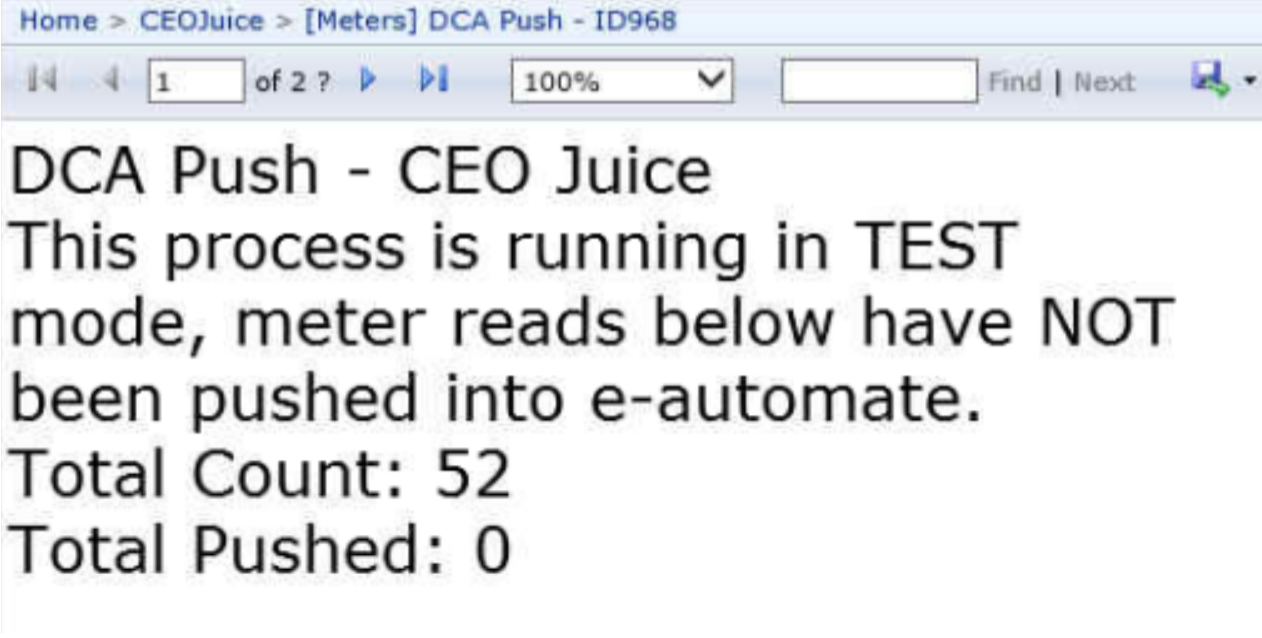 Shows both successful and failed meters: